If you're looking for a whimsical pattern to flex your creativity, you've found it. The Bobble Stitch Blanket is an incredible pattern that is easy to follow and really fun to make.
It's made using a trio of colors in Georgia Peach, Sandshell and Heather Blue. All worked together using the bobble stitch.

The bobble stitch adds a lot of texture to this blanket and would be a fun skill to add to some of your future projects too!
The Bobble Stitch Blanket is made with Cascade Avalon.  This is the best yarn for your cute blanket because it's soft, easy to care for, and has a slight sheen that really makes the texture of the bobble stitch pop.
Cascade Avalon is a worsted weight yarn and gives this top a beautiful stitch definition while remaining breathable and soft.
It's a blend of 50% cotton, 50% acrylic so it's easy to care for and is machine washable and dryer safe.  That means you can keep your blanket clean without a hassle.

And to make this blanket even easier to create, we've put together a special pattern kit for you!
Every kit includes the digital PDF pattern for the Bobble Stitch Blanket, plus all of the yarn you need to bring this project to life. You can feel good about your purchase because you're supporting a small business who is passionate about crochet. We love supporting other makers, and we want you to be a part of such a supportive community too.

With the beautiful texture of this blanket and an easy to grab kit, the Bobble Stitch Blanket is the perfect gift for your favorite nephew or an expectant mother.

Grab a kit and create this fun little blanket today.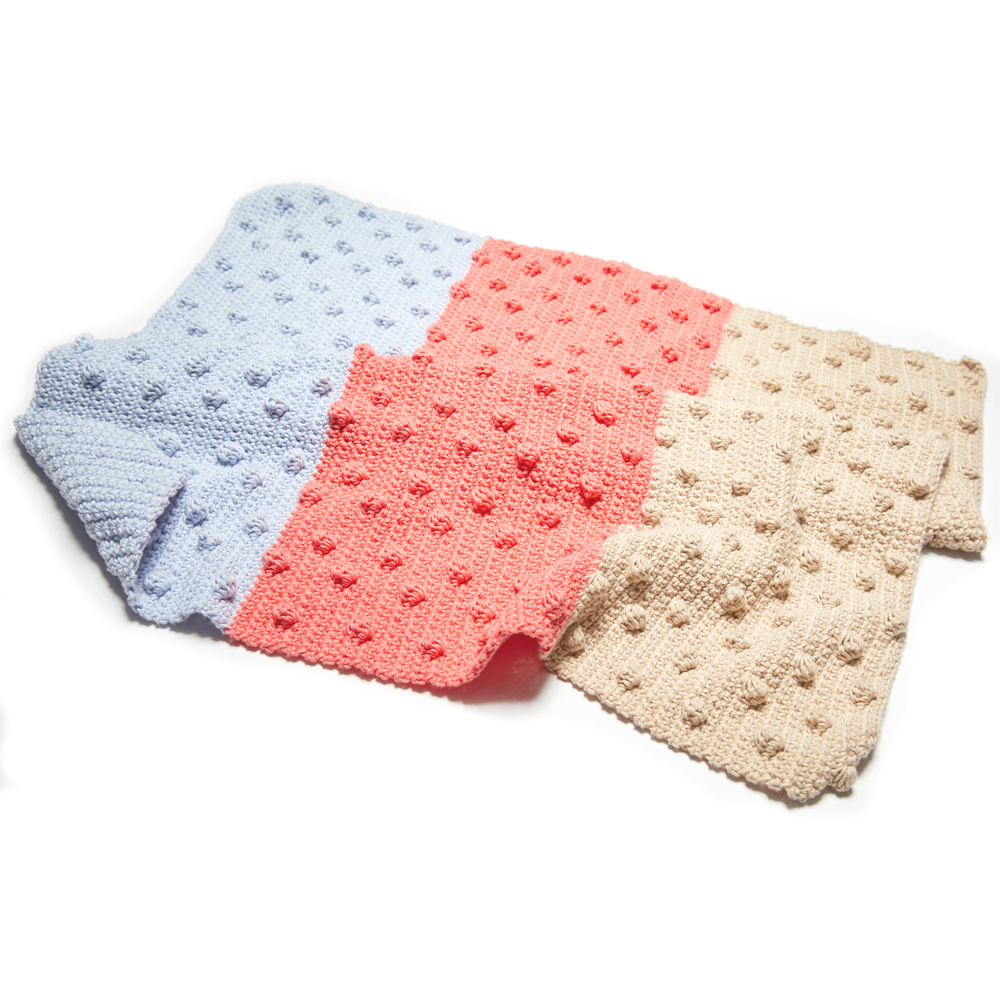 Bobble Stitch Blanket Crochet Pattern
SKILL LEVEL: Intermediate
MATERIALS:
Hook: 5.5mm
Yarn: 2 skeins of Cascade Avalon in Sandshell, 2 skeins of Cascade Avalon in Georgia Peach, 2 skeins of Cascade Avalon in Heather. Get these yarns and the digital pattern in the Bobble Stitch Blanket Kit we put together here.  
Tools: Scissors, tapestry needle
ABBREVIATIONS:
st = stitch
ch = chain
sc = single crochet
* = repeat

SPECIAL STITCHES: Bobble stitch: Yo, pull up a loop, yo pull through first two loops (as if doing the first half of a double crochet). Repeat this 4 more times, ending with 6 loops on the hook. Yo a final time, and pull through snugly.
Gauge: 16 sc x 12 rows= 4"
FINISHED SIZE: 35" square
Designers notes: This pattern is relatively straightforward, but be very careful with counting your stitches! It is very easy to get one or two stitches off and not notice for a few rows. And to get a perfect round bobble, make sure you keep your tension nice and loose.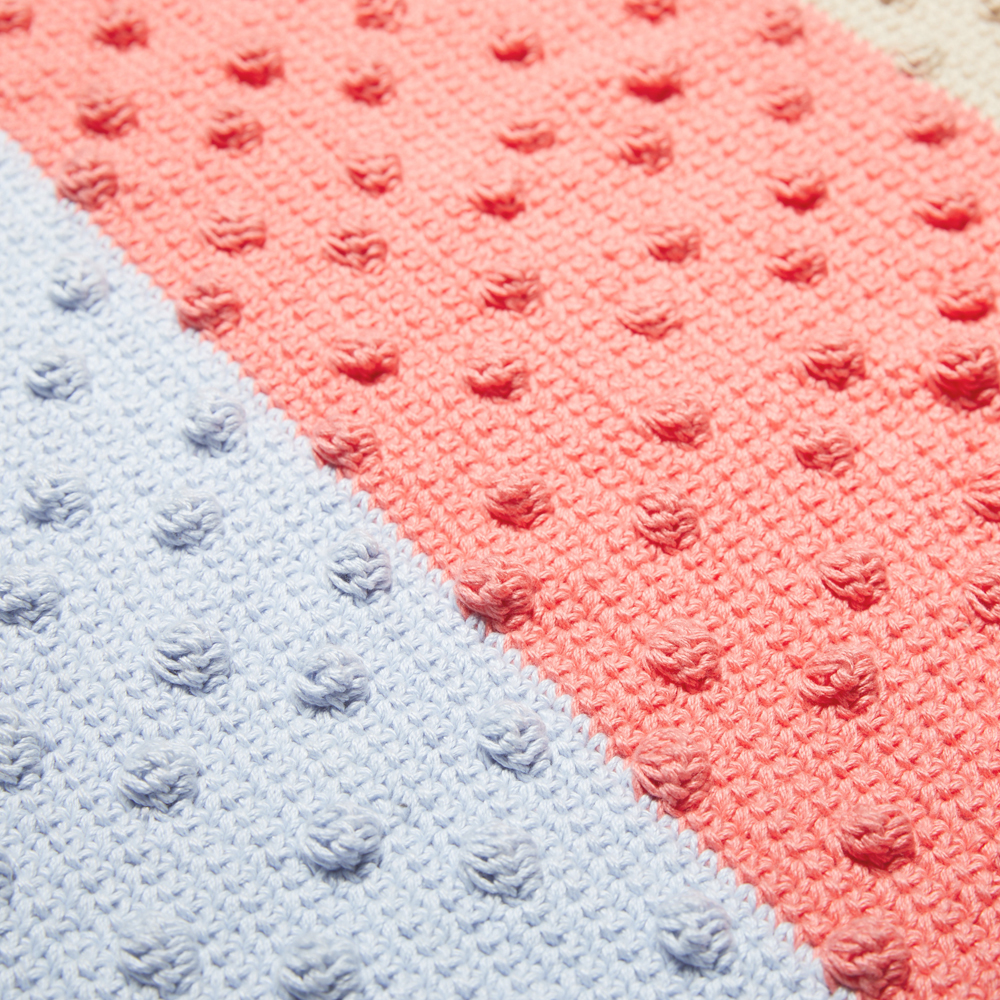 PATTERN:
Ch 117 (Sandshell), then sc into the second ch from the hook. Sc into each ch across for 116 sc
Rows 1 & 2: Ch 1 (does not count as a st), and sc into each st across
Row 3: Ch 1, make 1 sc into the first 3 st. In the fourth st make a bobble st, (yo, pull up a loop, yo, pull through the first two loops on the hook, and repeat four times, ending with 6 loops on the hook. Yo again and pull through all 6 loops)  *Sc into the next 9 st, then repeat the bobble st in the next st*. On the last bobble of the row, there will be 3 sc left. Make 1 sc into each of these st, ch 1 and turn work.
Rows 4-6: Ch 1, sc in each st across.
Row 7: Ch 1, sc into the first 8 st. In the 9th st, make a bobble st. *sc into the next 9 st, bobble st in the 10th st* After the last bobble, make 8 sc.
Rows 8-10: Ch 1, sc in each st across.
Rows 11-16: Repeat rows 3-10
Row 17: Repeat row 3
Rows 18-31 (Georgia Peach): Repeat rows 3-10
Row 32: Repeat row 3
Rows 33-48 (Heather): Repeat rows 3-10
Weave in all ends securely.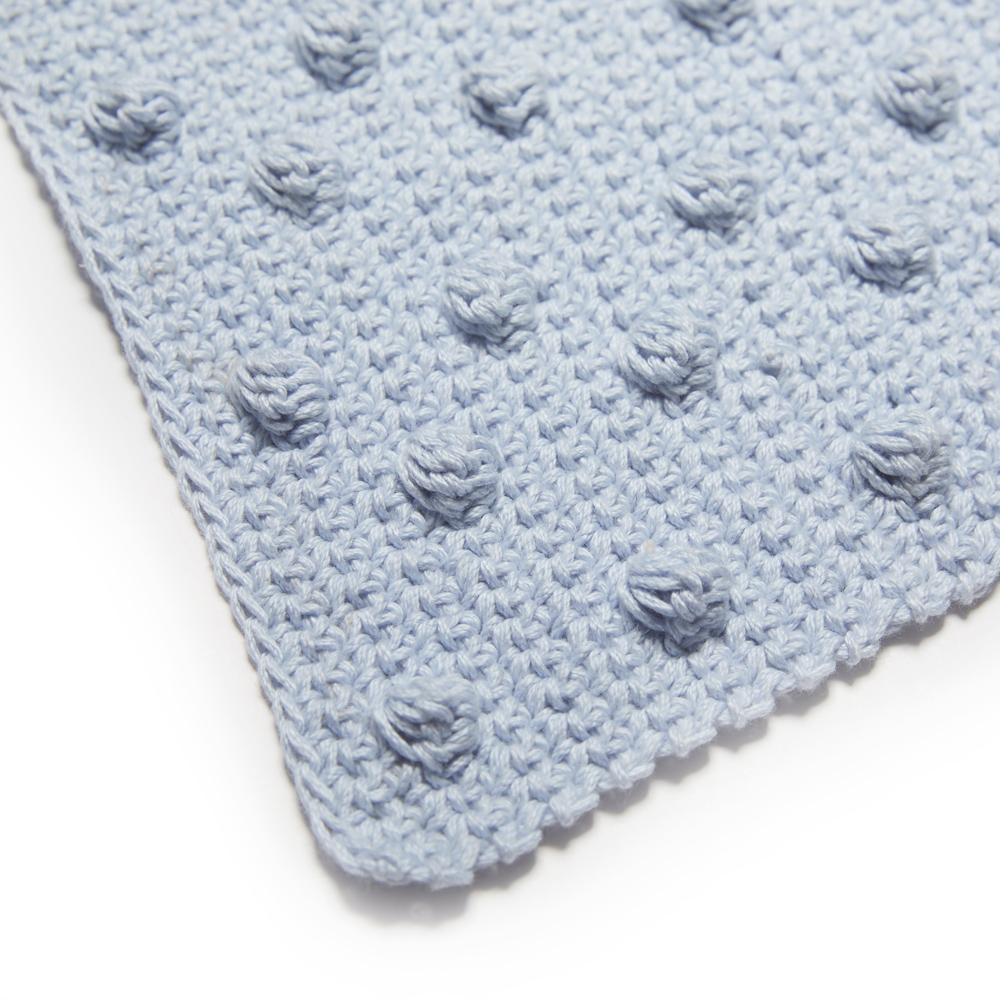 Whatever you decide to do with this beautiful pattern, I know you'll have a wonderful time making it. The stitch is creative and the pattern is so easy to follow.  Once you get the hang of the first 10 rows, you'll breeze through this project. And with the help of our kit, containing the digital pattern and all the yarn required, there's nothing keeping you from completing this precious keepsake blanket!