14 Baby Blanket Knitting Patterns Perfect for Beginners
Are you new to knitting? Maybe you don't know where to begin. A fun project to work on is a knit baby blanket. Knitted baby blankets are on the smaller size and are usually simple to make. We also recommend checking out this amazing Learn to Knit course to help you become a skilled and confident knitter.
Knit baby blankets often become cherished heirlooms, treasured for generations. They make the perfect gift for families with newborns. Many of these blanket patterns can also be made into larger knit blankets for toddlers and older children too.

If you don't know how to knit a baby blanket, now's your chance to learn. With 14 amazing knitting patterns for beginners, you can work up some of the most fun, easy to follow baby blanket patterns out there.

The only hard part is deciding which one to begin!
Lincoln Easy Knit Baby Blanket
If you're ready to tackle a knitted baby blanket, but most other simple blankies bore you, this Lincoln Easy Knit Baby Blanket is your next project. This easy knit baby blanket for beginners can be made in the shown gray and white for a gender-neutral nursery or a surprise baby, but if the mommy is looking for gendered baby supplies, it would look just as cute in either pink or blue contrasting with the white.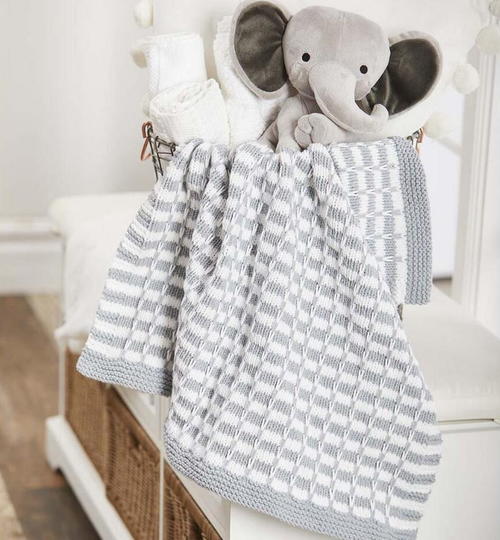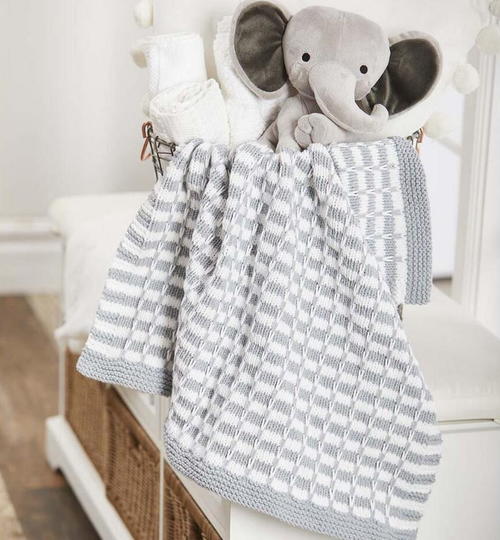 Country Bliss Baby Blanket
If you are looking to make something soft and snuggly with a countrified charm, then this is the baby blanket pattern for you! This unisex blanket is great for either a baby boy or girl, which makes it the perfect gift for parents waiting for a surprise! And since this cuddly blanket is made with chunky yarn and size 13 (9 mm) knitting needles, it knits up super quick.
Via Leelee Knits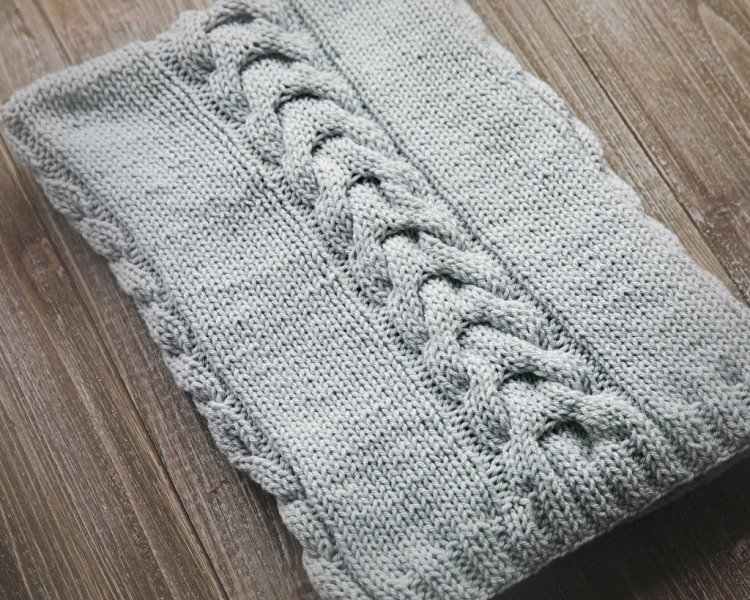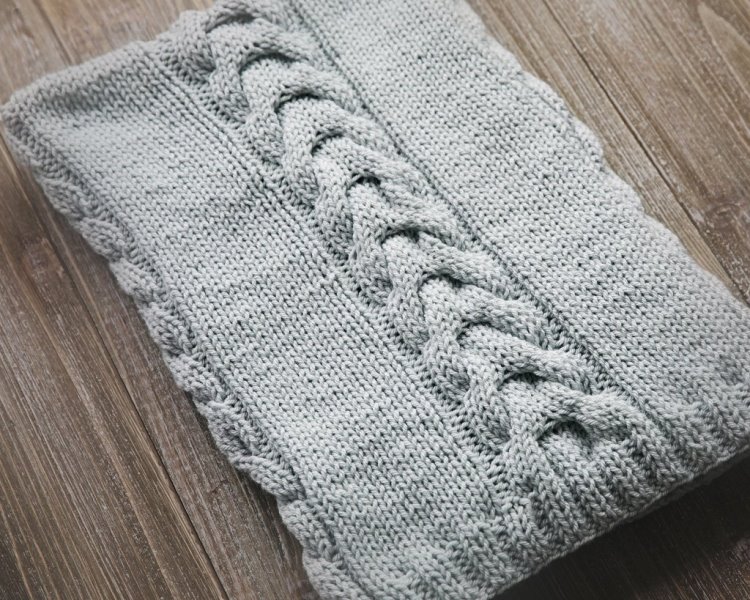 Brick and Mortar Baby Blanket
The color blocks form the bricks and the white offset forms the mortar in this Hand Knit Blanket. You can use whatever colors you like to make this blanket. If you're making this knit baby blanket pattern for a baby boy or girl, an ombre set (light blue to dark blue as an example) would work really well. You have many options so don't stick to my color choices!
Via See Love Shar3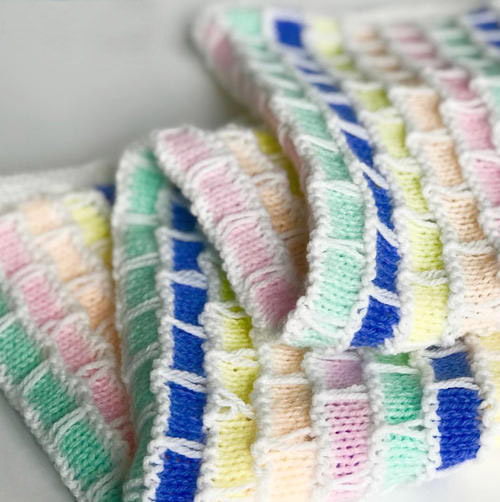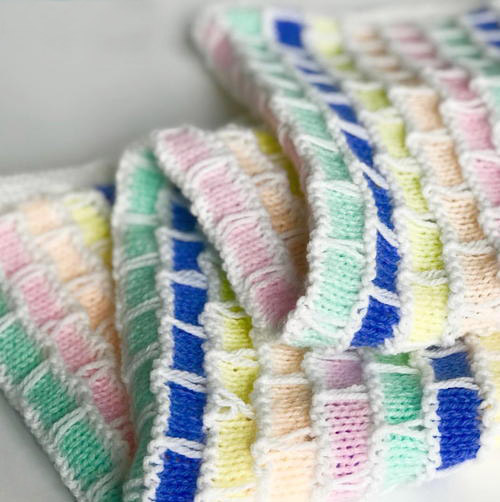 Pastel Stripe Baby Blanket
Pastels are just the perfect colors for babies. If you have a hard time choosing between what color to make your nursery, why not use them all? This Pastel Stripe Baby Blanket Pattern is a rainbow of lovely, muted colors that's at once happy and aesthetically pleasing. If you're looking for free blanket knitting patterns for an expecting mother who doesn't know the gender of her baby yet, this knit blanket is the perfect baby shower gift.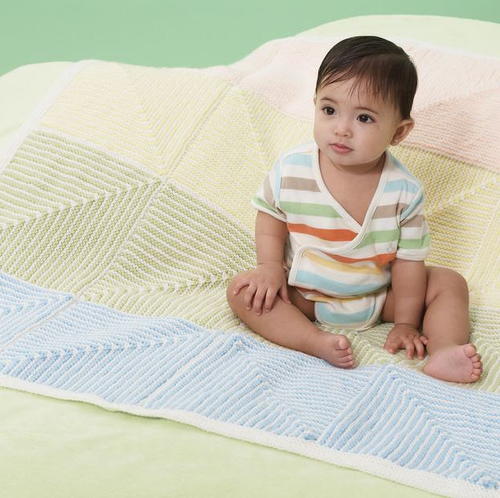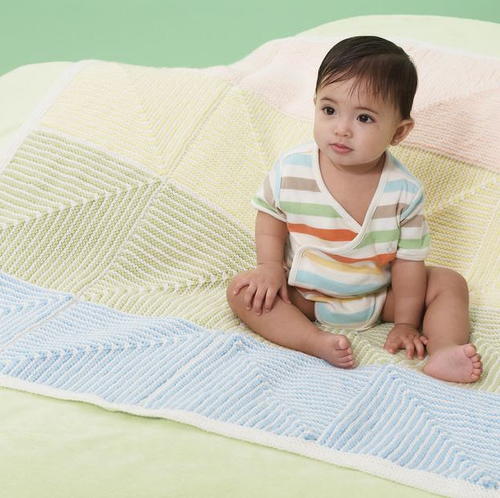 Four Points Baby Blanket
This knit blanket pattern makes the best afghan for snuggling your baby! This super-soft merino Four Point Baby Blanket is perfect for babies and toddlers alike. This easy knitting pattern makes a lovely baby afghan with bold and striking colors that will look great in any nursery or playroom. Bring this knit baby blanket into your home and make your child smile! The large triangles make for some easy and beautiful colorwork knitting, they also make the afghan an attractive gift for new mothers.
Via Purl Soho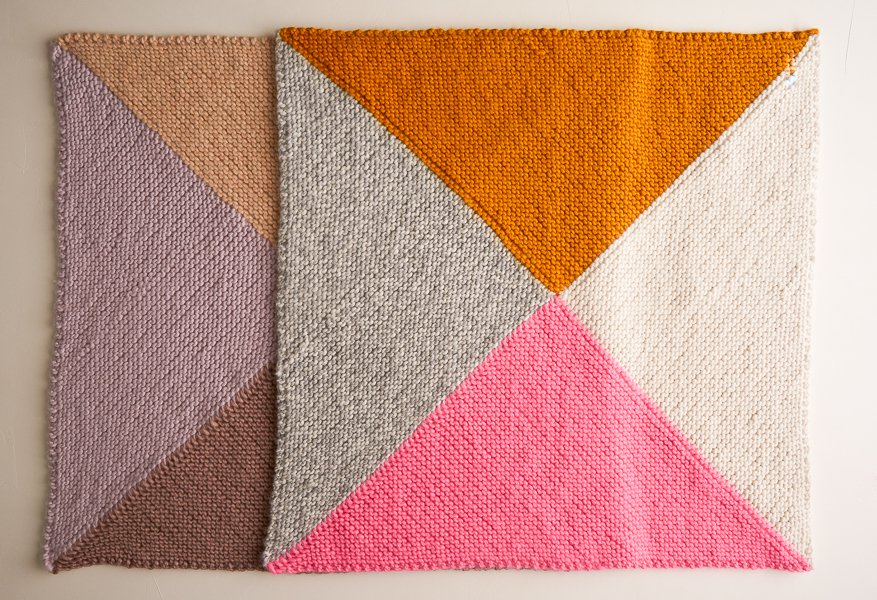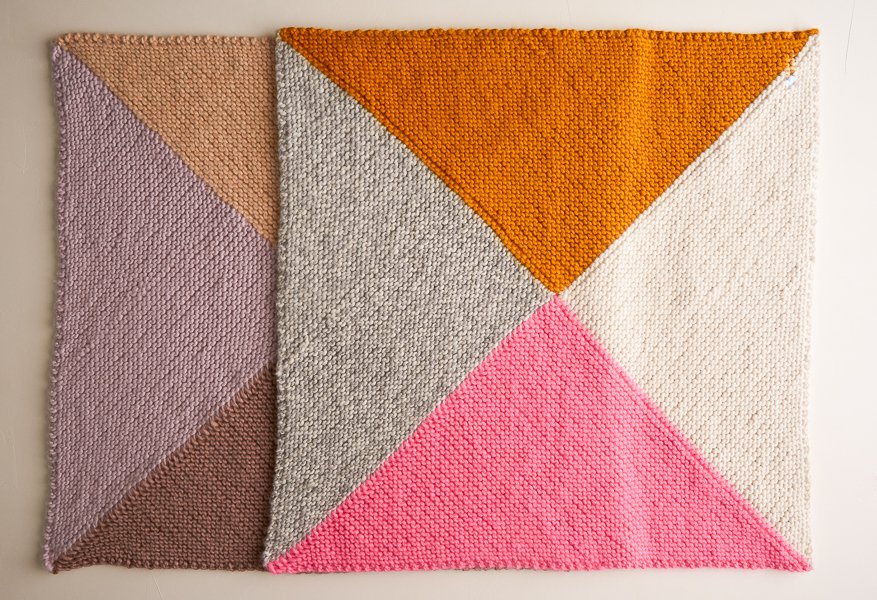 Eyelet Baby Blanket
If you are looking for an introduction to lace knitting, this is the baby blanket knitting pattern for you! This unique baby blanket pattern has a classic seed stitch border and is worked mostly in stockinette stitch, interrupted with rows of eyelet stitches. It is light, soft, and has a beautiful drape to it that would compliment any nursery. Perfect for a springtime baby.
Via Leelee Knits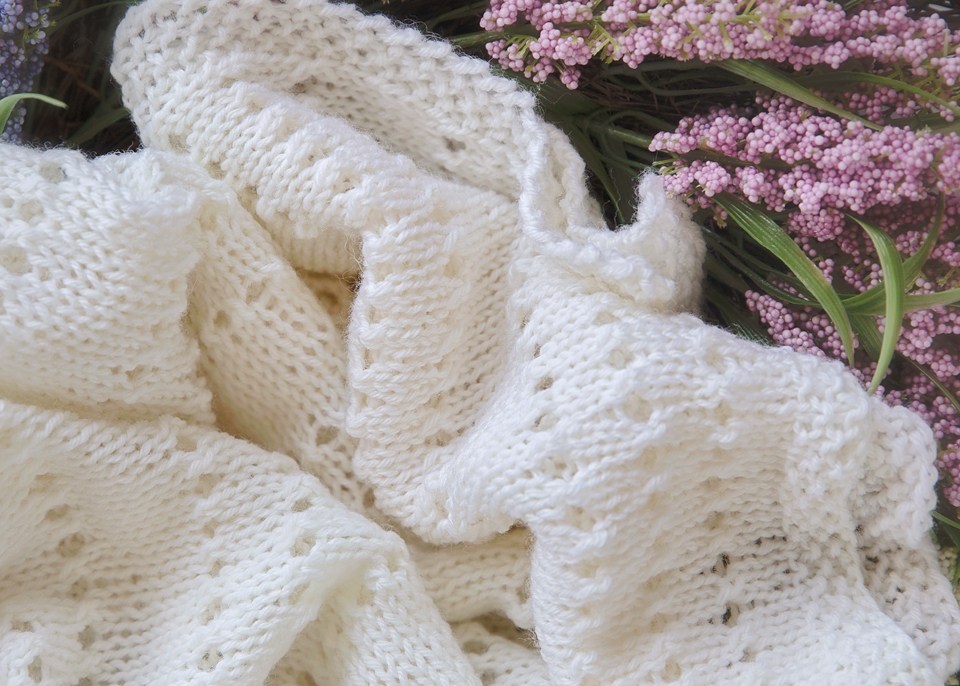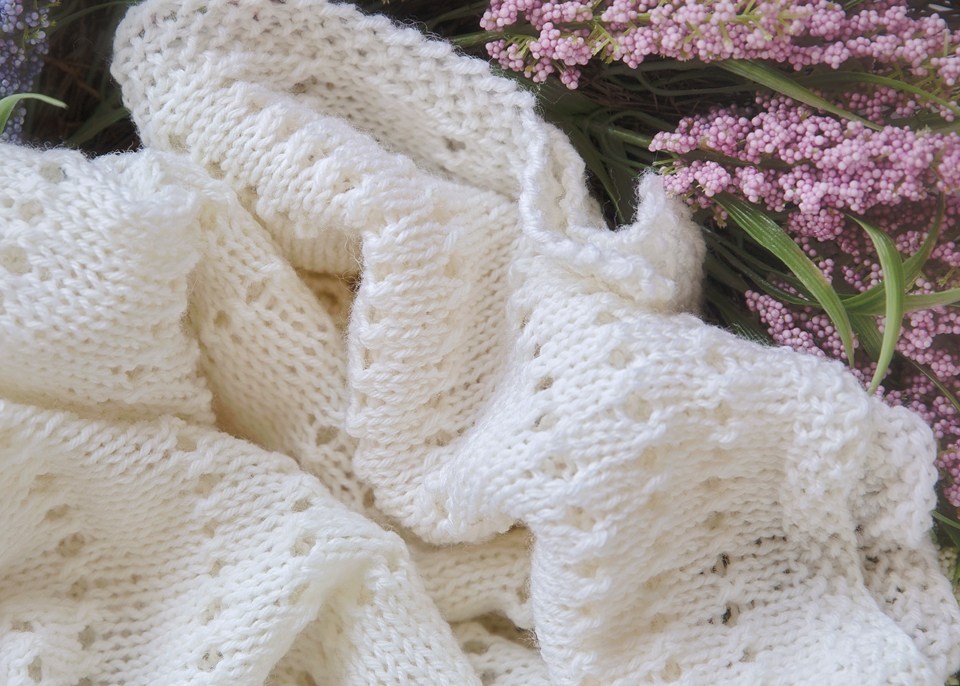 Duo-Tone Baby Blanket
This lovely Duo-Tone Baby blanket is mainly worked in garter stitch and features the use of two colors of yarn, but could also be followed using only one or as many colors as you want your blanket to have. This all free knitting pattern is very easy to follow and make, but the use of two colors makes this piece look more complicated than it really is. This great for learning how to knit for beginners.
Via Crafty Tuts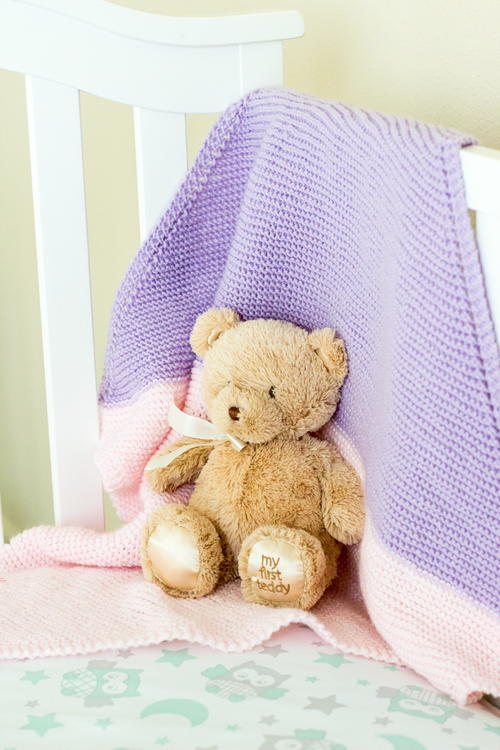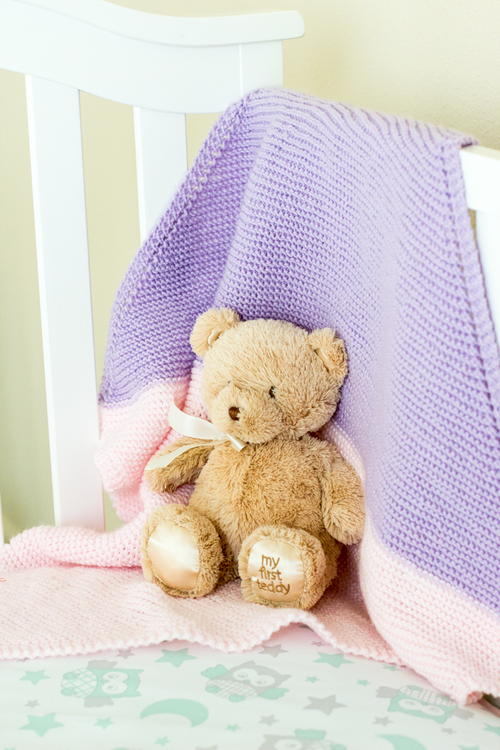 Easy Knit Baby Blanket
Easy patterns have never been so fun. The Easy Knit Blanket is perfect for learning how to knit a baby blanket. The stitch pattern is simple enough for a complete beginner yet the color pattern makes it look like it was knitted by a pro. The color pattern is achieved by holding two strands of yarn together at the same time. On the solid color stripes, you will need to hold both ends of the same skein of yarn – no need to buy two skeins of the same color. No matter what your experience level, knit along with this knitting tutorial.
Via Bhooked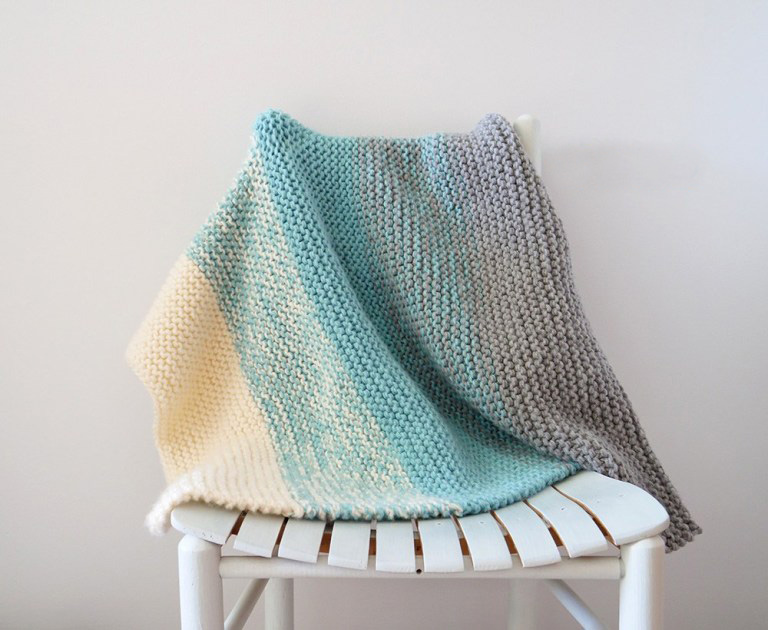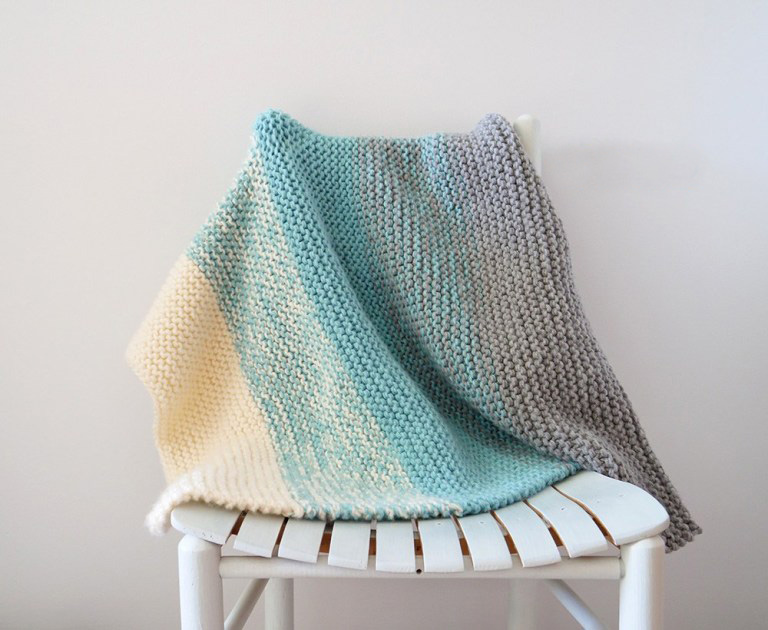 Super Easy Baby Blanket
One of the most popular beginner knitting projects over the years has been the Super Easy Baby Blanket. This knitted blanket is multicolored and looks gorgeous. It would even make a nice knit throw blanket if you don't know a little baby to make one for.
Via Purl Soho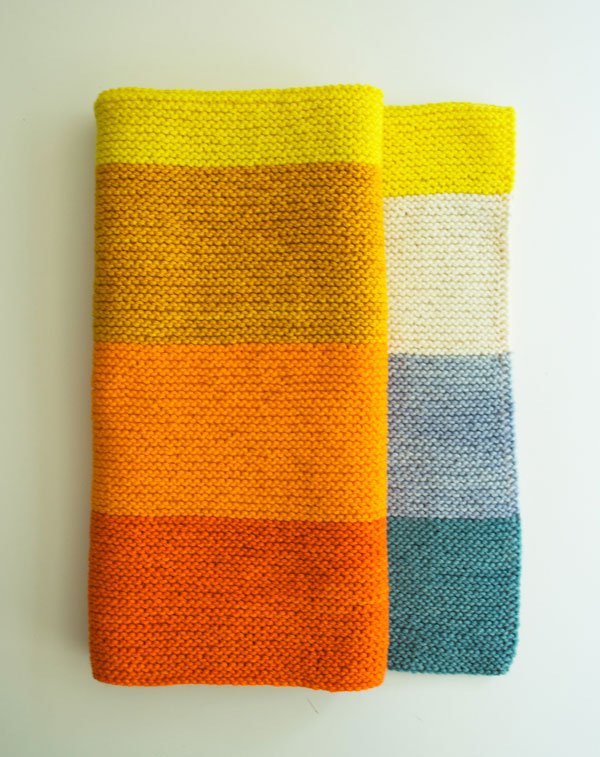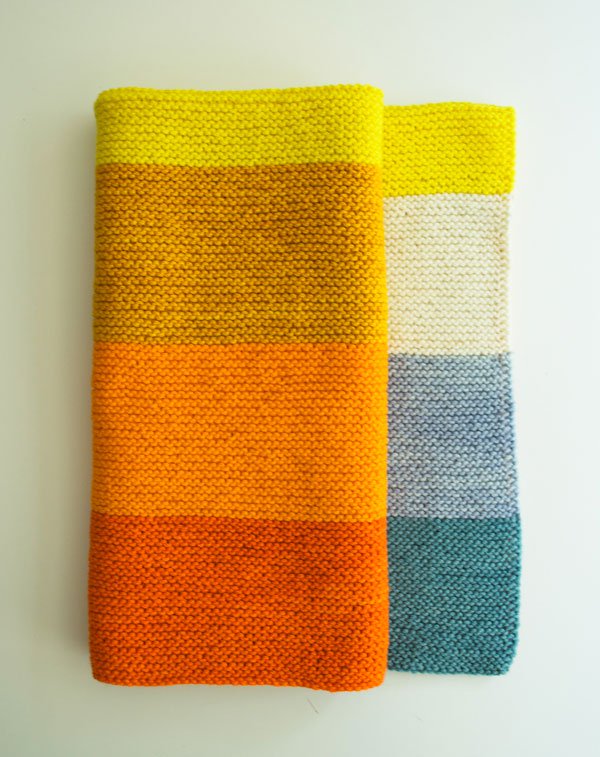 Chevron Baby Blanket
This modified version of the Chevron Colour-Block Blanket creates a simple and modern baby blanket using Blue Sky Alpacas Worsted Cotton. This cheerful two-row pattern is easy to customize in terms of size with the addition of 24-stitch repeats. Make it baby blanket size or a big knitted blanket. Use our suggested girl/boy color palettes or be creative!
Via Espace Tricot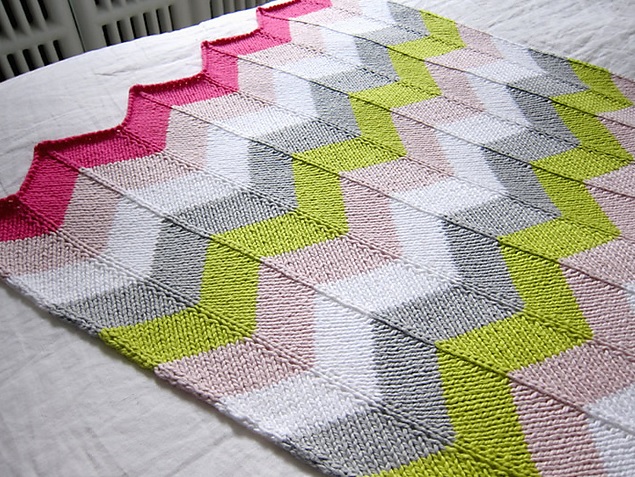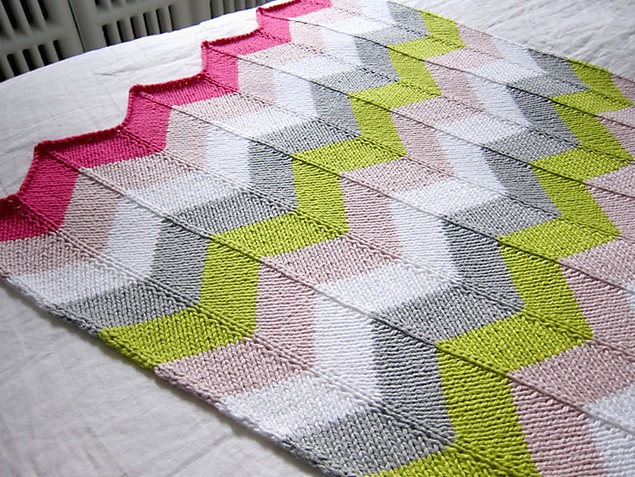 Hudson's Bay Inspired Crib Blanket
Originally, the Hudson's Bay Blanket's lightweight warmth and insulation made it a common barter for Native American goods, like beaver pelts, buffalo robes, and moccasins. But in the last three hundred years, the Hudson Bay Blanket has come a long way. Now it is practically a national symbol to many Canadians, and to the rest of the world, an unmistakable design icon. This is a great pattern to learn how to knit a blanket with history.
Via Purl Soho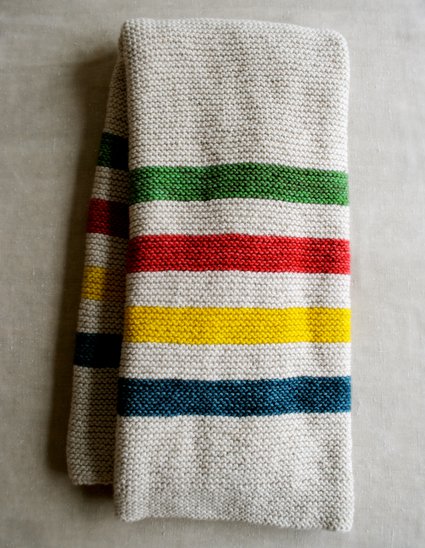 Easiest Baby Blankie
Looking for easy patterns for knit blankets? This chunky knit blanket turns out beautifully and you can make it even if you are a brand new beginner knitter. You only need to know the most basic knit stitch and simple increasing and decreasing. I've made a YouTube video (link below) and included a few photos to give you some extra help as well.
Via Mama In A Stitch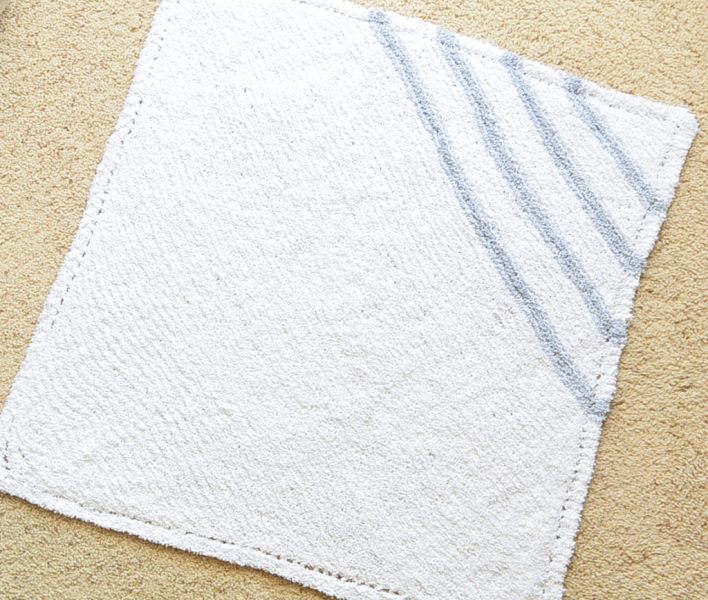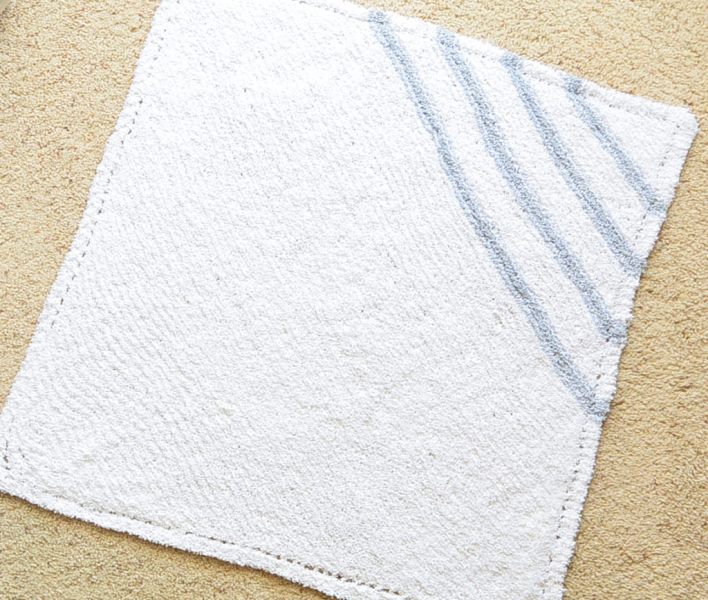 Knitted Baby Blanket
The chunky knit blanket pattern is easy to follow; you'll knit each square flat on straight needles. The squares all feature different patterns, which will broaden your stitch knowledge as well as look good. The garter stitch edging is knit on circular needles as there are so many stitches, this just makes it easier.
Via Handy Little Me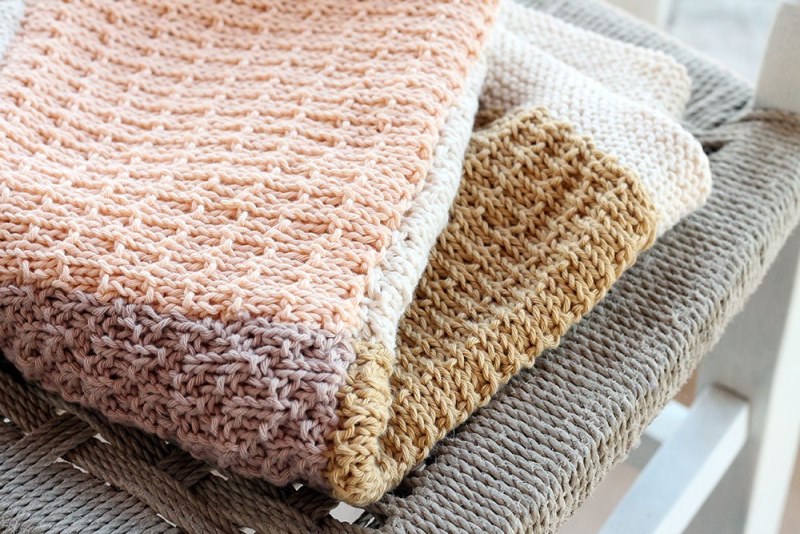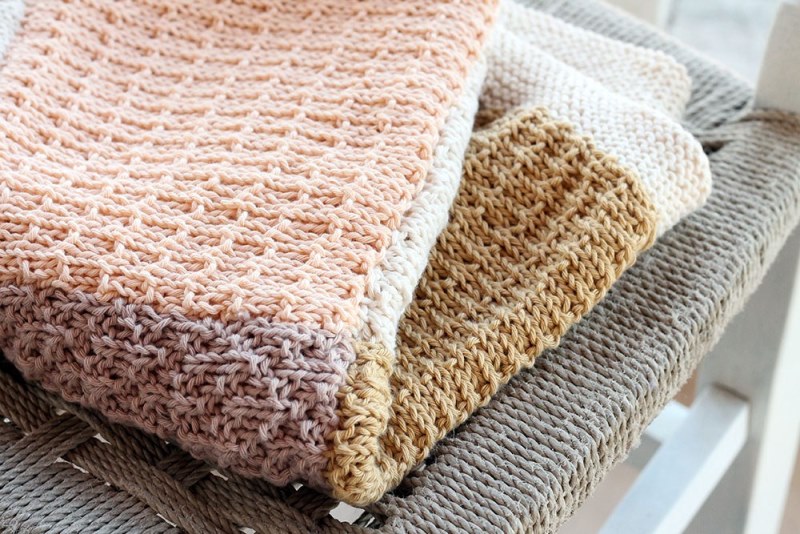 Diagonal Baby Blanket
Baby knitting patterns are so colorful and this is no exception. The baby blanket pattern is knitted all in one piece in multiple colors. It's completely seamless and it's worked on the bias. It's one really quick beginner knit blanket project suitable for all skill levels.
Via Noble Knits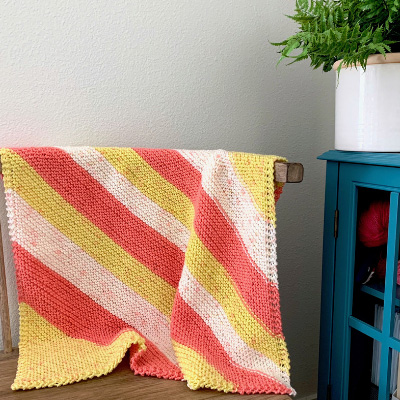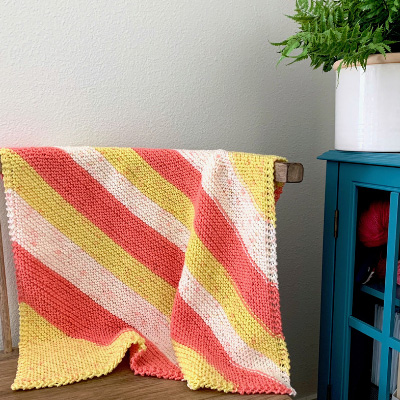 Free knitting patterns for beginners are easy to find if you know where to look. A knit blanket is a great way to practice a stitch and make a simple project.
Each of these baby blanket patterns is suitable for any skill level and is fun to make. The best part is how colorful they all are and how versatile. You can make the baby blanket size or full size.

There's nothing cozier than a knitted baby blanket. Little ones will love snuggling up in the patterns on this list. Make one and see for yourself.
Remember If knitting is still a new skill for you and you'd like to take things to the next level so that you can be a confident knitter, check out the professionally filmed Learn to Knit class that will take your knitting skills to the next level.