With cold weather on its way, you're probably crocheting up a storm.  To keep those little ones you love warm this season, add the Baby Pom Pom Hat to your list of projects. This baby hat is the perfect gift to keep tiny ears warm and protected this season.  

The Pom Pom Hat is created using the detailed puff stitch and the pattern will teach you to create decorative poms to finish this project.

As a perfect pair to these special stitches, this bonnet is made using Cascade Superwash Merino Yarn. It's ideal for projects that will be exposed to outdoor conditions. Cascade Superwash Merino is made from 100% wool AND  it's machine washable, which makes this a very durable, easy-to-clean, and versatile yarn.

You can get access to this special yarn and the step by step digital pattern in the new kit I put together for this baby bonnet.  The kit will have every skein you need to create this sweet baby hat, and it's a purchase you can feel good about.
All of our yarn is collected through MakerDrop. And by purchasing through MakerDrop, you're supporting a small business who is passionate about crochet. I love supporting other makers, and it's great to be a part of such a supportive community.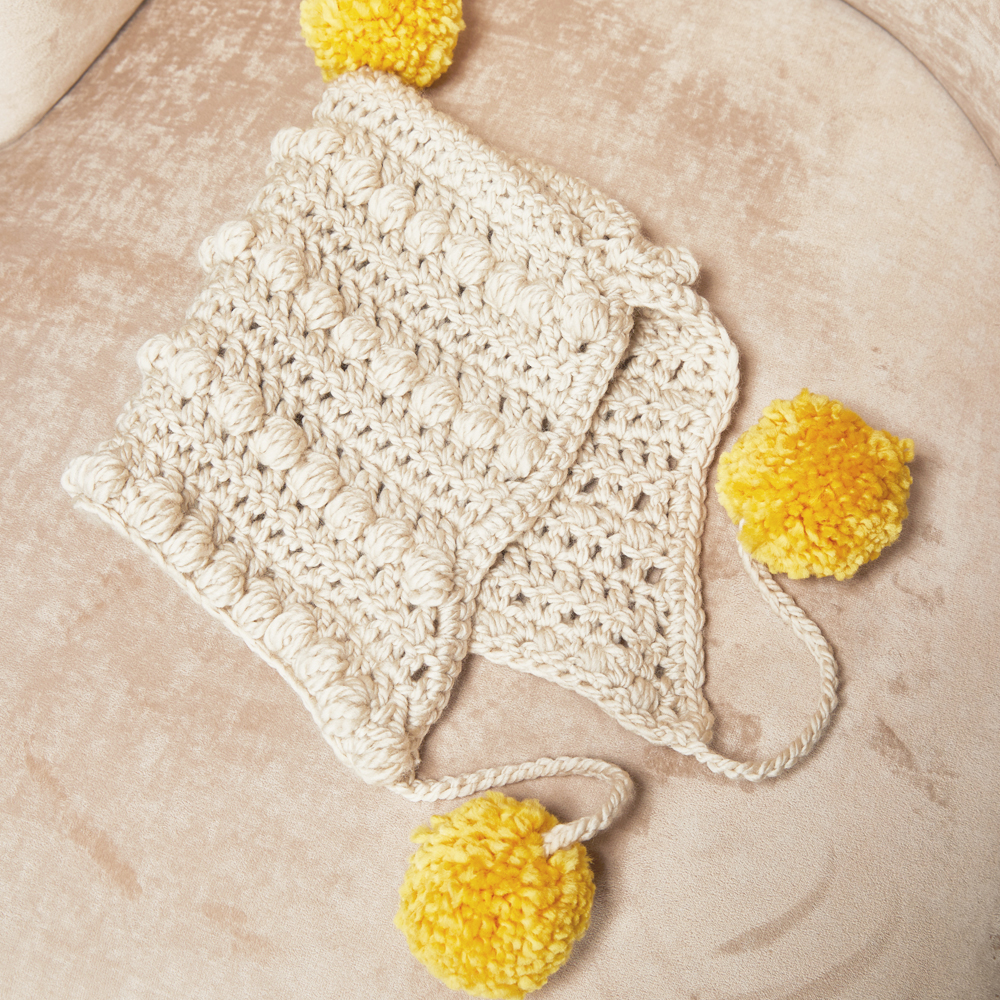 Baby Pom Pom Hat Crochet Pattern
SKILL LEVEL: Advanced Beginner
MATERIALS:
Hook: 6mm
Yarn: 1 skein of Cascade 128 Superwash in Feather Grey, 1 skein of Cascade 128 Superwash in Daffodil. Get these yarns and the digital pattern in the Baby Pom Pom Hat Kit we put together here.  
Tools: Scissors, tapestry needle,
ABBREVIATIONS:
st = stitch
ch = chain
sl = slip stitch
SPECIAL INFORMATION: To make the pom poms, wrap yarn around two fingers about 120 times, and slide off of fingers. Tie a piece of yarn around the center very tightly, wrapping and double knotting it twice. Cut ends, fluff into a round ball and trim as needed to get the proper shape. Gauge is 8 rows of 12 st = 4"
Special Stitches:
Puff stitch- yo and pull up a loop 5 times, yo and pull snug. Ch 1 to close
FINISHED SIZE: 8" deep, 9.5" long in the front, and 7" long in the back. Ch with pom pom is 12" long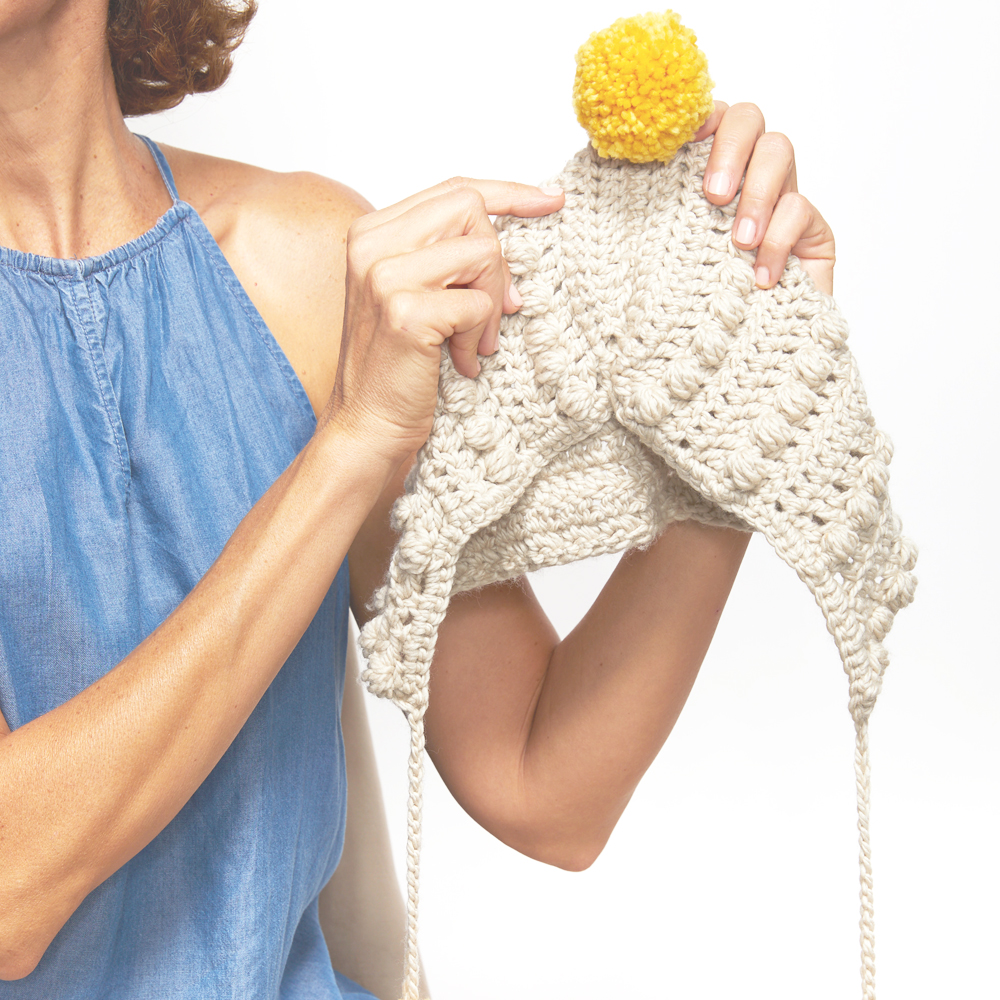 PATTERN:
Ch 49 (Feather Grey)
Row 1: sc into the 2nd ch from the hook, and in each st across
Row 2: Sc into the first st, puff st in the 2nd, sc in the next st, then puff st in the next st, ending with a sc.
Row 3: Ch 2, dc into the 2nd st. Dc into each st across, skipping the ch 1 of each puff stitch. Row should have a total of 48 dc.
Row 4 & 5: Dc2tog in the first 2 st and last 2 st, dc in each st in between
Row 6: Repeat row 2
Rows 7-9: Repeat rows 3-5
Row 10: Repeat row 2
Rows 11-13: Repeat rows 3-5
Row 14: Repeat row 2
Rows 15 & 16: Dc2tog in the first 2 st and last 2 st. Dc in each st in between
Row 17: Dc2tog twice in the first and last 4 st. Break yarn.
Fold work in half with right sides facing, whip st the back together to the end of the 2 dc2tog row
Ch 25, sc into the front point of the bonnet. Make 60 sc around the bottom of the bonnet, ending on the opposite point. Ch 25 and break yarn. Make 3 pom poms with the daffodil yarn. Thread the tapestry needle with a 7"-8" piece of daffodil yarn, and stitch a pom pom to the end of each ch, and to the point of the bonnet. Weave in all end.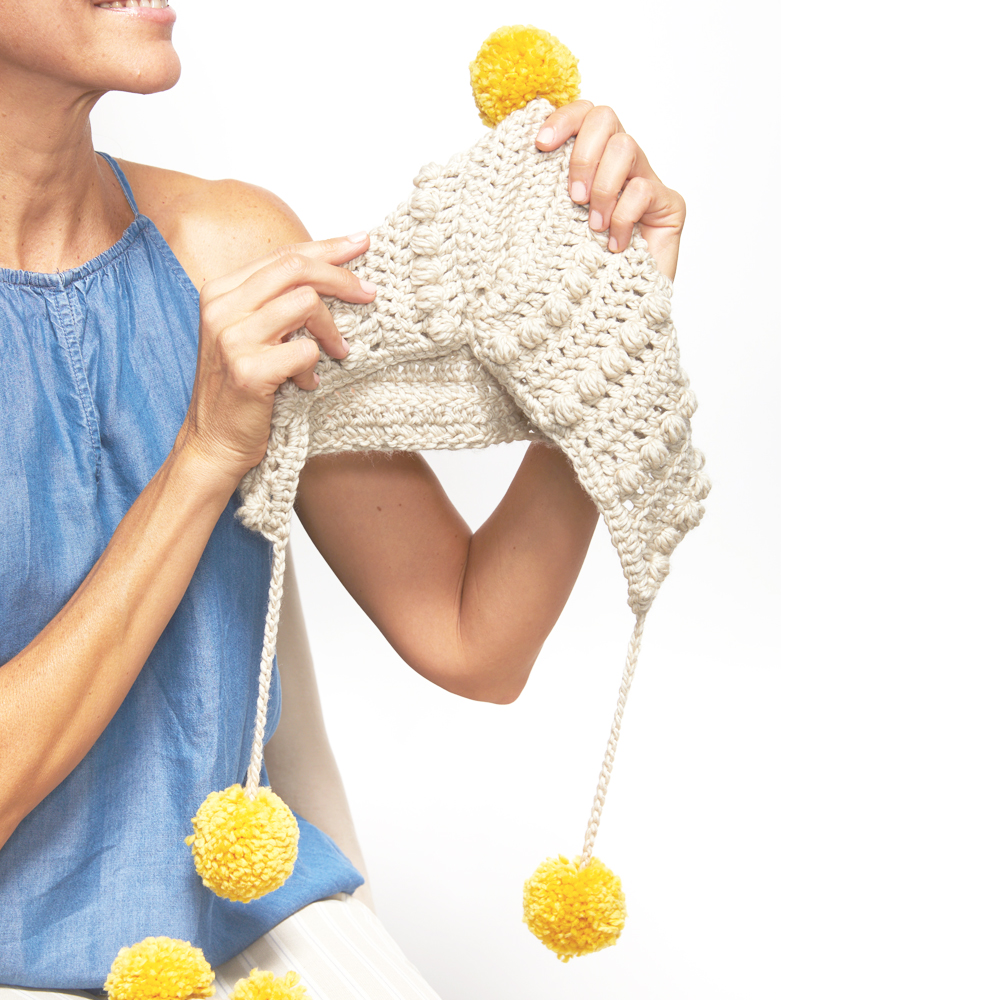 The Baby Pom Pom Hat is a quick and easy project, and thanks to the kit I've put together, it's practical too. I'd love for you to become part of my supportive maker community and you can start by picking up a kit today.
After you've made this bonnet, you won't have to worry about your little ones getting cold this season. With this adorable baby hat, they will be cozy and warm everywhere they go.  It's the next best thing to a hug from you!