25 Crochet Baby Bootie Patterns
Babies are adorable and it can be really fun to crochet things for them. Out of all the crochet projects out there, I enjoy crocheting baby booties the most.

They're fast, easy to follow and every pair is different. It can be hard to choose the best patterns when there are so many options to choose from. Luckily, I put together a list of 25 of the cutest baby bootie patterns out there. A pair for every baby you know and then some.

Explore all the styles out there in one convenient space. After seeing all of these crochet patterns you'll have all future gifts for baby showers and birthday parties planned out. Well, until the babies grow up that is.
The Parker Crochet Baby Booties
These baby booties are made out of a worsted weight yarn with single crochets and half double crochets. They fit a 0-3 month size. If you love free crochet baby patterns, this pair of booties has a matching hat to go with it too. These little fuzzy slippers are everything a baby could want which makes them one of my favorites.
Via Sewrella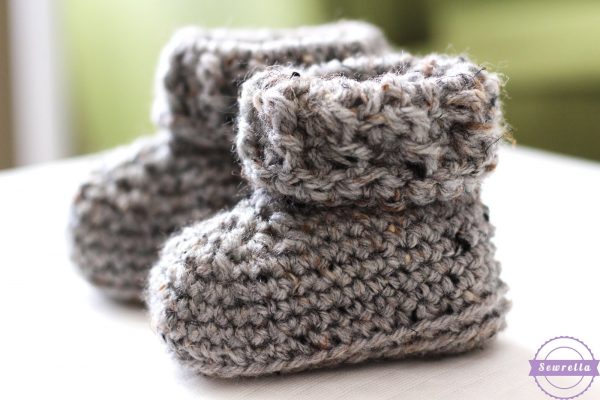 Crochet Baby Booties With Flower
These adorable crochet booties have little flowers stitched on top. They're made out of 100% cotton yarn, DK weight. They crochet up so quickly too. They're the perfect fun little project to work on when you have some free time. They use pink, grey and beige to make a fun little slipper that anyone would adore.
Via Croby Patterns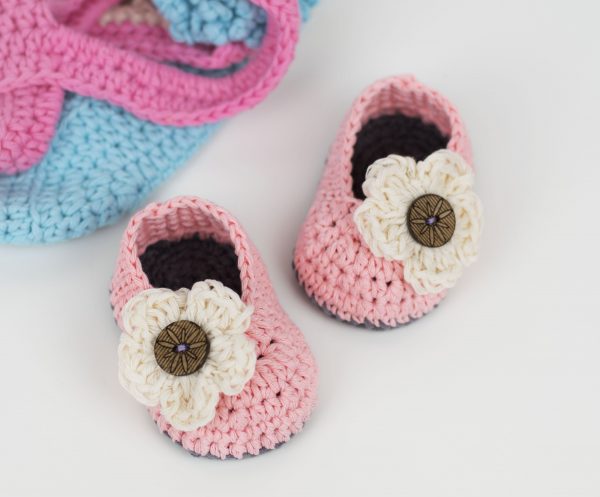 Crochet Newborn Baby Booties
If you want to learn how to crochet baby booties, this pattern is a classic. This little pair of easy crochet booties are made in pink or blue for a gender reveal party. Although you could make them for anything. The pattern is really straightforward and they have a little bow on the front. Make these if you've never stitched up a pair before. You can't go wrong with this pattern.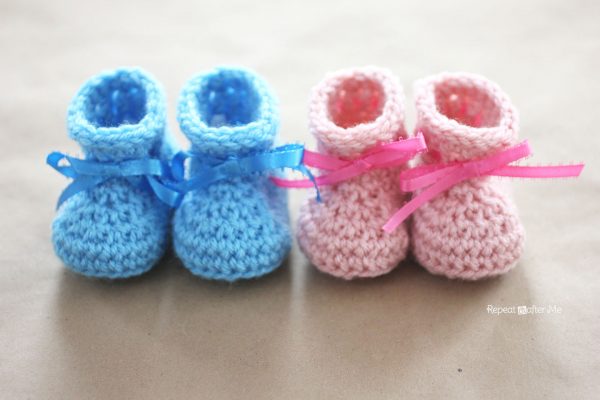 Monk Strap Booties
These little crochet slippers are more like crochet baby sandals. They slip on and have a little strap on the top with button closure. They're unisex and are crocheted up in the round. These crochet baby shoes are sweet and so versatile. You can really personalize this pattern to your liking.
Via Whistle & Ivy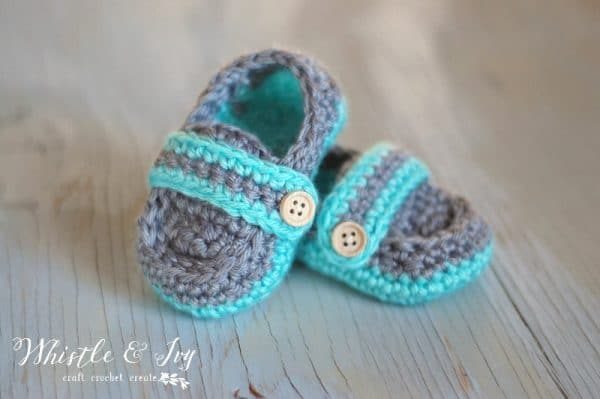 Bernat Baby Booties
A lot of free baby crochet patterns have matching kits, and this is one of them. You can get it in a multitude of colors to fit your personality. They have a cuff on the top of the booties and a double rim around the soles. This pattern adds a twist to a classic style. Definitely fun to work up.
Via Yarnspirations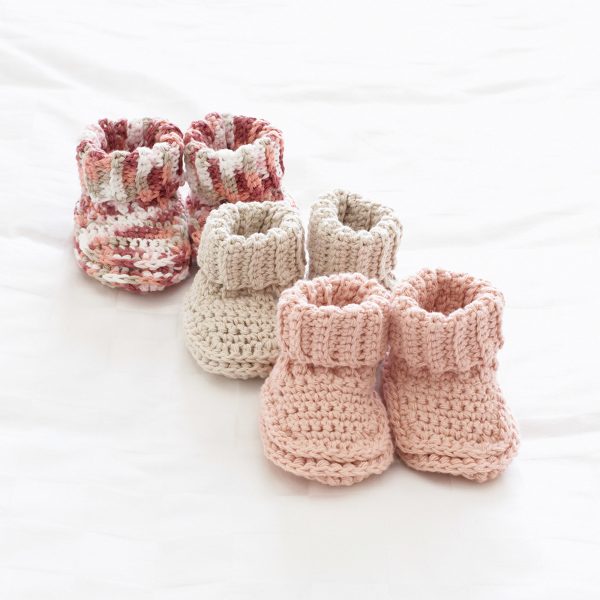 Lace-Trim Baby Booties
This is one pair of super cute booties. If you make a lot of baby crochet patterns with lace trim, these will fit right in. The cuff is made in a delicate lace style. Using half double crochets, this pair of booties come together beautifully. They'd make a great present for a shower. See for yourself.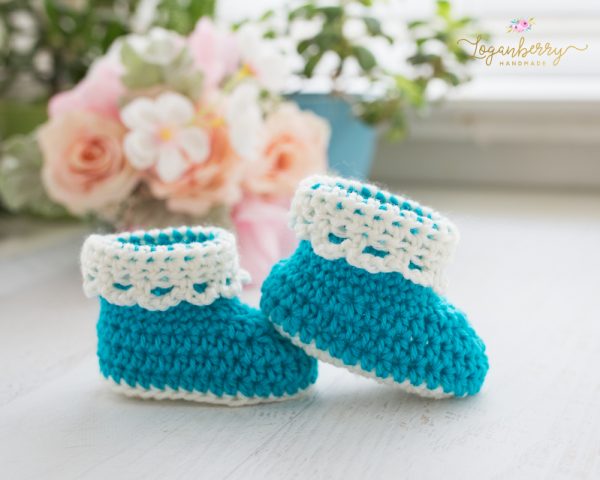 50 Min Easy Crochet Baby Booties
One of the best things about baby patterns is how fast they work up. This pair of magenta booties can be whipped up in 50 minutes. This pair even has a baby crochet hat to go with them. They're a three-quarter length and have a delicate white trim at the top of the bootie. They're simple, sweet, and fast to make. Perfect for that last-minute invite to a baby shower.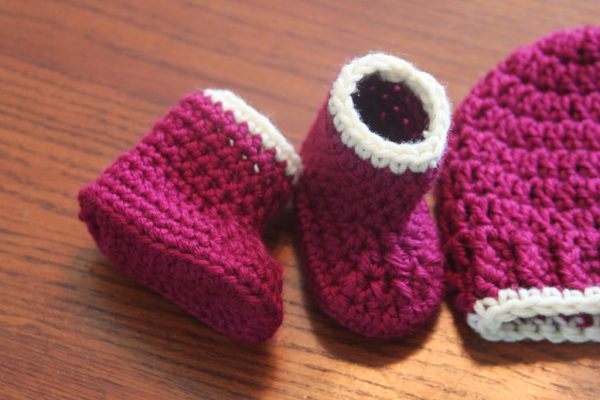 Crochet Baby Booties – Blue Whale
These shoes are a crossover between crochet sandals and booties. They have the traditional boot shape with the strap of a sandal. It's an adorable blend. The pattern uses single crochet, half double crochet and double crochet stitches. These crochet boots are made out of a 100% cotton DK weight yarn so they're soft and lightweight on a baby's foot.
Via Croby Patterns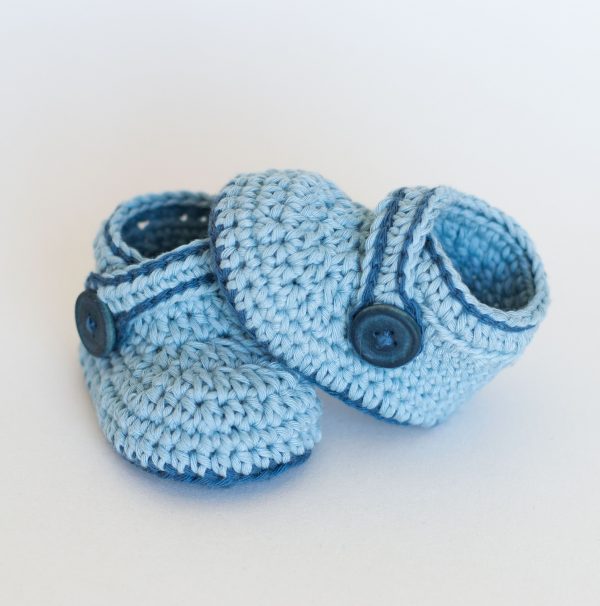 Cuddly Crochet Baby Booties Pattern
If you want to learn how to crochet slippers, this is a fun pattern worth trying. These crochet newborn booties are sweet and fun, and bright green. They have a little button detail and are super snuggly. Perfect for a little baby who's always getting cold. The designer even suggests whipping up a matching set for mom. How cute would that be?
Via Wonderful DIY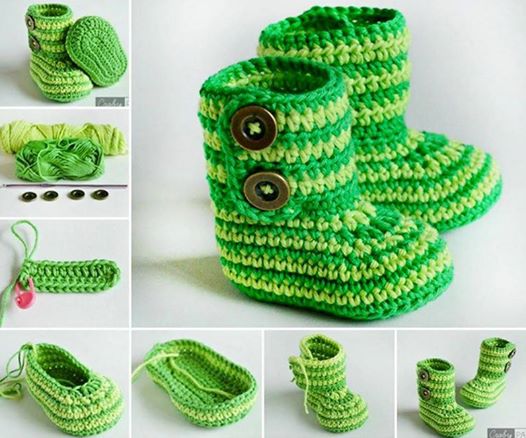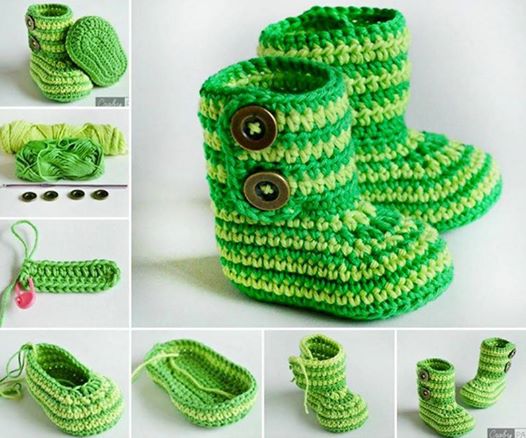 Hut's Amore Crochet Baby Booties
These baby booties are really unique. They're made in red and grey and have a vertical strip going down the side. The strap is accompanied by a large button. While the pattern is really straightforward, the details are what really makes these crochet baby booties stand out.
Via Hut's Crochet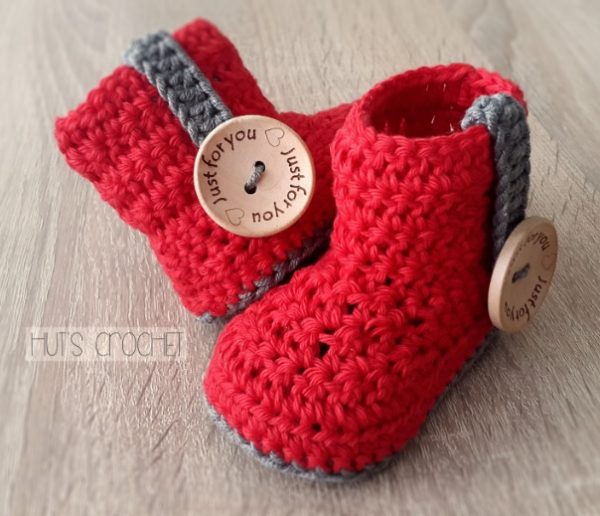 Crochet Wrap Around Button Infant Boots
This baby booties crochet pattern fits sizes 0-3 months. They have a little scalloped edge on top and are super fuzzy. They wrap around and button to close. As far as free crochet baby patterns go, this one is pretty special in design. Most booties slip right on, but the cool wrap-around feature is really unique here.
Via Ashlee Marie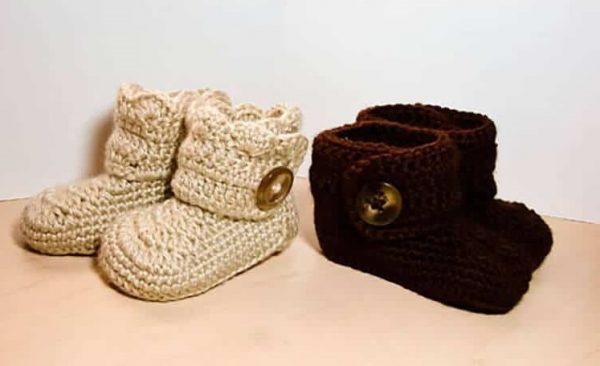 Winter Snowflake Baby Booties
These little booties are as perfect as a winter wonderland. Learn how to crochet baby booties and embroider with these snowflake-inspired booties. These easy booties work up fast and you get to add decorative embroidery to the side. They also have fluffy white yarn around the border to mimic snow.
Via Crochetpreneur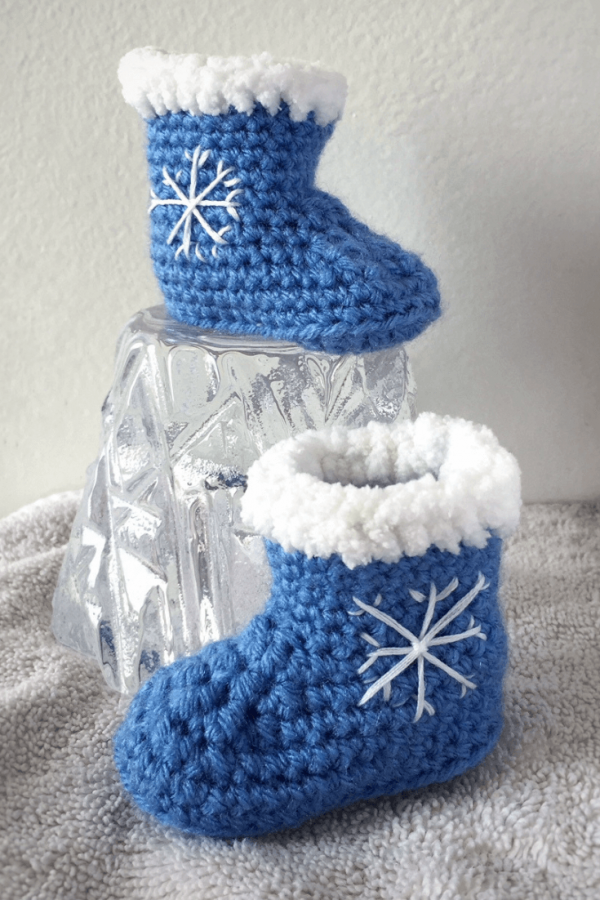 Frog Baby Booties
Most children love animals, so these little frog crochet baby sandals are sure to be a hit. Out of all these free baby crochet patterns, these little frog slippers might be my favorite. They have precious little eyes and rosy cheeks. Who wouldn't want to snuggle up with a pair of slippers that fit like friends?
Via Hopeful Honey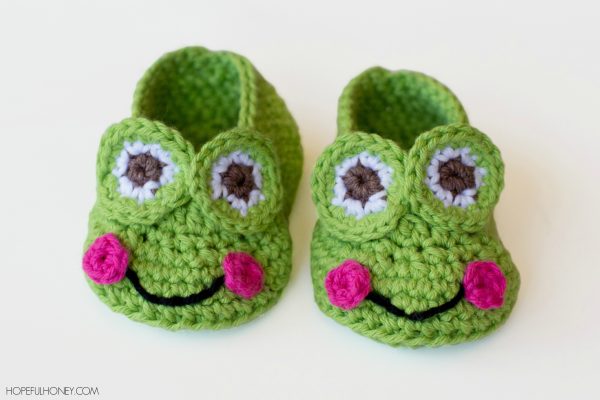 Crochet Baby Socks
These crochet booties are more like socks. Gentle and soft, and delicate. Just like little feet. This baby patterns worked with a ribbed cuff and everything else is kept simple. These will become a mother's essential for keeping their baby's feet warm.
Via Redheart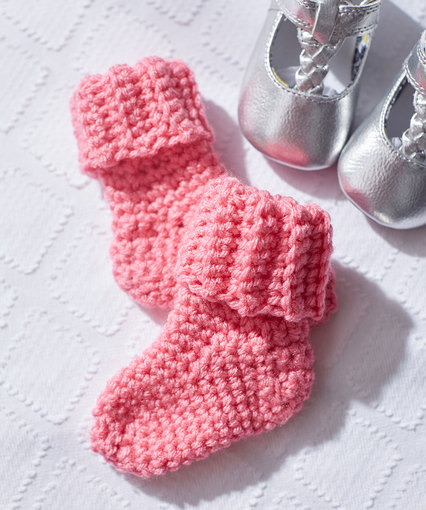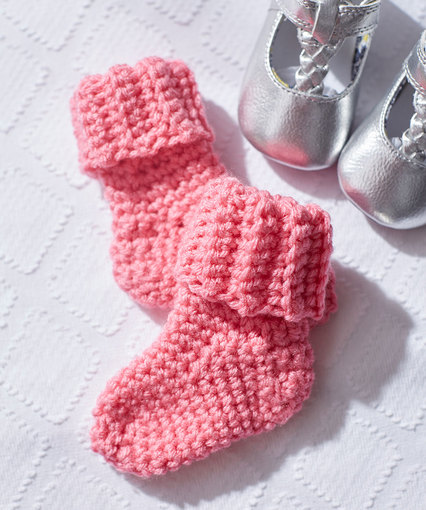 Crochet Cuffed Baby Booties
This is a chunky pair of cute booties. They're made in brown detailing and blue or pink. They look outdoorsy and adventurous. This is one of the baby crochet patterns that can easily be customized. Add a flower here or change a color there. Make these whatever you want them to be.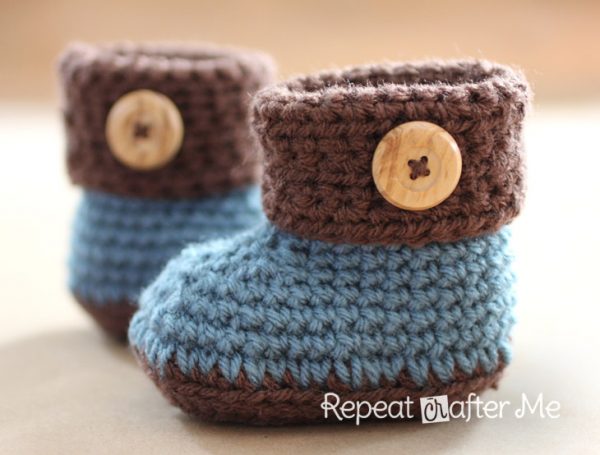 Crocheted Baby Booties
Here's a classic pair of red crochet boots. They make an excellent gift and are a good project for more experienced crocheters. Don't be intimidated if you haven't made some before. You could easily learn how to crochet slippers thanks to the help of Martha Stewart.
Via Martha Stewart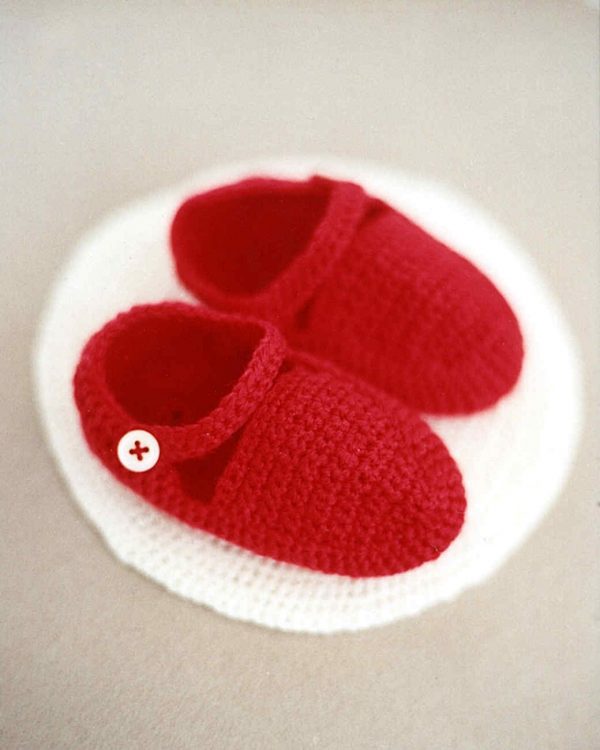 Adorable Baby Booties
The crochet sandals mimic ballerina slippers. They're open on the top with a little strap and you can make them in any color. There are a lot of free crochet slipper patterns out there, but these are the cutest. Teach your baby to walk and then dance with the help of these tiny shoes.
Via Red Ted Art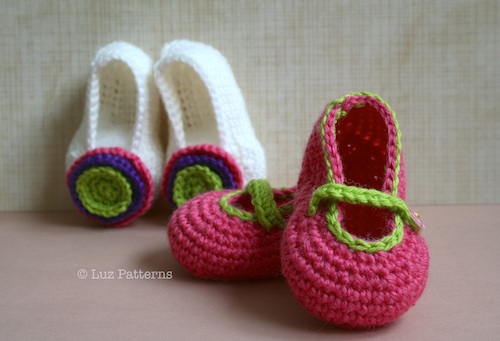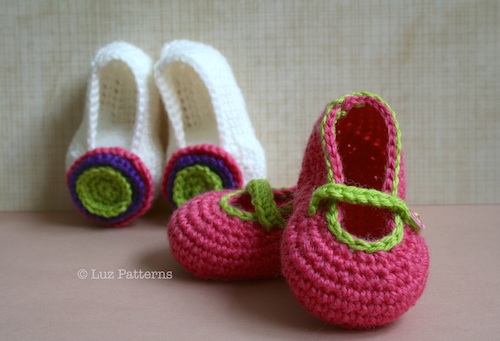 Bow Baby Booties
This crochet pattern is classic and adorable. It has a big bow crocheted across the top of the slipper. The booties are made in grey which really helps the bow to stand out. They're sweet and simple, but bold enough to be exciting.
Via Croby Patterns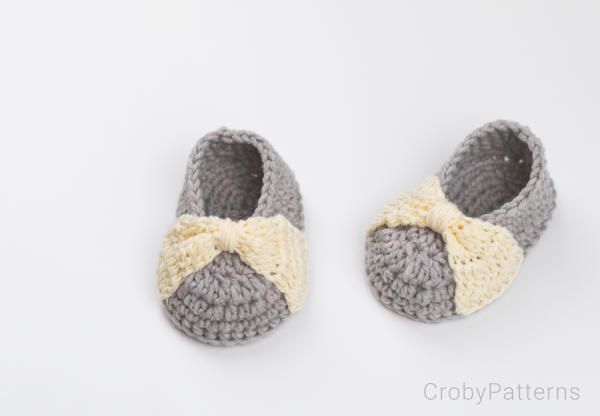 Fairy Blossom Baby Booties
Babies are magical and they deserve crochet newborn booties that are just as special. These fairy blossom baby booties are the pinnacle of free crochet patterns for baby. They're colorful and are inspired by the natural world. A delicate flower seems to grow from the top of these little slippers. What an inspired gift to make for a loved one.
Via Hopeful Honey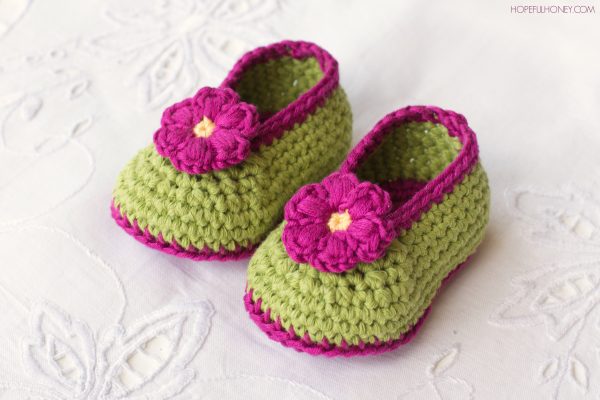 Plaid Cuff Baby Booties
If you're looking for a creative outdoorsy pair of baby booties, look no further. With these plaid cuff baby booties, you'll have the cutest little lumberjack you've ever seen. The base is made in a solid grey with a decorative plaid cuff. All of this is accentuated with a little button. With these boots, your little tyke will be trekking through the forest in no time.
Via Rustic Stitches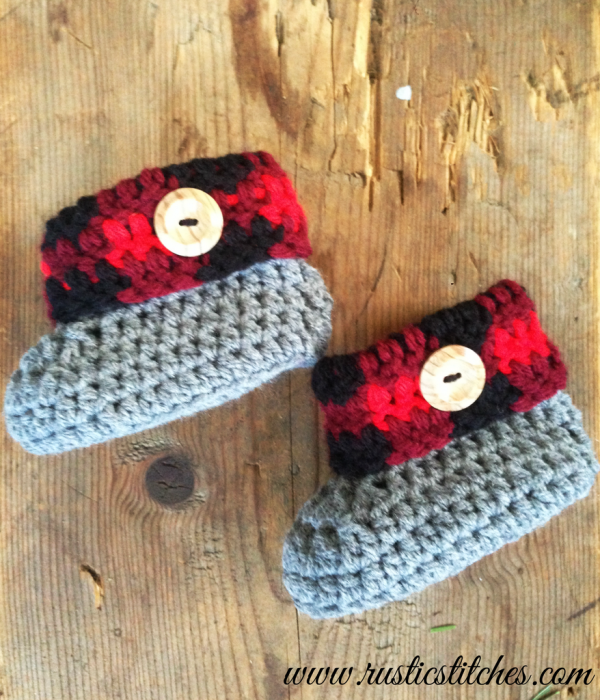 Easy Peasy Crochet Baby Booties
These are by far one of the simpler patterns on this list. They're a lightweight pair of booties with a tie in the front. The designer made them in a fresh lavender color, and they look extra plushy. This would make a great last-minute gift of a filler project if you have some extra time to spend.
Via Crafty Tutorials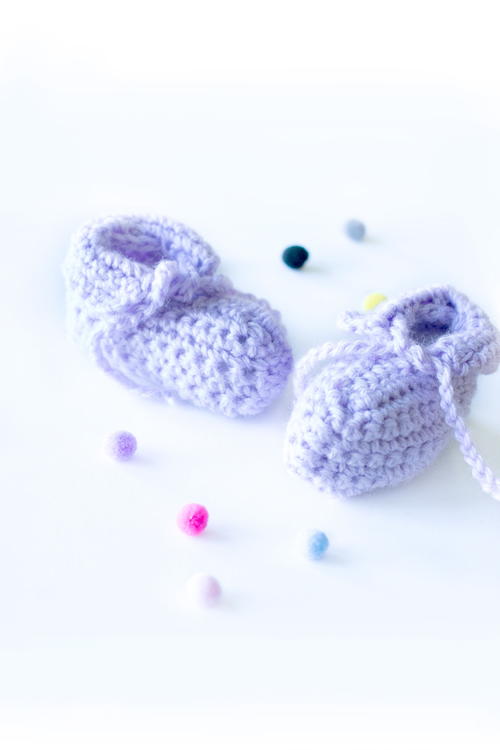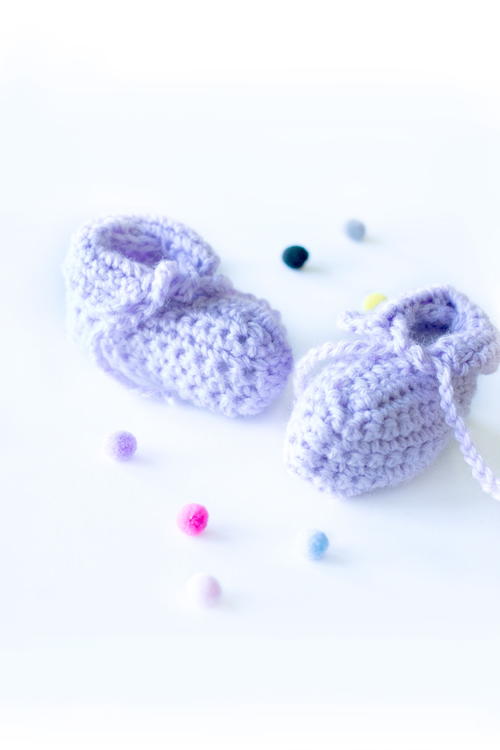 Easy Booties Pattern
These are simple and colorful. They come in all colors of the rainbow and remind me of something Robinhood would wear. They come up a little higher than other booties but the design remains classic. With a rounded shoe, these are extra plush and comfy to wear.
Via Lion Brand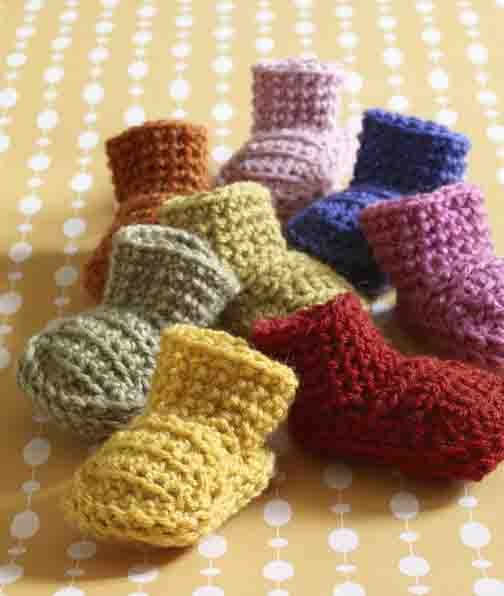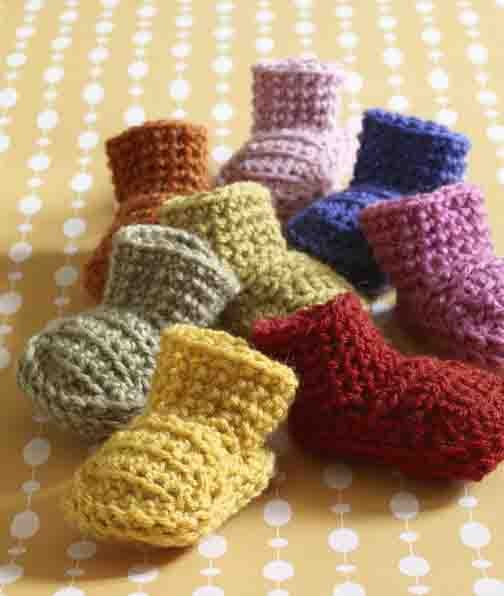 Sugar Plum Crochet Booties
These booties are as sweet as candy. They look like sweet bubblegum. Soft and pink and plushy. They have little decorative flowers on the front and a lace detail around the top. They're pretty and fun. Everything a little baby deserves.
Via Garnstudio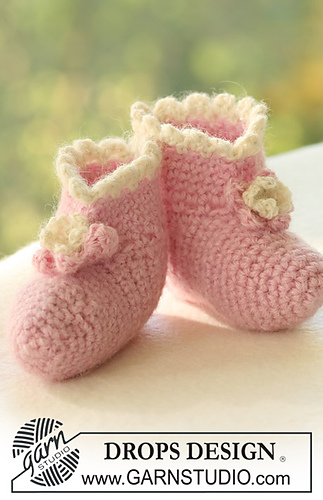 Summer Crochet Bay Booties
These crochet slippers are lightweight and airy. This is a good option for spring and summer so babies can feel the breeze between their toes. They're just cozy enough to keep them warm without overheating them in the summer sun. They're also easy to make. Always a plus when you're a crocheter.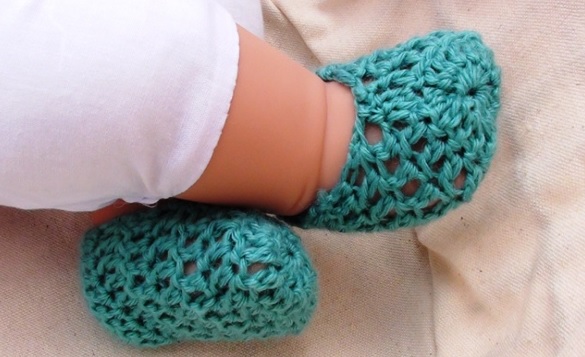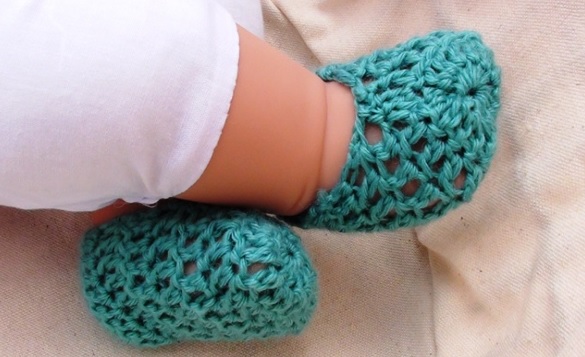 Made out of a slate grey yarn with a little white bow on the front – could these be any cuter. They're warm and a sweet option for the colder months. This pattern even offers video tutorials on some of the stitches. So, if you're worried about making them, you can breathe easy knowing there's lots of help along the way.

Via Croby Patterns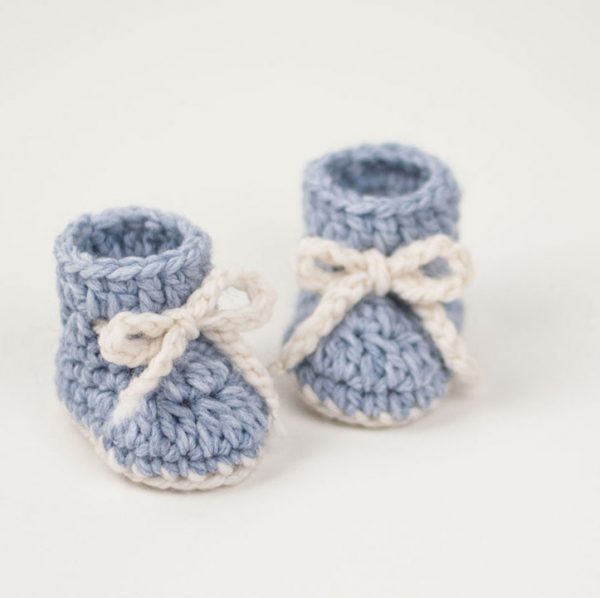 There are so many crochet baby booties out there. It can be hard to know which ones to make. Luckily, they crochet up so quickly you could make all the ones on this list and more. And after seeing how cute they all are, you might not be able to resist.
If you enjoyed this free baby boots crochet patterns, stop by my fantastic new curated pattern blog post of 25 Easy Crochet Baby Booties for Beginners