12 Crochet Sweater Patterns for Kids
One of the cutest things is a kid in a sweater. I personally love kids sweaters because they're always so colorful and fun, and authentically represent the imagination and playfulness of children.
Whether the sweater is accompanied by a fun dinosaur, flower or octopus crochet pattern, kids sweaters are a childhood staple. That's why I went on a hunt for crochet sweater patterns for kids, to supply you with a list of go-to patterns for your next sweater project.

These sweaters make for amazing gifts, that will surely be well used, and well worn. Check out the 12 FREE crochet sweater patterns for kids below, and get to making!
The Pumpkin Sweater
The Pumpkin Sweater is an easy and super fun pattern. The Pumpkin sweater is a raglan sweater worked from top to bottom and the pattern is for sizes from 6 months up to 4-5 years.
Via By Katerina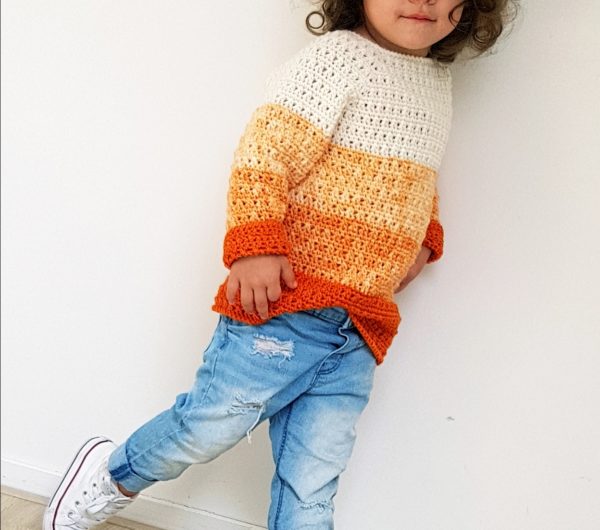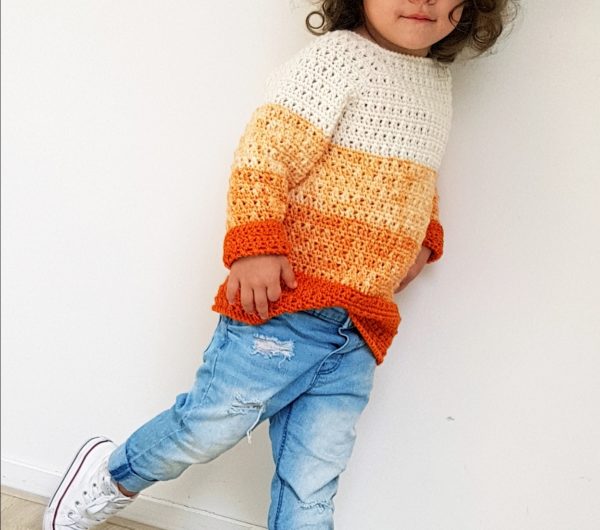 Children's Pastel Stripes Sweater
This easy crochet sweater just screams happiness with its cheery, colorful design. It's so colorful and exciting that any child would love it! It's got a bold striped pattern in three alternating colors. Wrap your grandchild in color and comfort with this adorable Pastel Stripe Sweater.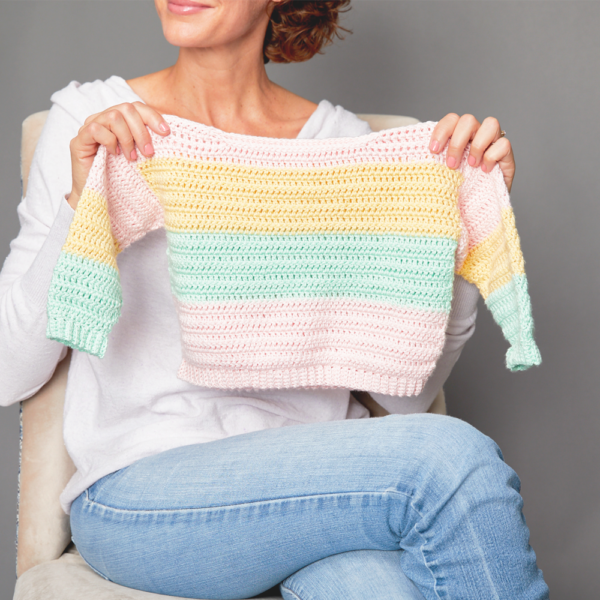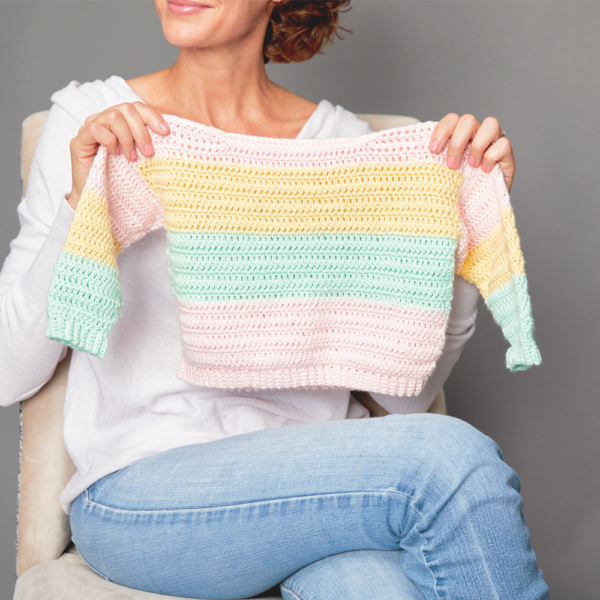 Dinosaur Sweater
Create a sweater that any little kid will love with this kid's sweater crochet pattern featuring a big, green dinosaur. The dinosaur is crocheted separately and then sewn to the sweater for easy construction.  Little boys (and girls!) of all ages will love this sweater!  
Via Favecrafts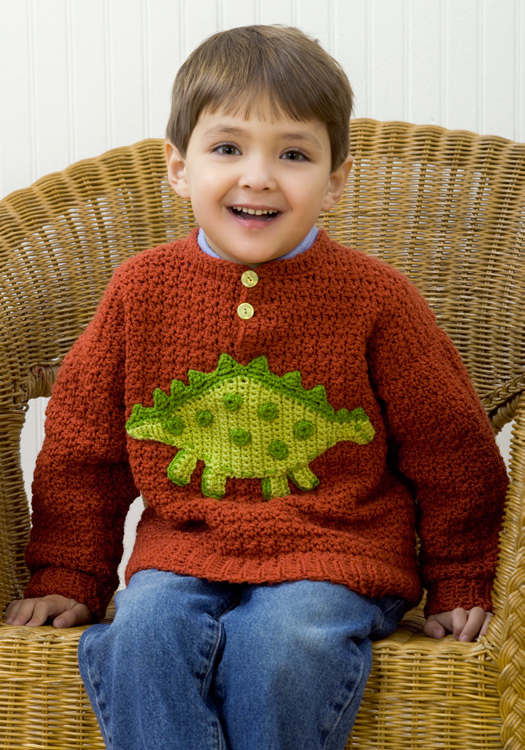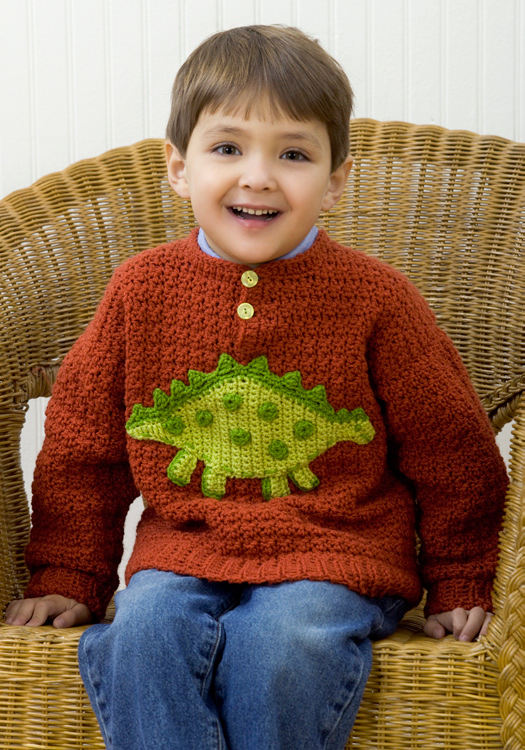 Crochet Color Block Sweater
This sweater fits about a size child 4 – 6 in US sizes and you do need to have the crochet basics down. It helps if you know how to join around and turn. And it helps if you know how to make ribbing with front post and back post double crochet. Let's get to it!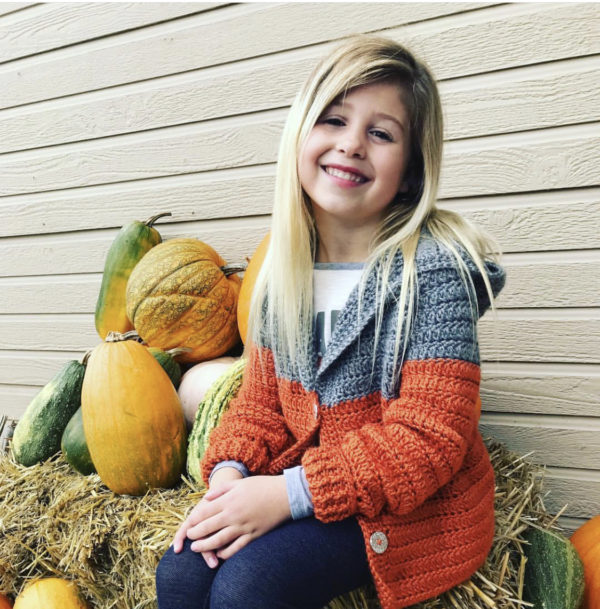 Free Easy Crochet Baby Sweater
These crocheted sweaters look great worked up in Bernat Softee Baby! With this yarn's light sheen and beautiful color selection, these sweaters are sure to be keepsakes. This crochet pattern works up quickly using double crochet and half double crochet stitches, in a simple top-down construction meaning there are no seams to sew and less ends to weave in!
Via Yarnspirations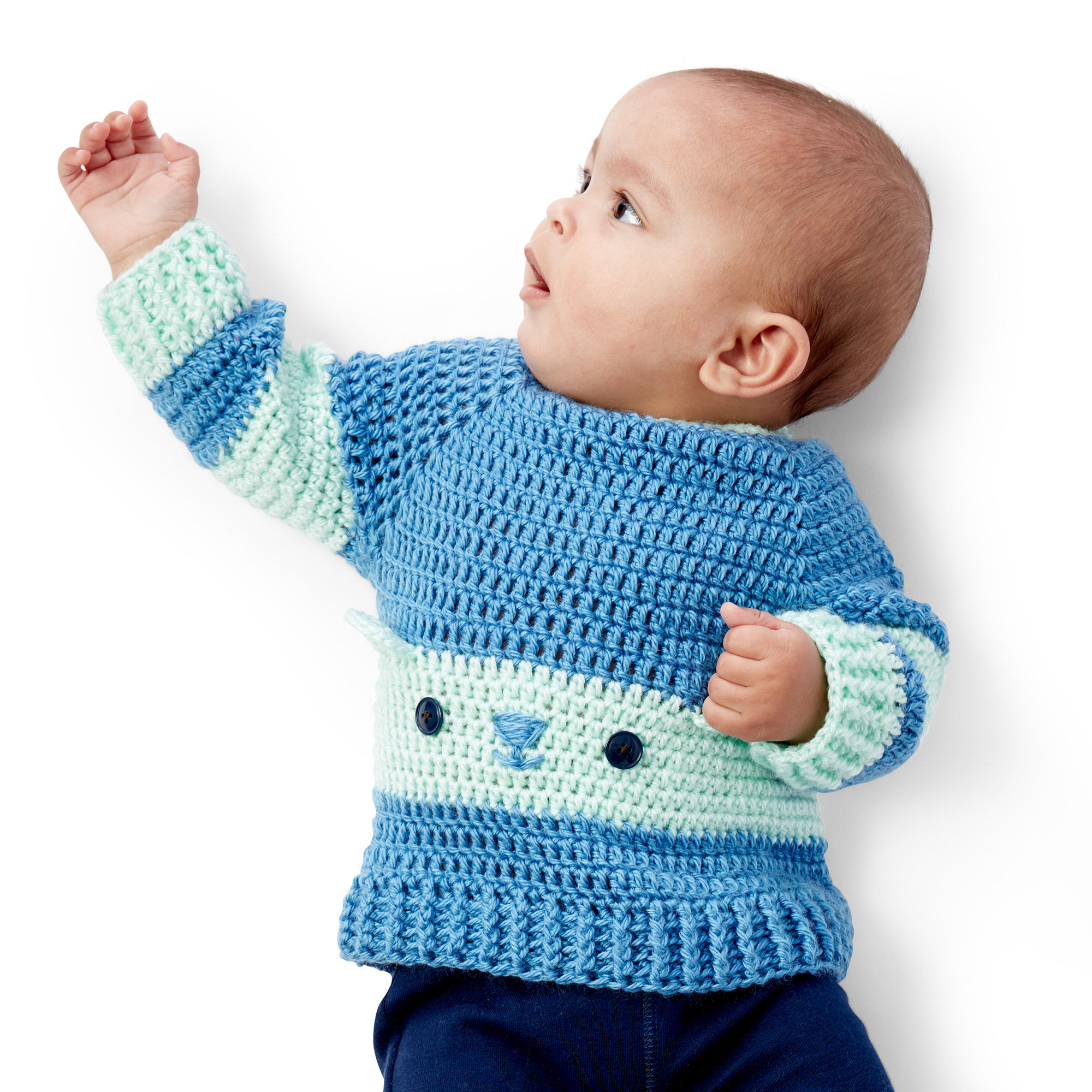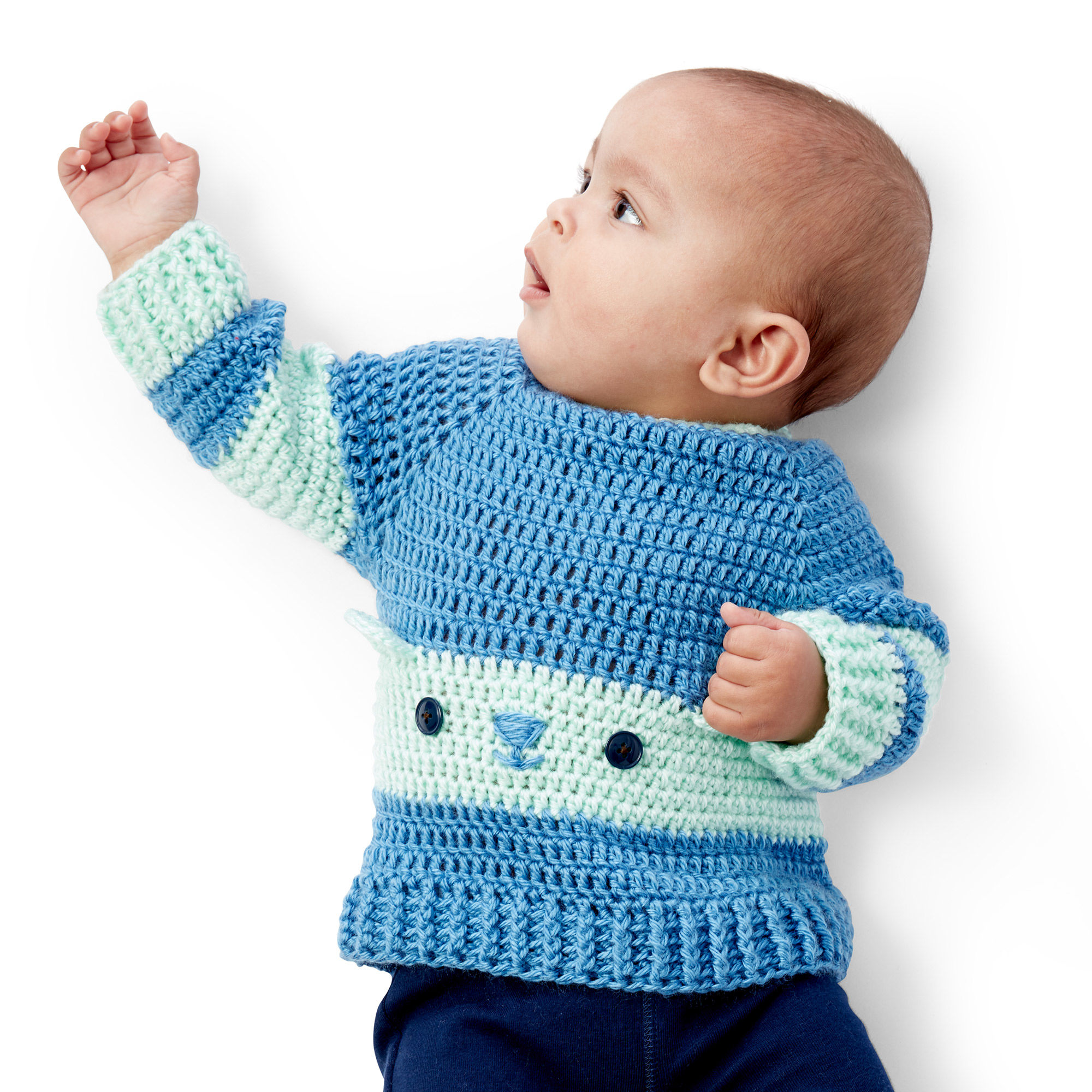 Sweetheart Sweater
This adorable Sweetheart Sweater Crochet Pattern has a fun heart pattern made with bobble stitch and made with worsted weight yarn and is really warm! This pattern is written in kid's sizes S – XL.
Via Hooked On Homemade Happiness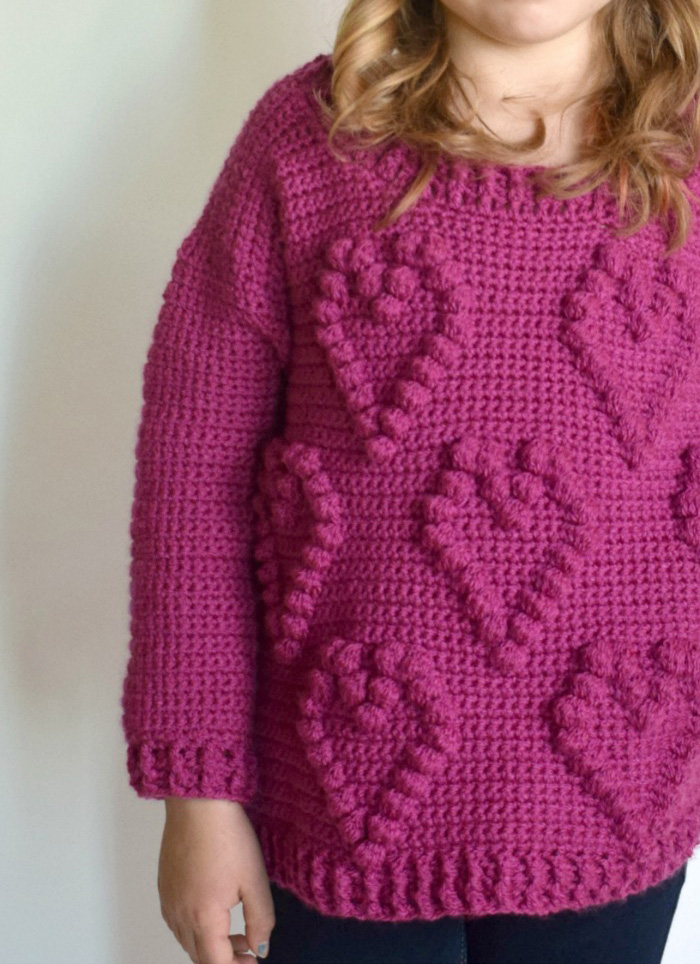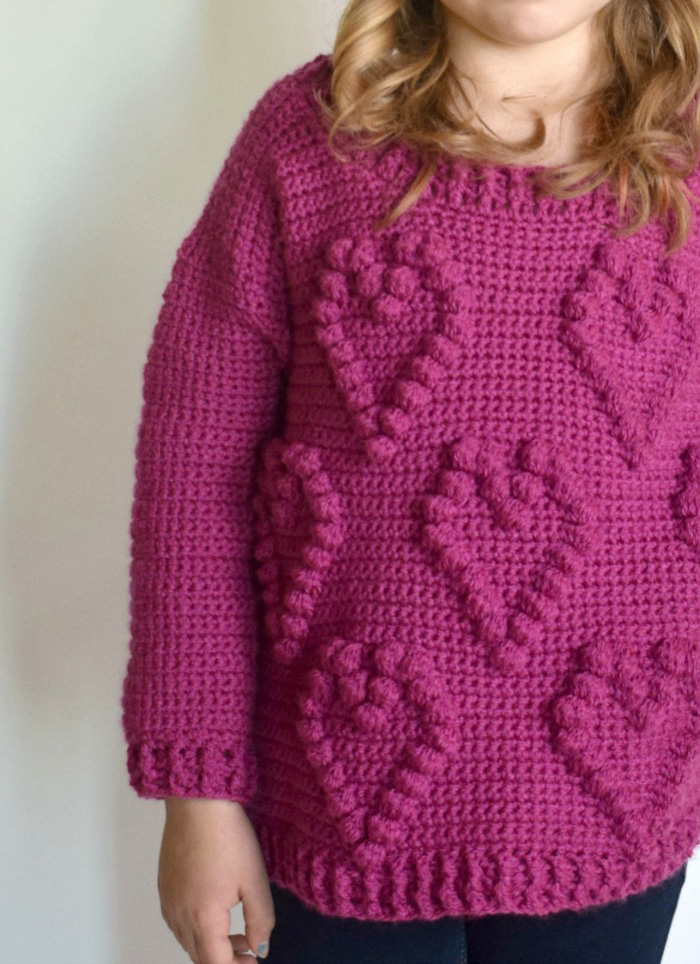 Crochet Set Sail Baby Sweater
This baby sweater pattern was crocheted and inspired by a sailboat on the sea. When talking more about the pattern, the main body part works in both round and rows.
Via Crochet For You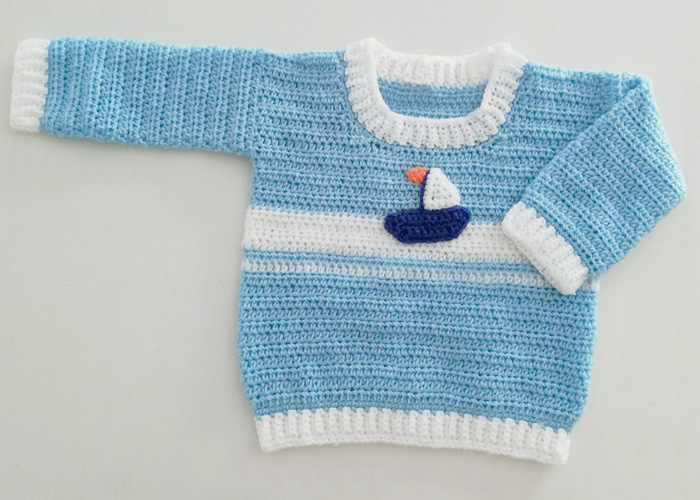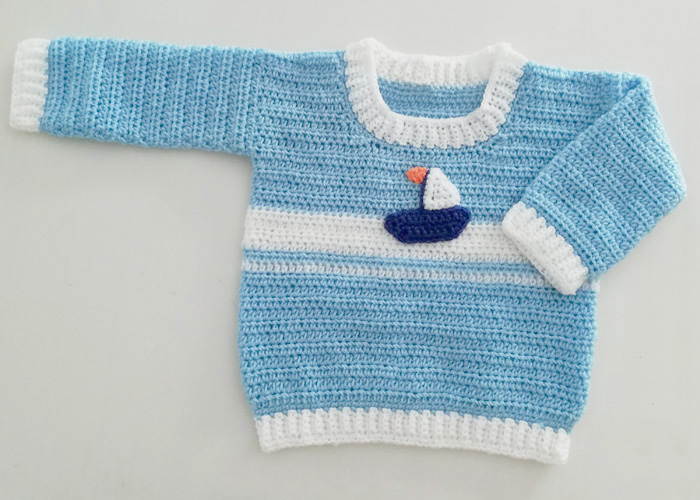 Children's Heart Sweater
If you're looking for a sweet crochet sweater to make for your kids, this children's sweater is perfect – it has a big crochet heart in the center of it. It's a great project to learn a new skill from!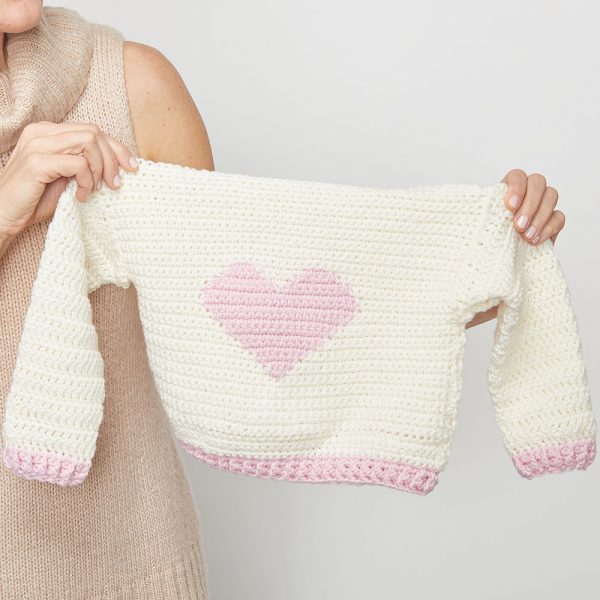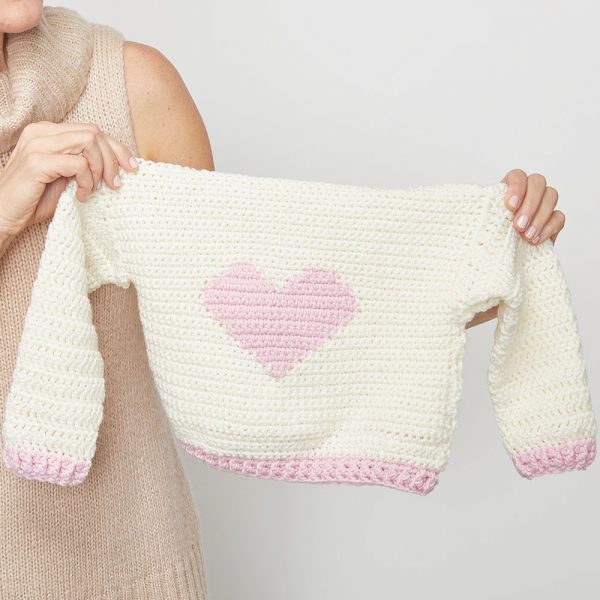 Loopy Love Baby Sweater
The Loopy Love Baby Sweater is available in 3 sizes. It is designed to have some positive ease – meaning it's loose enough to wear over other clothing.. and grow into for a little bit!
Via Moogly Blog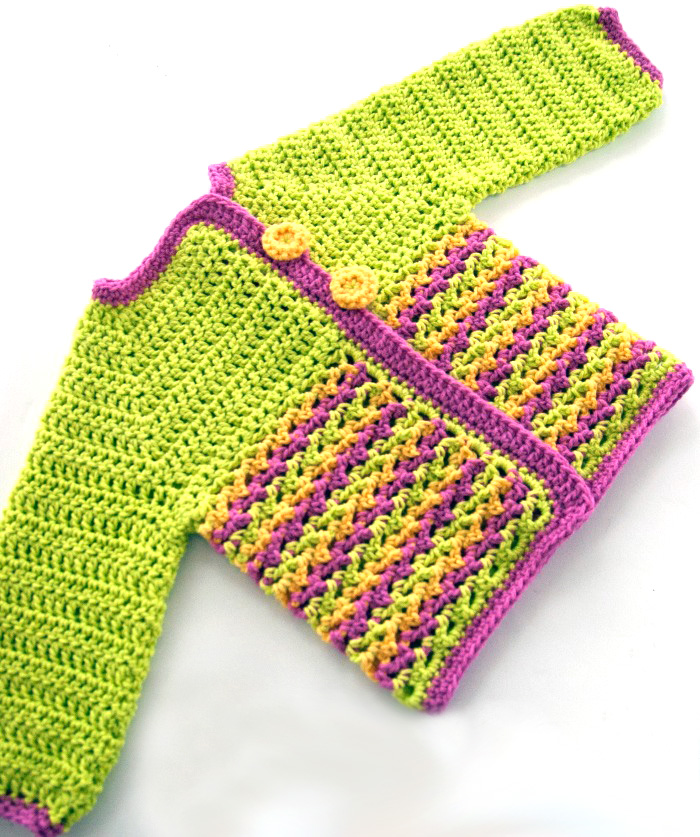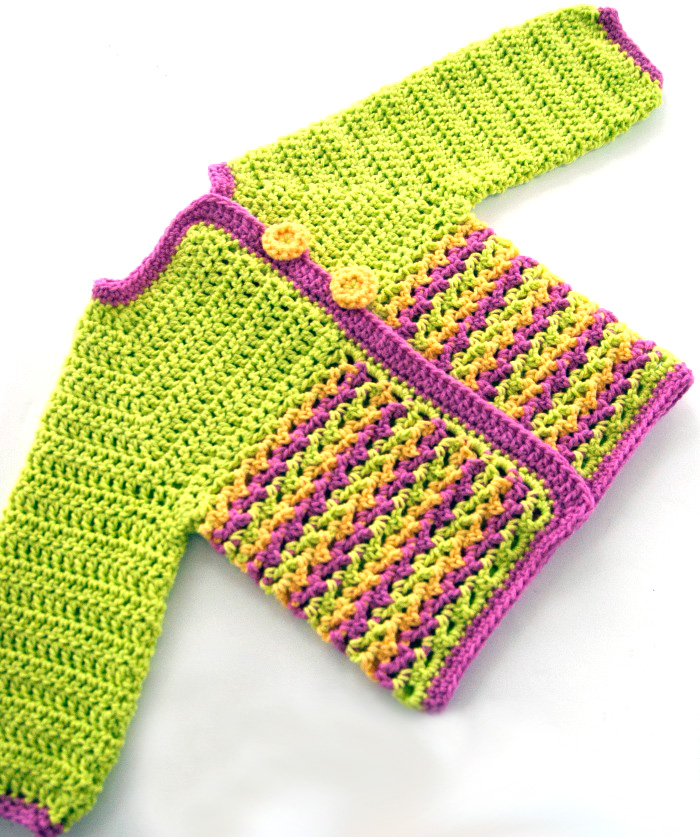 Kid's Chunky Raglan Sweater
The Kid's Chunky Raglan Sweater Crochet Pattern is made with 2 Chunky Caron Cakes. Because of the raglan style and the chunky yarn, it works up so fast. There were a few ends to weave in, but the matching stripes were worth it!
Via Hooked On Homemade Happiness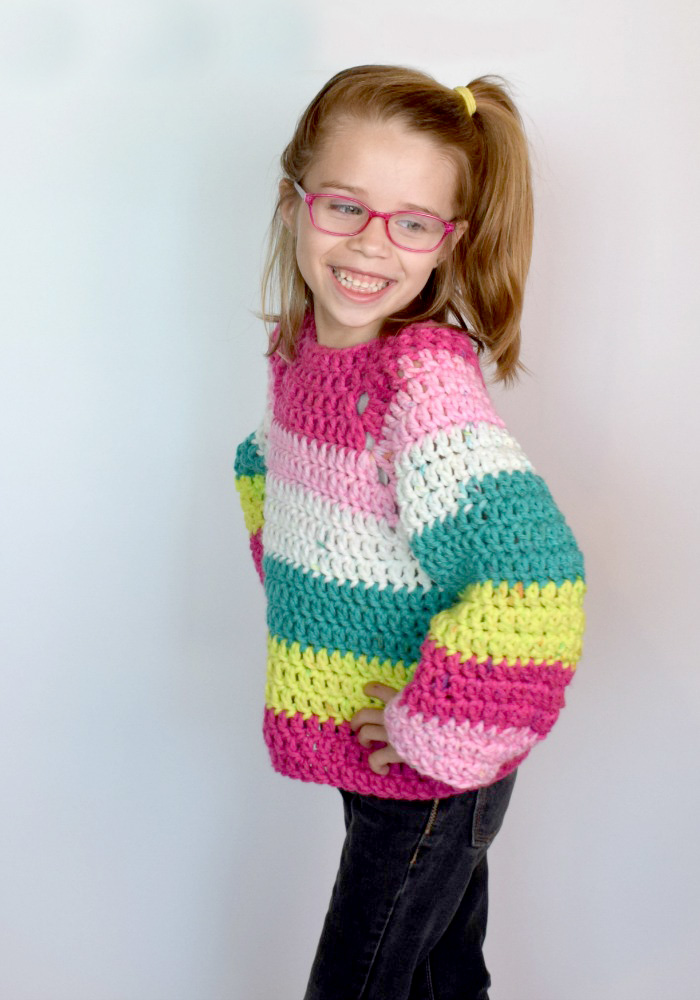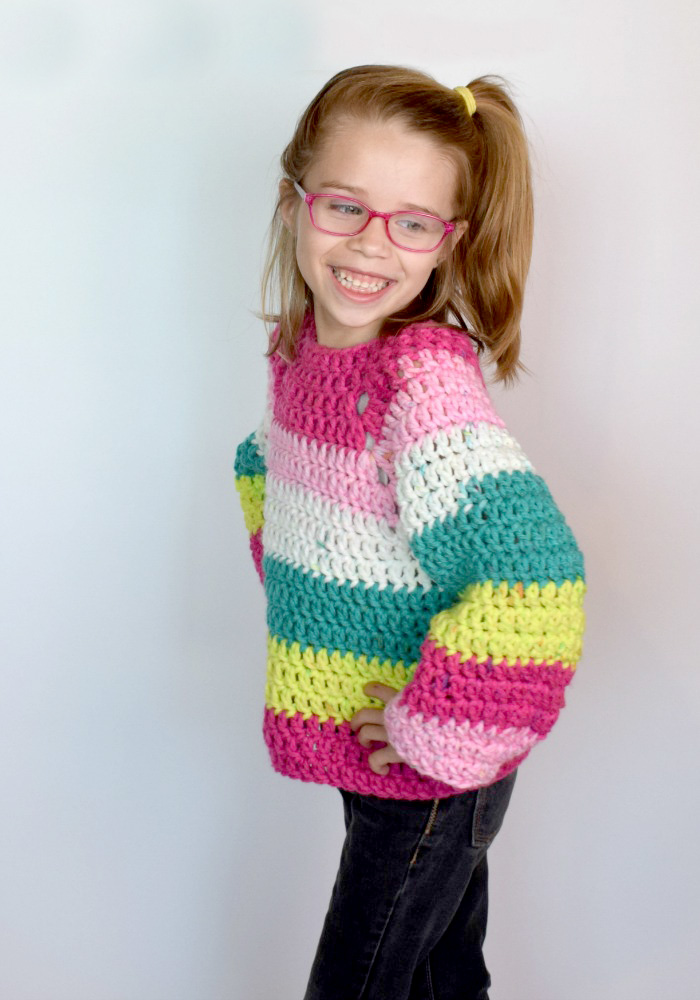 Two-Tone Sweater
This sweater is so easy to make for a baby girl or baby boy. Also, you can add pockets, appliques, or whatever you would like to make it your very own! The sweater is written for 0-3 month size, but it is simple enough that you can adjust it to make it larger if you wish.
Via Blueprint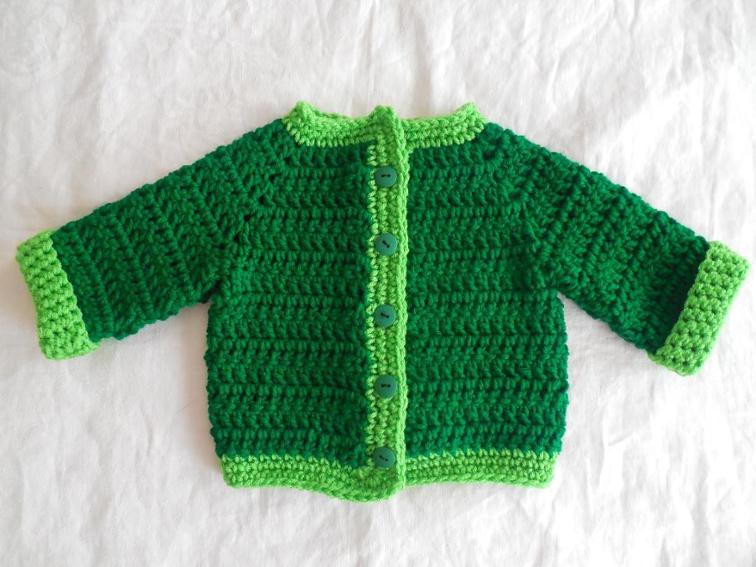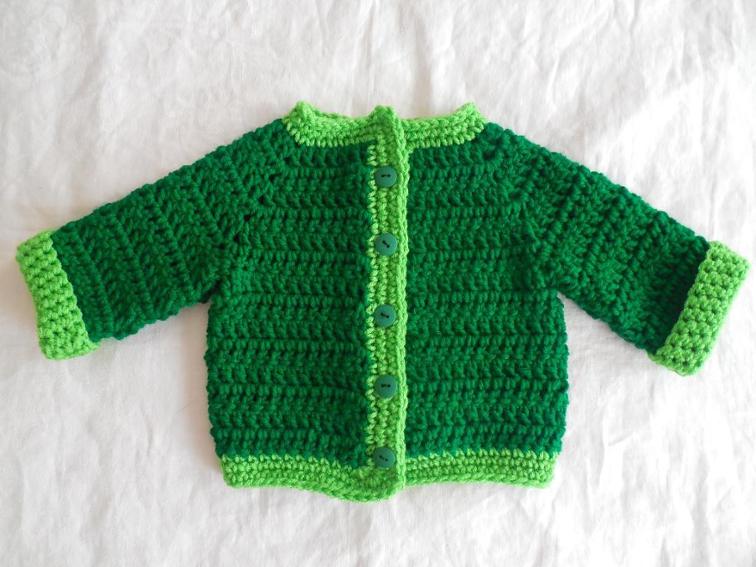 Ernie Sweater
There is only one size for this sweater (for now) which is a 2T or 24" chest. It will only take 1 skein of each color (4 colors) in Red Heart to make this sweater. It's very easy and super adorable.
Via Ravelry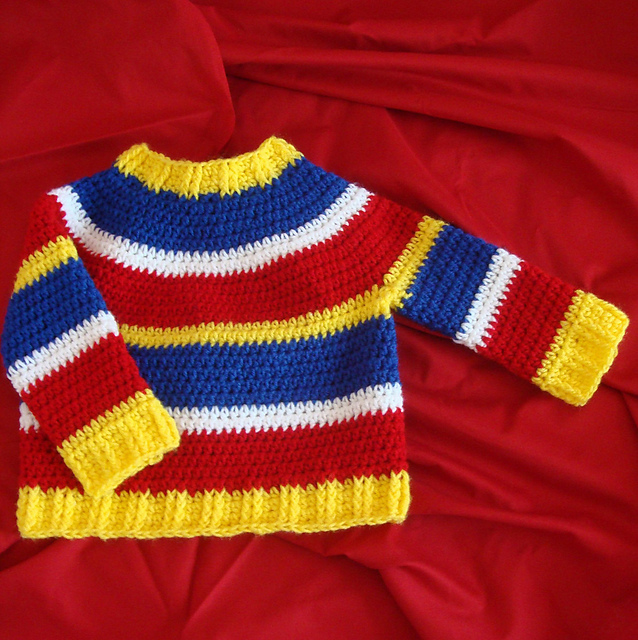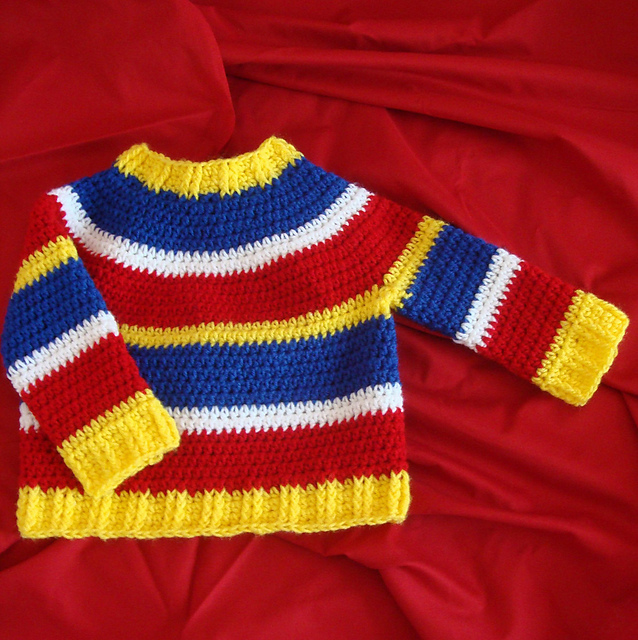 There's nothing more comforting and fun to wear during the cooler seasons than a sweater. For kids, it's easy to add simple details to bring more life and personality to a sweater, and the above patterns allow for that!
If you're looking for something special to gift to a friend's children or your own, these crochet sweater patterns are such great options!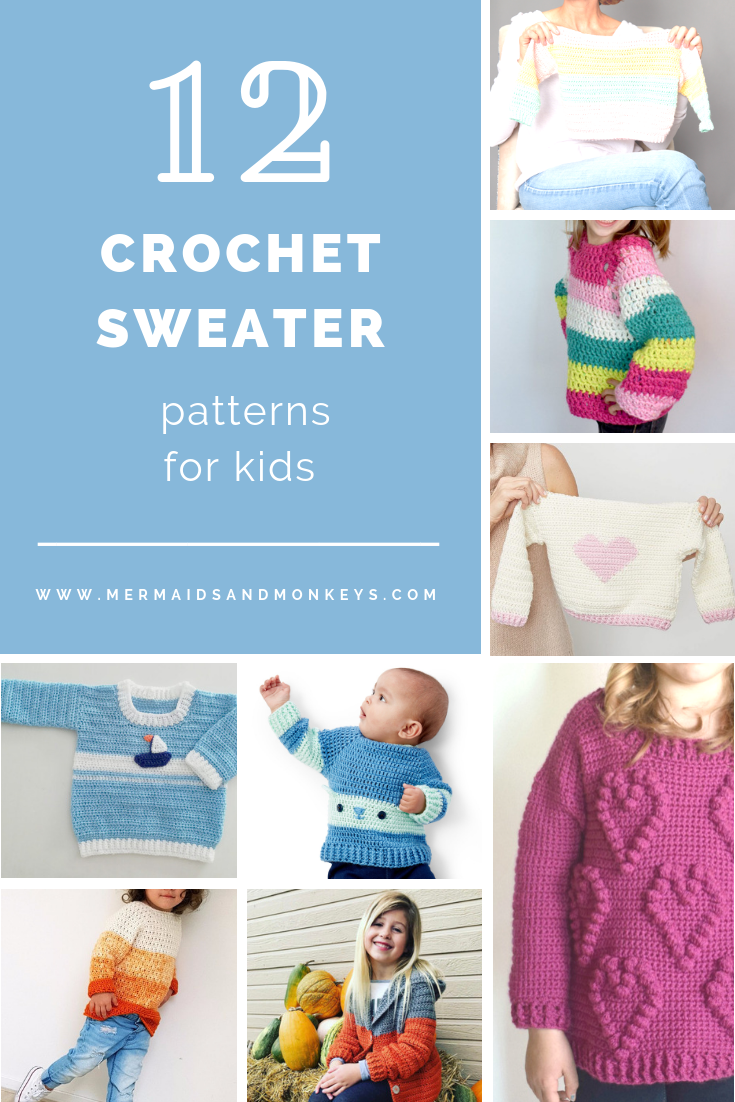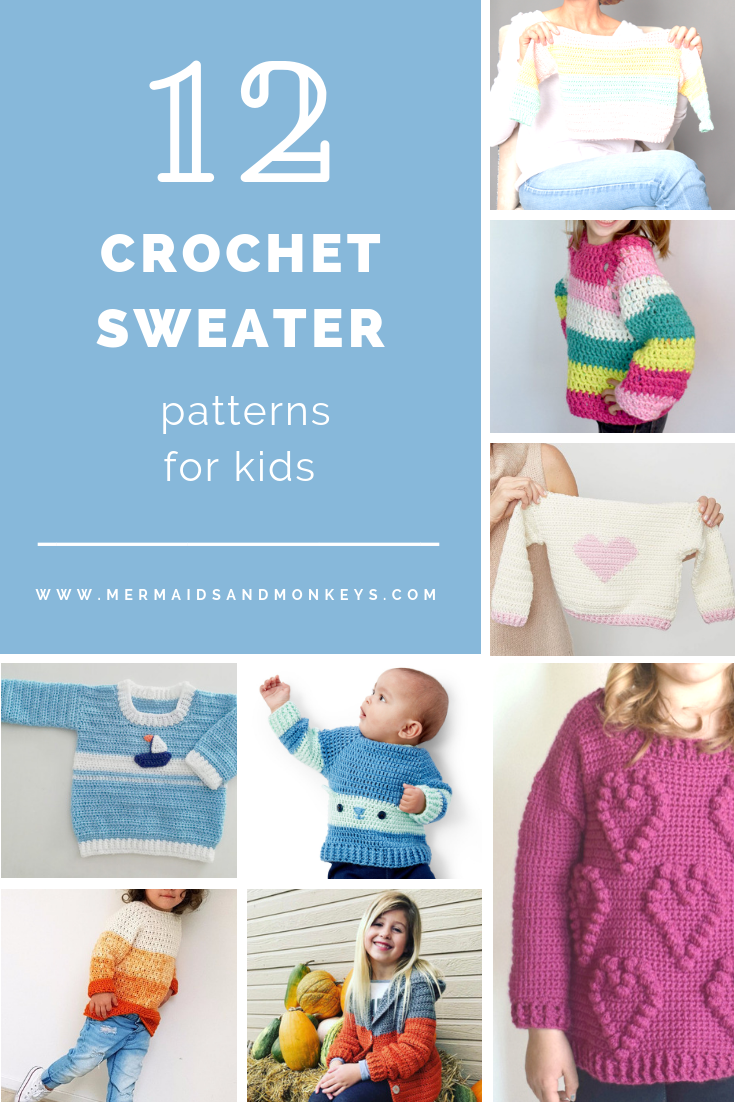 Happy Crocheting!

Check out my other page if you're looking for more crochet patterns: 30+ Crochet Octopus Patterns, 30+ Dinosaur Crochet Patterns