25 Fun Christmas Crochet Hat Patterns for Kids
With Christmas comes the cold, which requires warmer layers and warming accessories. Rather than gifting the children in your life with regular hats this holiday season, why not give them something festive that they can use during the holidays and store away throughout the year? This can become a fun tradition, or if they prefer, they can wear it all year long!
Whether you're looking for Christmas Crochet hat patterns for kids in the winter, or in July, these fun patterns will supply you with anything from the classics (Santa, Rudolph, Snowman) to fun animals and well-loved characters.
Check out our list of 25 fun Christmas crochet hat patterns for kids below!
Child Crochet Santa Hat
Celebrate the holiday season with this Child Santa Hat Crochet Suzette Stitch Pattern that can be made to fit a variety of head sizes. This free pattern features a vibrant, red and white color scheme with a rugged texture created using the suzette stitch. This easy pattern is a perfect item to make for babies, toddlers, and preschool children eager to dive into the holiday spirit, and the added fluffy pom-pom adds that Santa-themed cuteness! Let the kids be the center of attention this Christmas with this mini crochet Santa hat that will bring joy to all.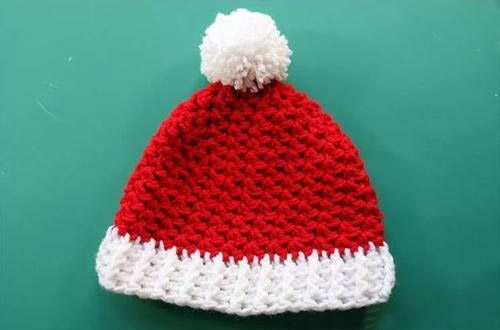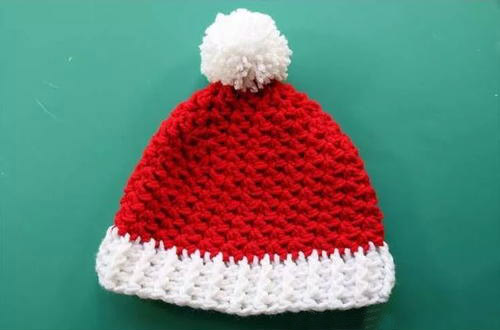 Simple Seed Stitch Beanie
Keep the men in your home cozy this winter with a quick and easy to make winter beanie! Because it is a quick and easy crochet project to work up it would be perfect for last minute Christmas gifts, or donating to charities that help the homeless and needy this winter.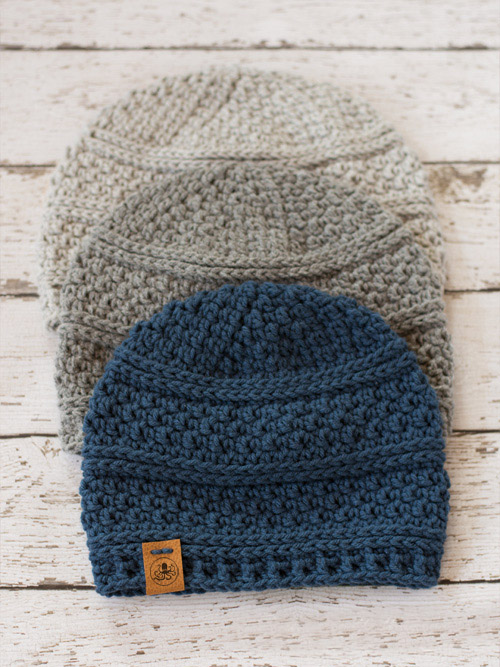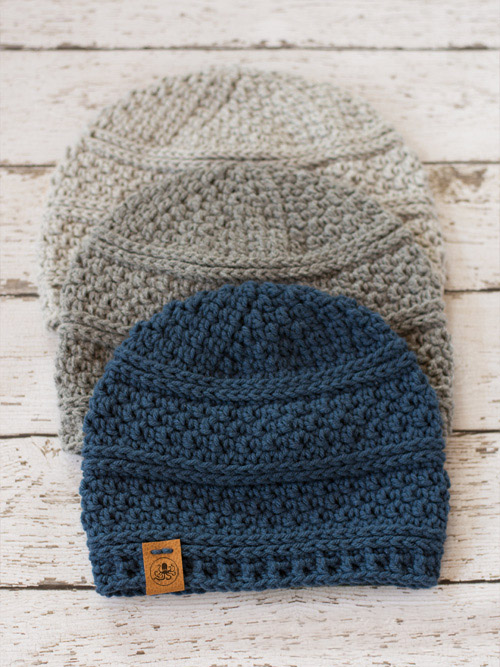 Charming Rudolph the Reindeer Hat
Pay homage to that determined little reindeer with this Charming Rudolph the Reindeer Hat. This adorable crochet hat can be adjusted for any head size, so you can make one for the kids, yourself, or enough for the entire family.
Via Crochet Cauldron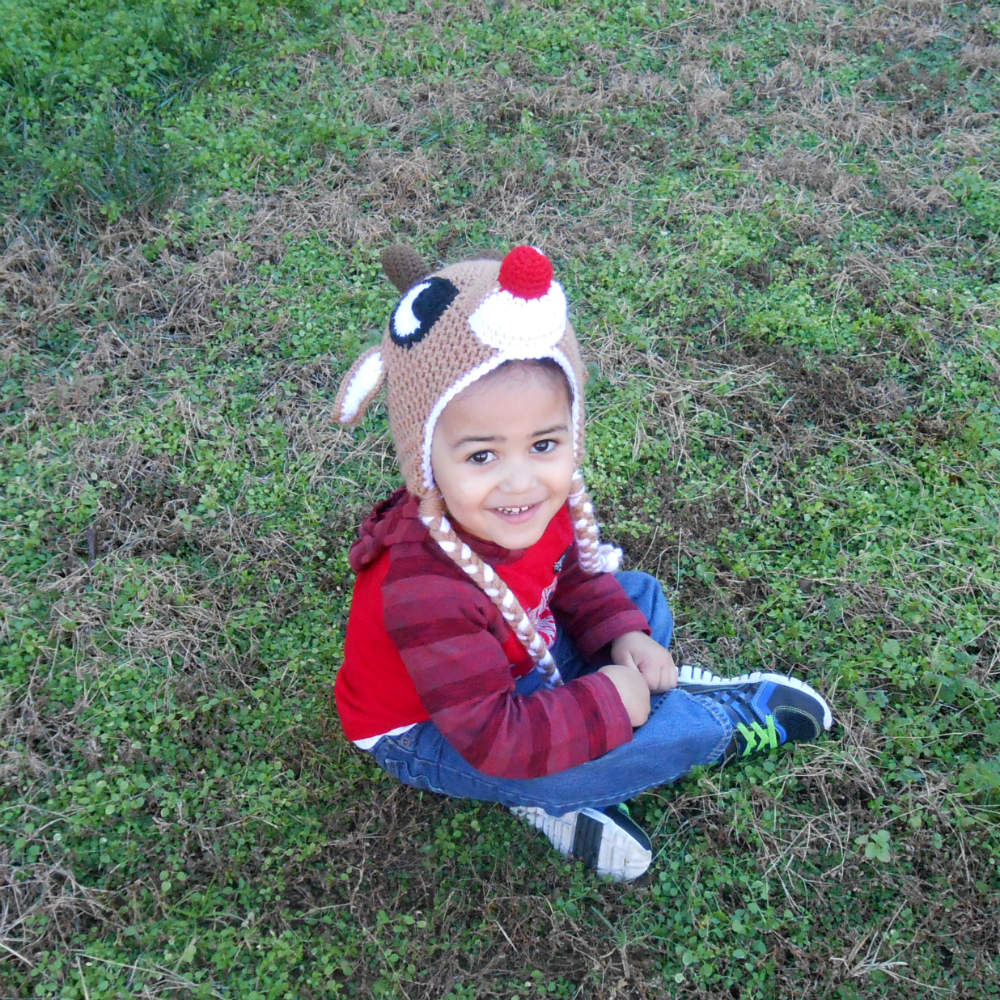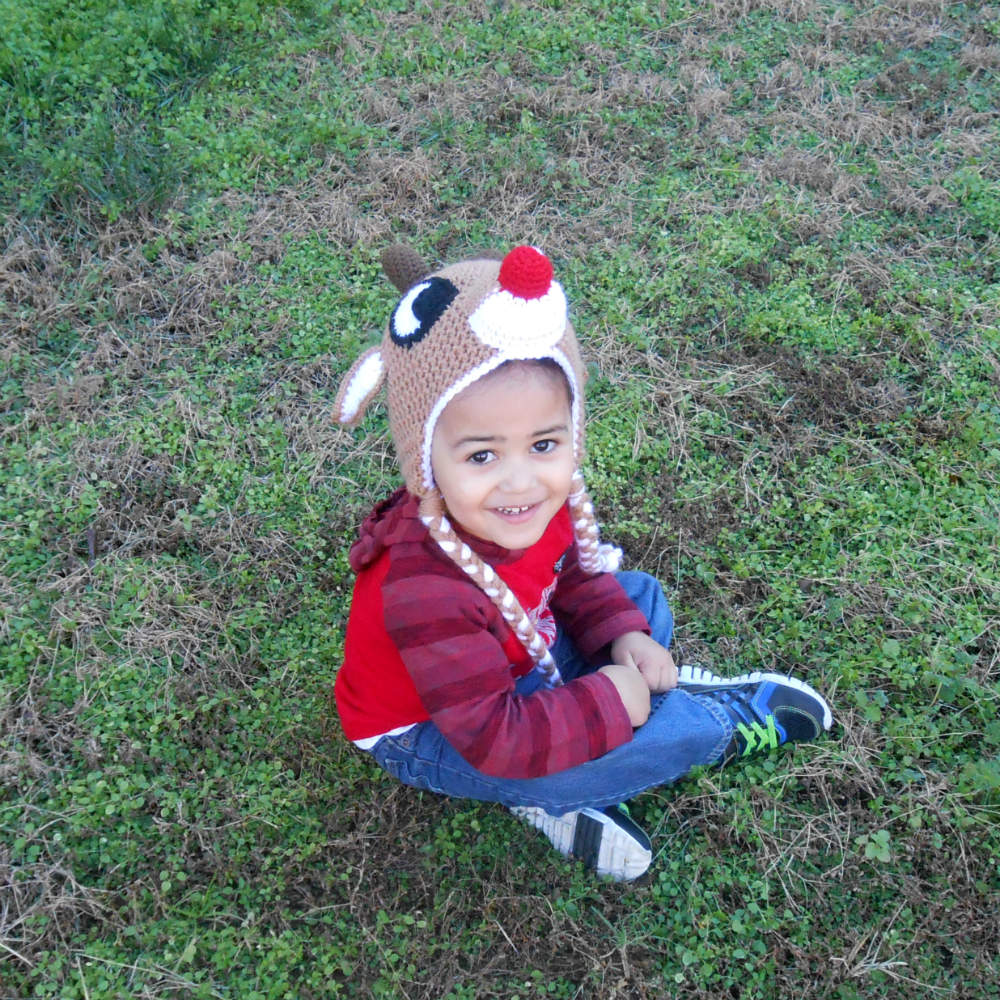 Cozy Snowman Hat
Kids will go crazy over this adorable Cozy Snowman Hat. Bulky yarn is used to complete this free crochet hat pattern, which means it works up quickly and is super warm to wear. Worsted weight yarn is used for the earflaps, tails, pom poms and nose. This would be an excellent crochet pattern to make for all the kids on your Christmas list.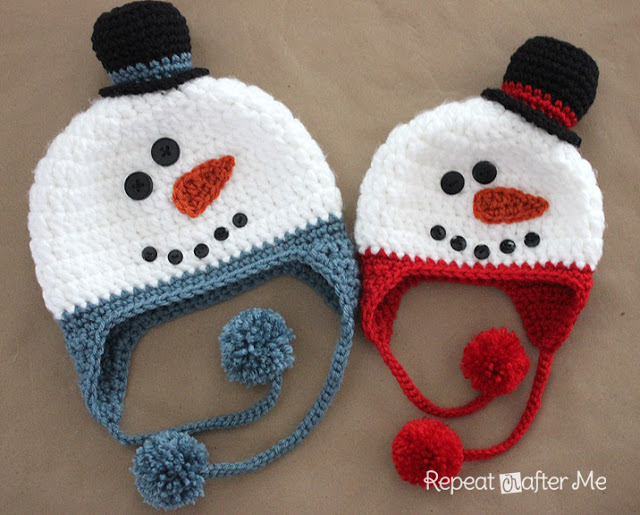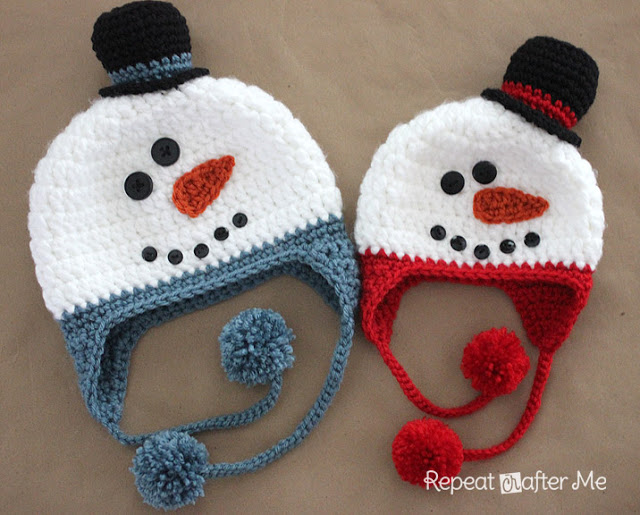 Little Miss PomPom Hat
How much fun is this lively crochet hat, complete with bouncy pom poms? It's even more enjoyable to make, so begin with the version shown, or let your child participate by choosing the 3 shades they prefer in Red Heart Baby Hugs Medium. It's a personalized original you know they'll love to wear!
Via Yarnspirations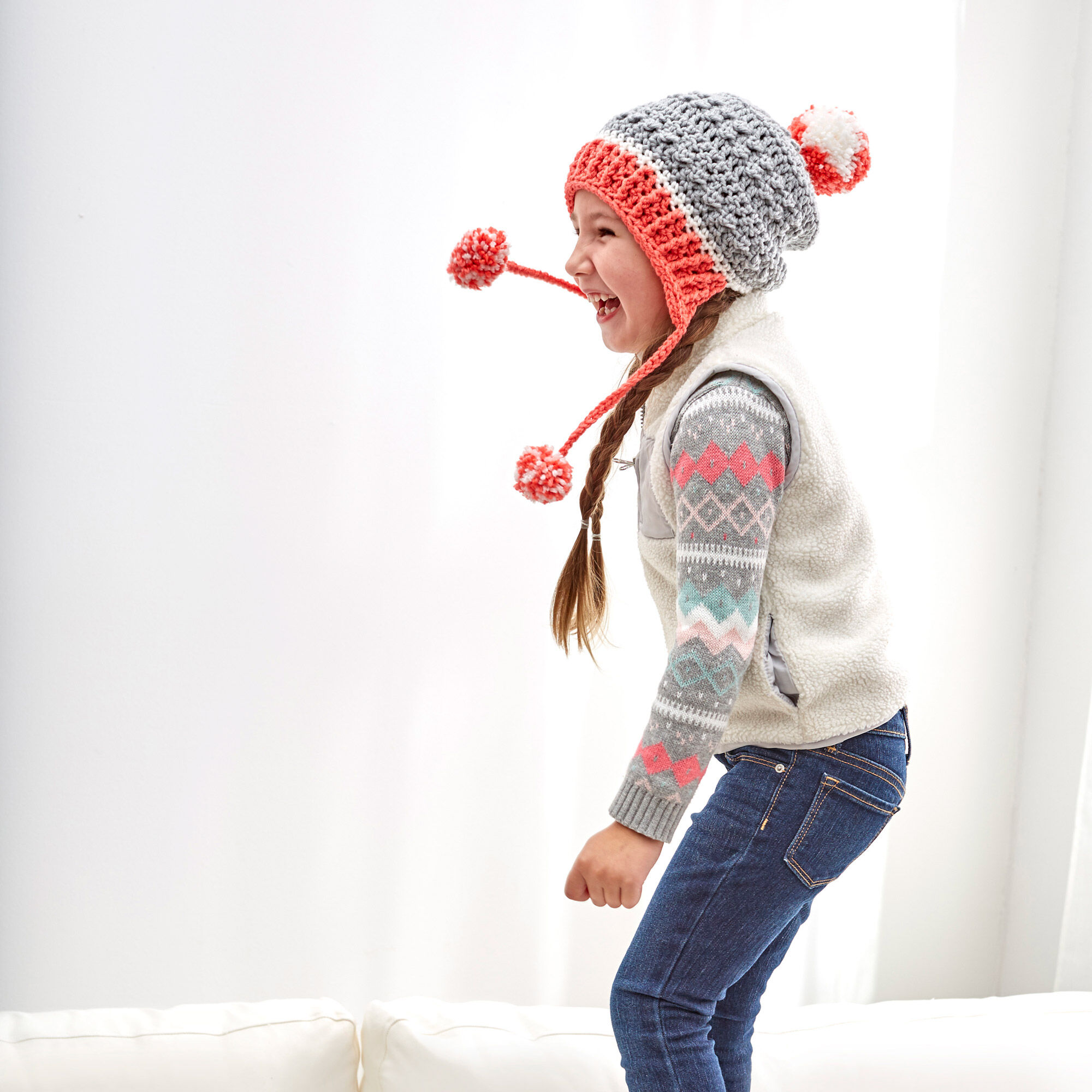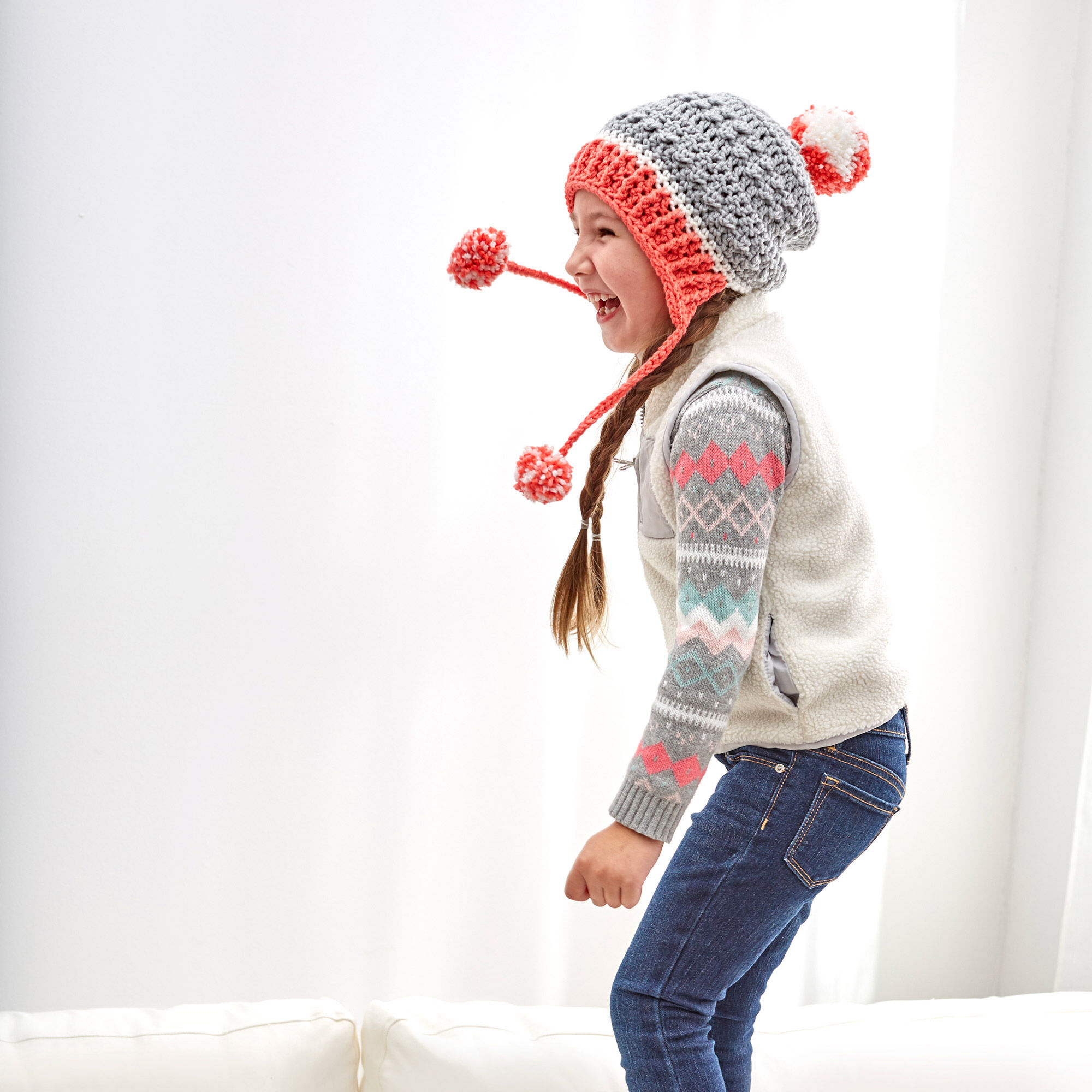 Crispin Crochet Hat
Have fun making this children's crochet hat and a neck warmer with this beautifully textured pattern. The pattern creates this hat for sizes 2 – 12 years.
Via Garn Studio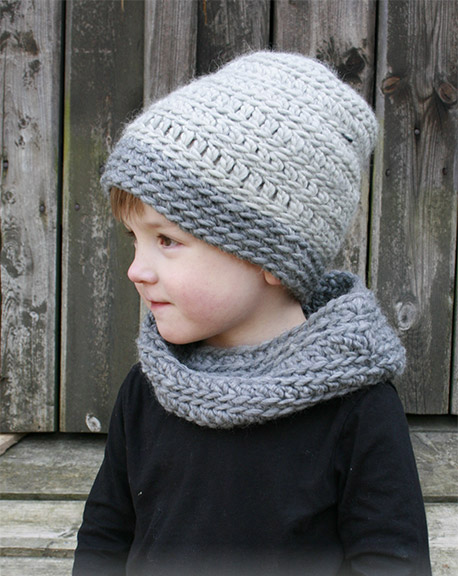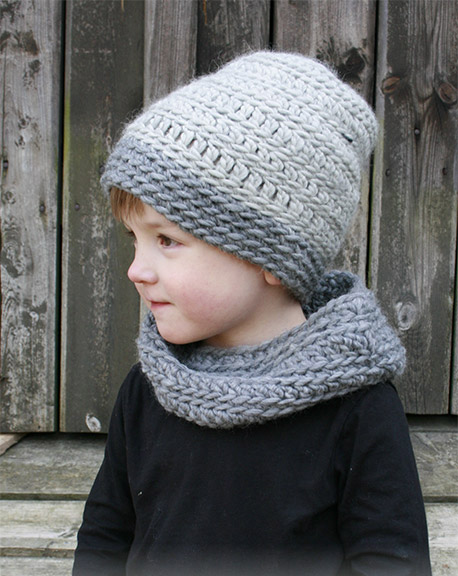 Sly Fox Hat
This pattern features some interesting shaping to create a point at the front and long sides to cover the ears. This crochet hat is worked from the top down, and has a point at the front. Instead of two sets of increases and decreases, there eventually are three.
Via Good Knits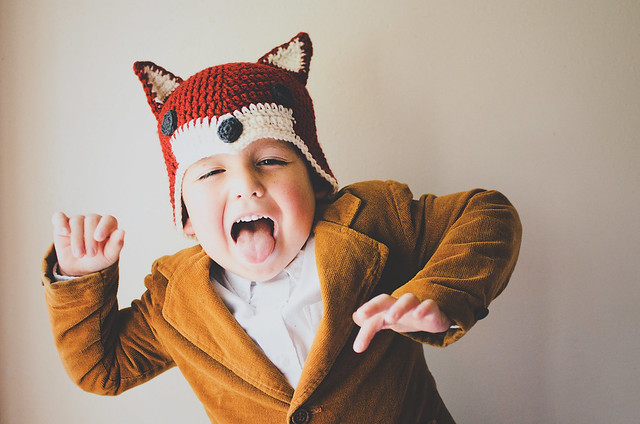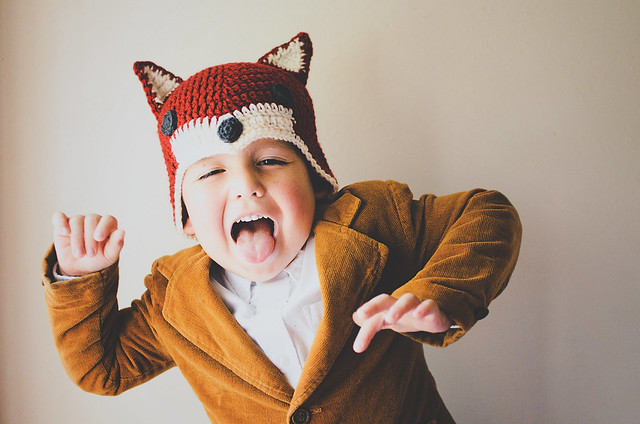 Santa Hat
After designing her Santa Beanie and Candy Cane Hat, this designer developed a traditional Santa hat. Perfect for your holiday family photos, christmas tree hunting, or just for fun!
Via Lovable Loops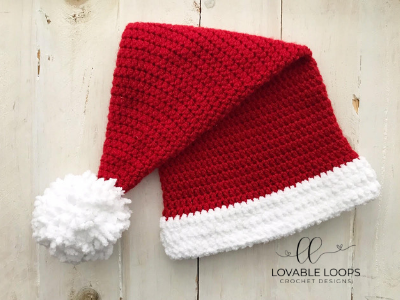 Snowman Hat With Earmuffs
This Snowman hat with earmuffs is very warm and perfect for a festive outting in the cold! An extra row was added for the hat, and you just sew the muffs on a bit higher so they won't hang down so low.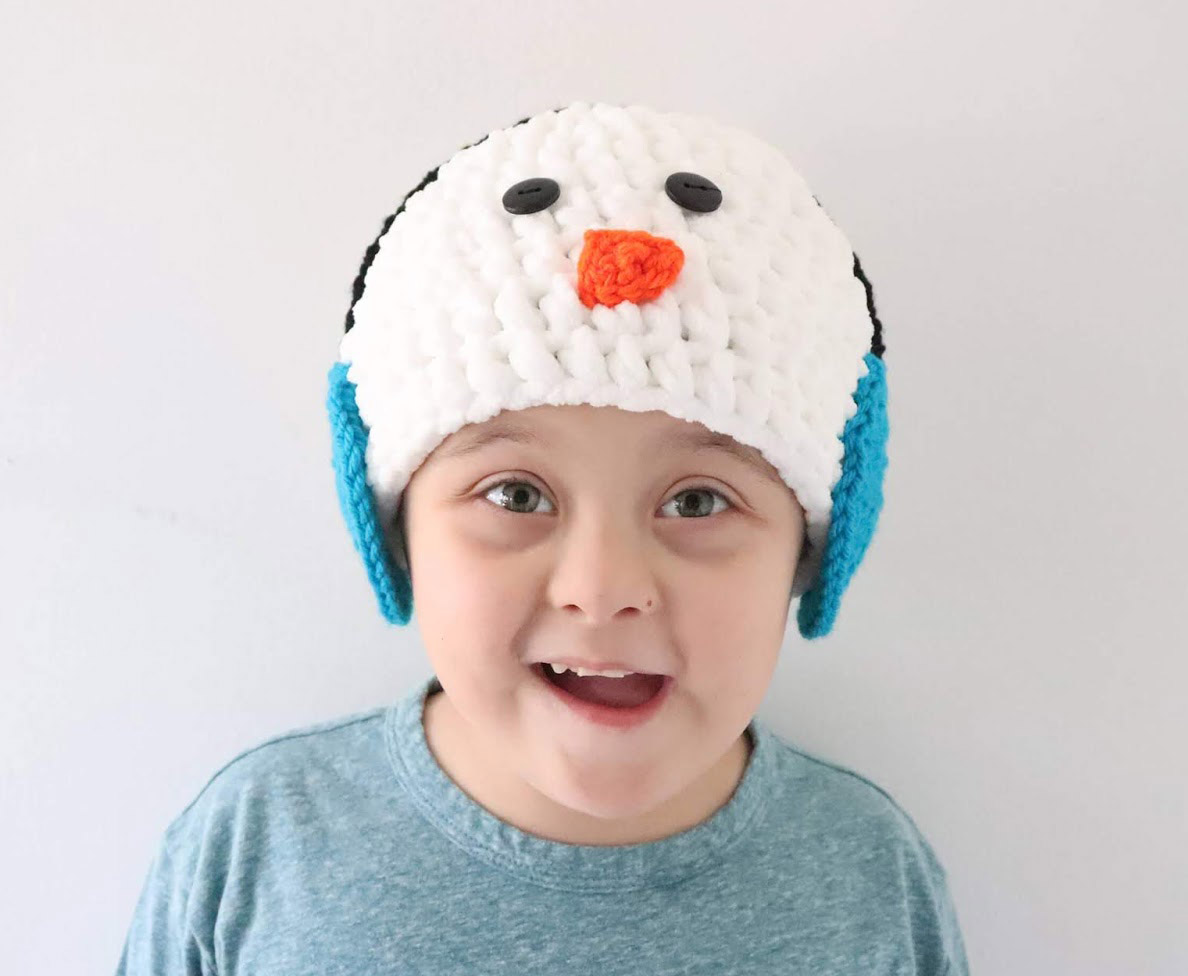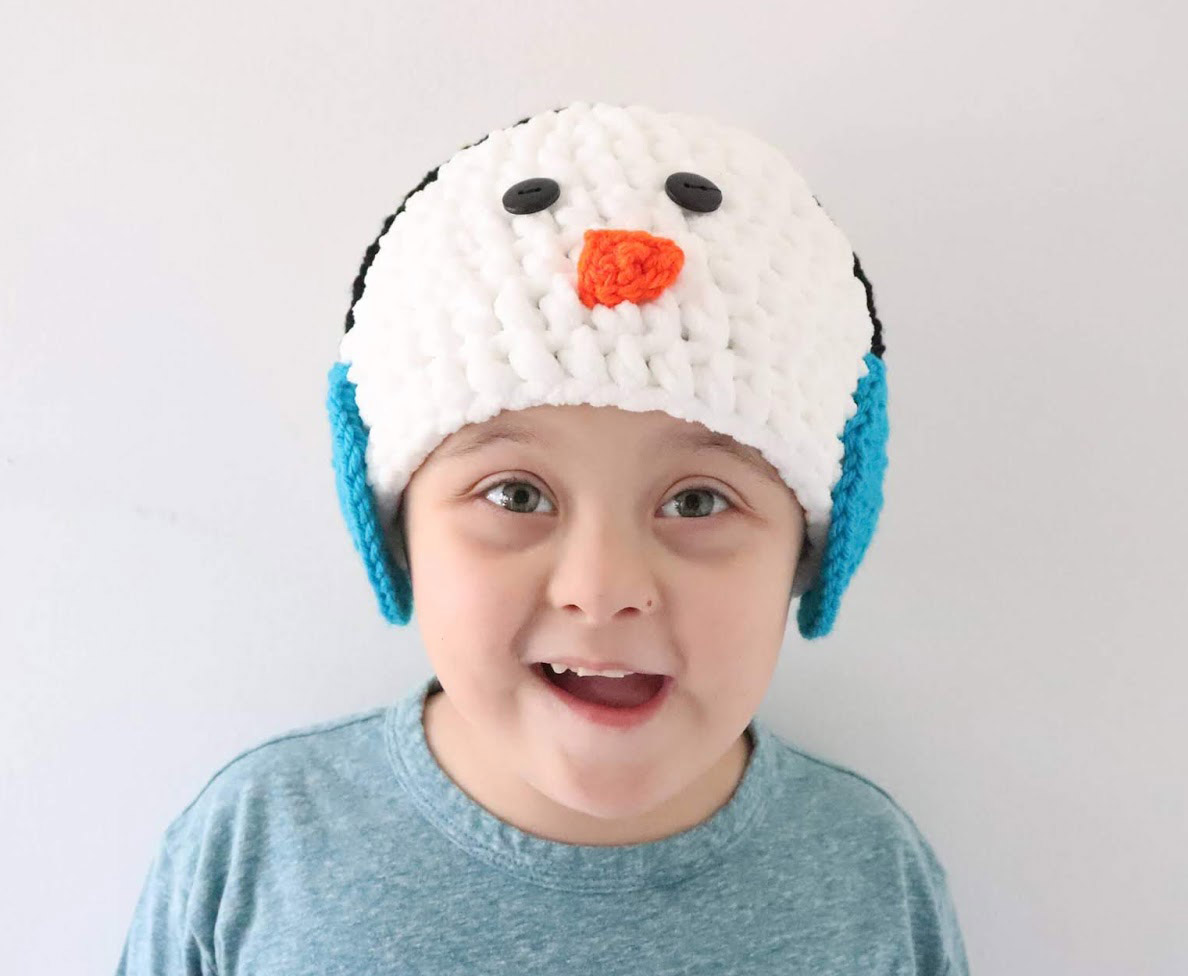 Frozen Olaf Inspired Hat
Frozen just wouldn't be Frozen without the quirky yet lovable Olaf! I feel that some of the best and most heartfelt quotes from the entire movie came from him. Sure he wasn't the most attractive, the smartest or the funniest snowman, but he was something far more important… He was loving! This fun and Olaf inspired hat will bring love to whoever you gift it to!
Via Hopeful Honey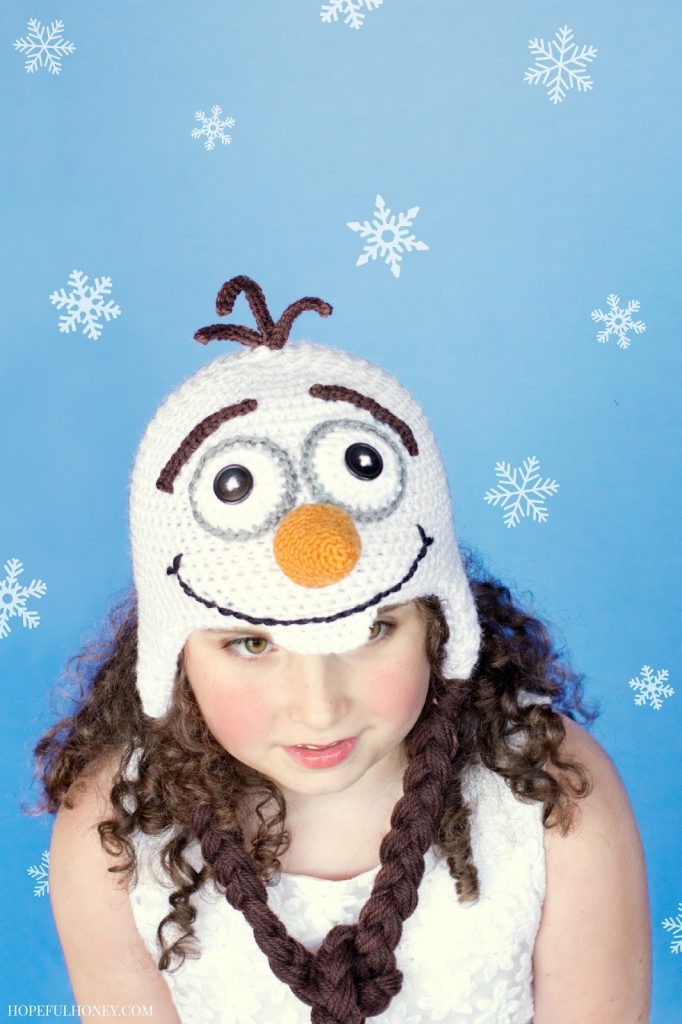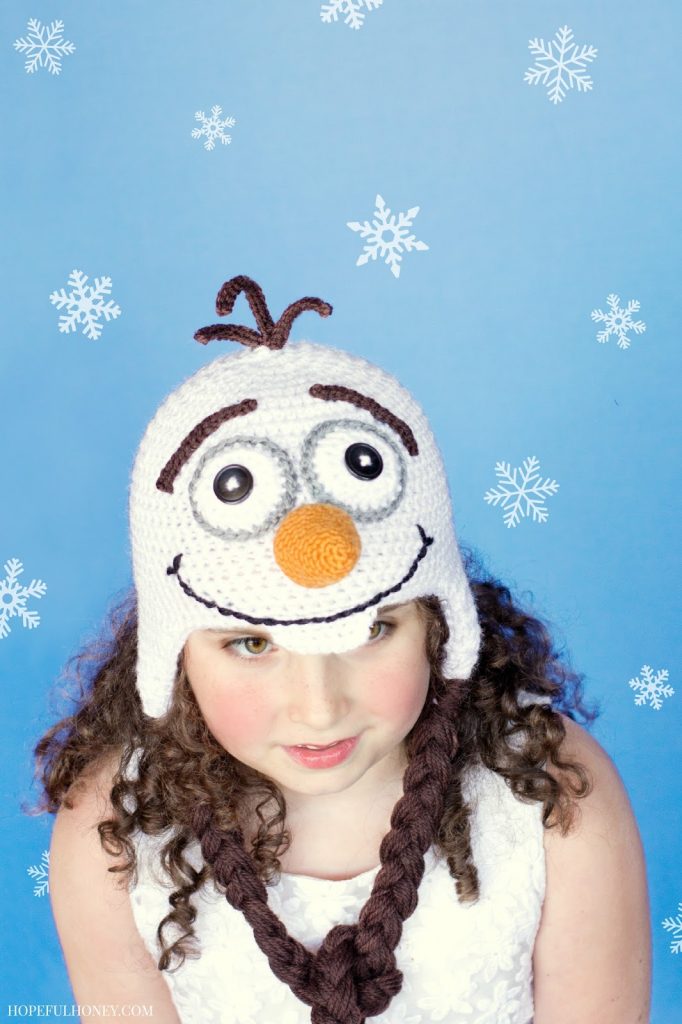 Oh Tannenbaum Christmas Tree Hat
This hat pattern is super versatile as you can decorate the base however you'd like. You could add crochet bits or just hit up the dollar store and attach some mini-tree goodies for the perfect crazy Christmas look.
Via Make It Sew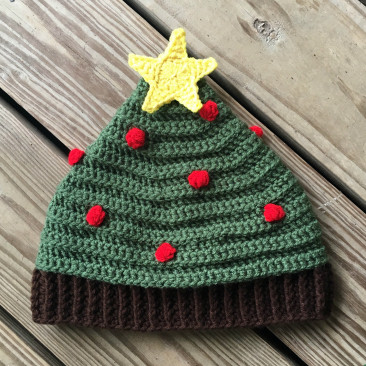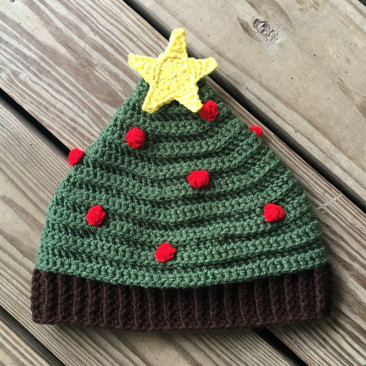 Santa Beanie
Customize your Santa hat! Use your choice of skin color, include or leave off the rosy cheeks, and/or change the color of the "hat" and "brim". The possibilities are endless!
Via Lovable Loops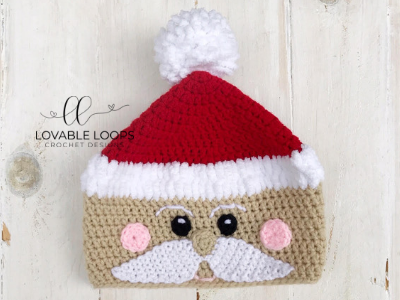 Kid's Star Stitch Hat
Try this on for size. Your little kids are growing fast and need a new hat to wear on those chilly days. This star stitch hat is the answer. You'll probably even want to make one for yourself (which can be done! Just add a few more stitches.)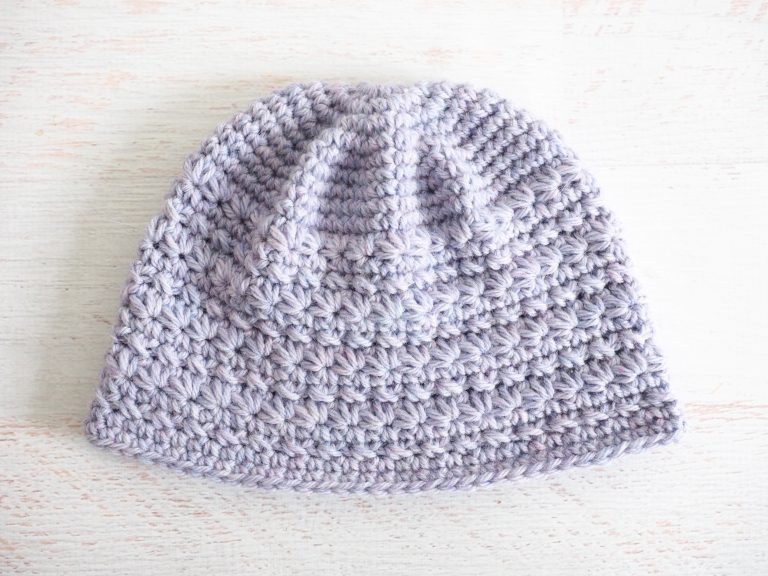 Elizabeth Stitch Crochet Hat
This hat is easy to make. It's done in two parts, first the crochet ribbing and then the rest of the hat. Finally, you seam the ends together and join the top. The final pièce de résistance is the adorable faux fur pom-pom which is all the rage this year. Perfect for kids and adults alike, this crochet hat makes a perfect birthday or Christmas gift.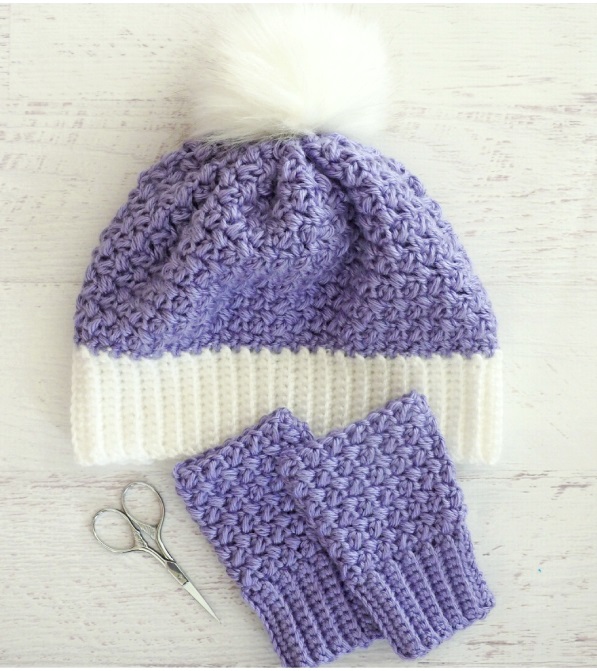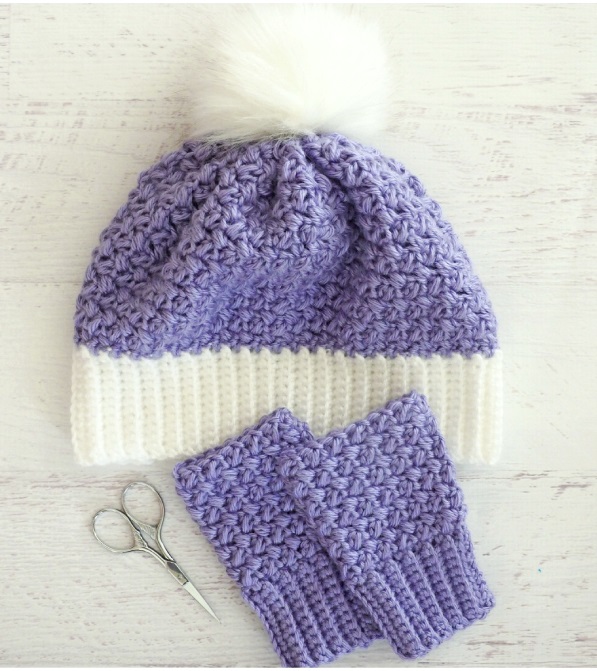 Fluffy Winter Hat
The body and pompom are made with single crochet stitches. The brim is made with double crochet stitches and front post double crochet stitches to add some texture. This hat is worked in continuous rounds, which means we continue working in the round without making chains and slip stitches.
Via Wilmade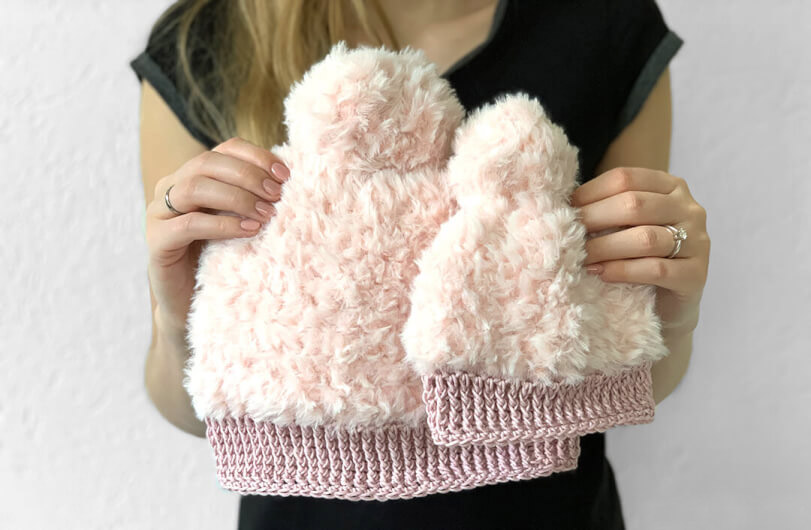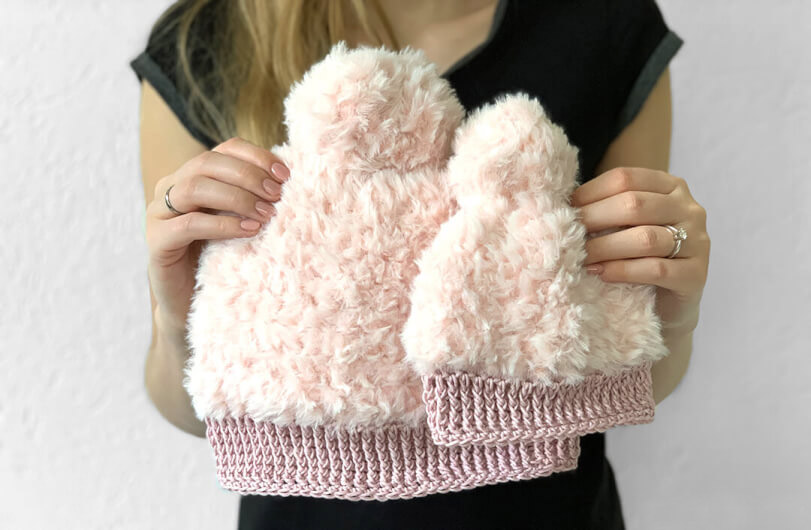 Pixie Elf Striped Newborn Hat
This easy crochet hat makes the perfect holiday gift for a new Mom or Dad and is so wonderfully fast to make.  Even if you are a beginner at crochet, go for it! The only skills you need to make this are double crochet, crocheting in the round using a magic loop, and seaming. This crochet pattern is for a newborn baby-sized, long-tailed hat.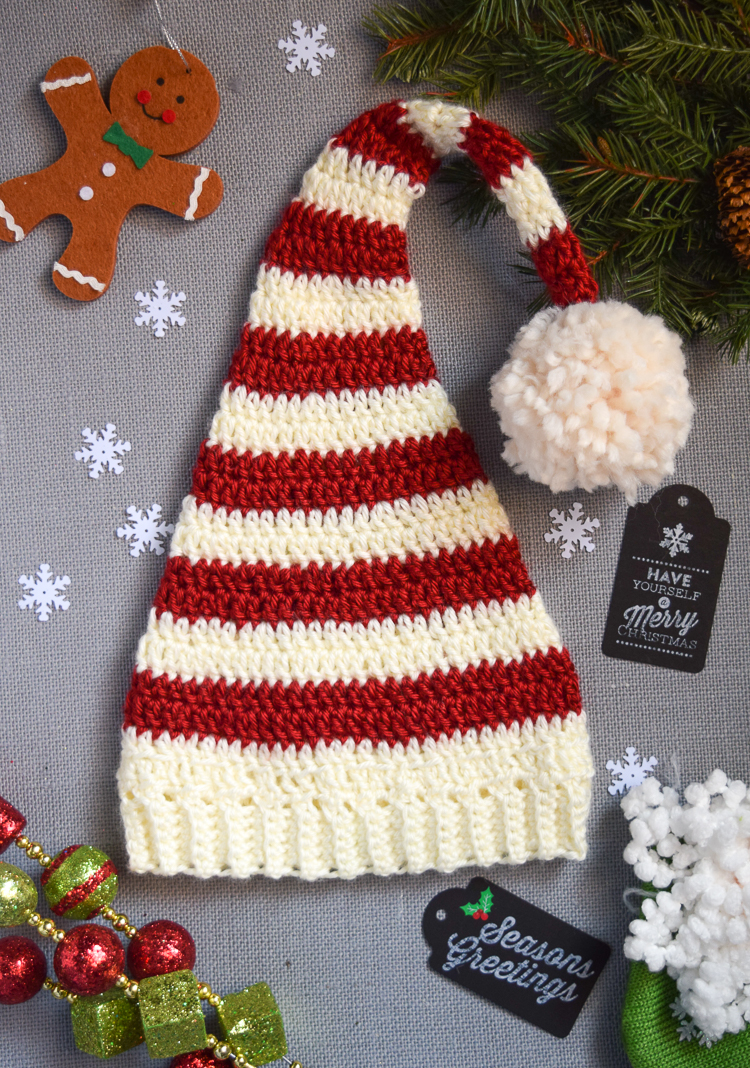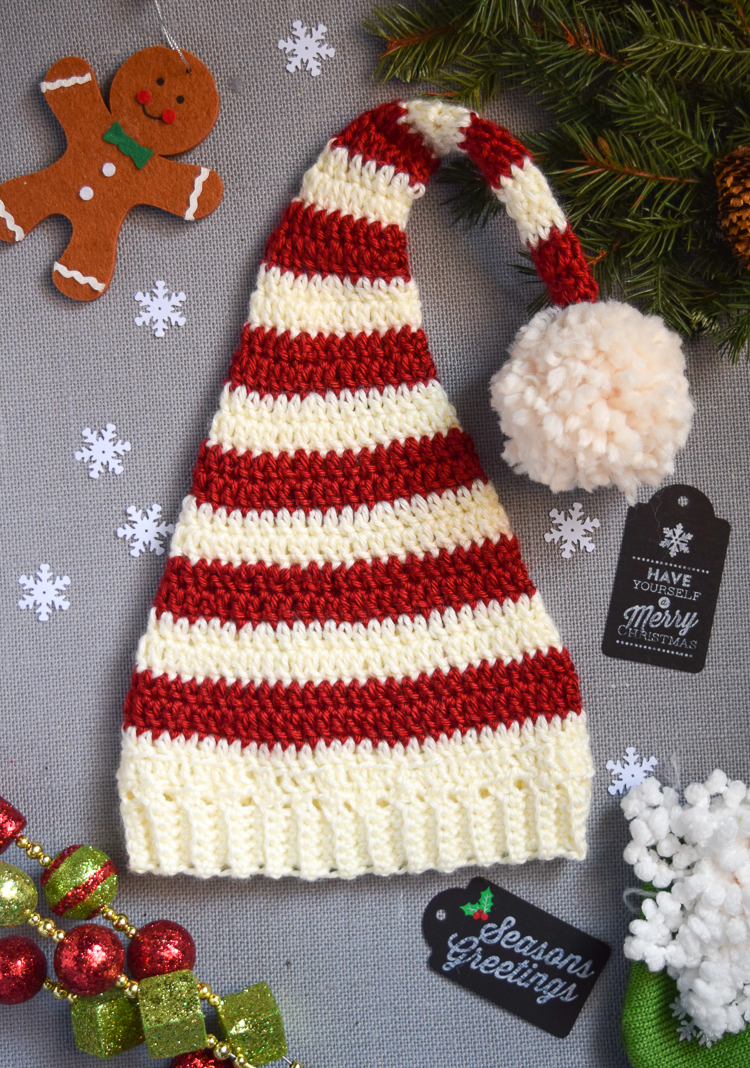 Rudolph The Reindeer Hat
This fun Rudolph the Reindeer hat works up in 0-3 months size and is perfect for newborn photography!
Via Repeat Crafter Me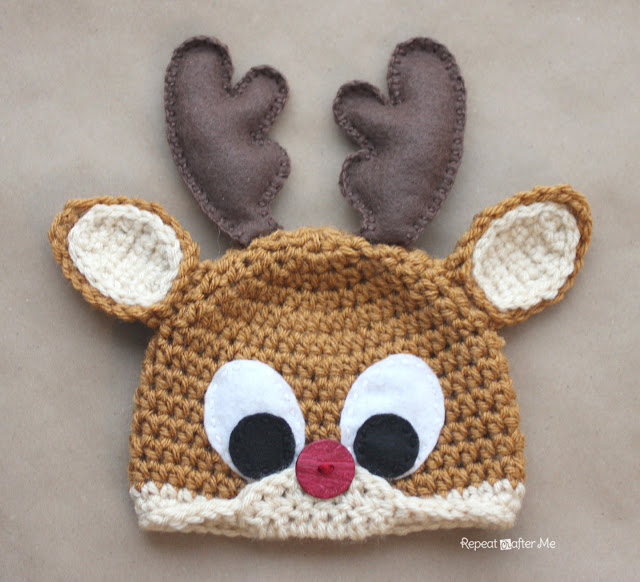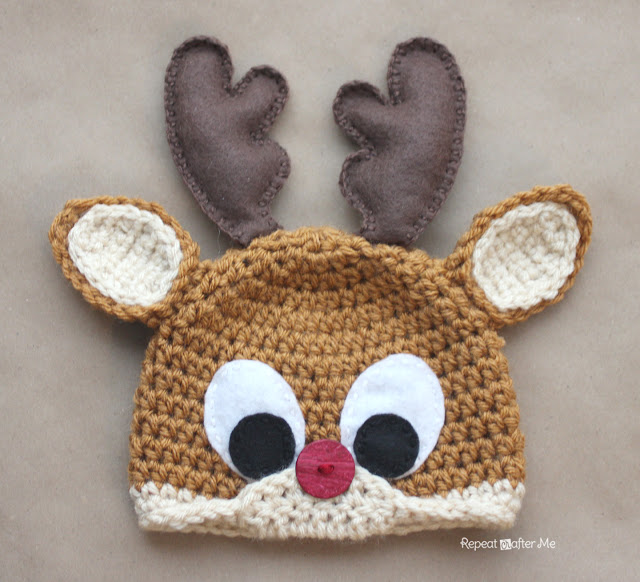 Bobble Tail Santa Hat
Every year, my kids love having Santa hats to wear. One of my testers, Francie of The Mad Capper, made this amazing hat from one of my older patterns. I absolutely LOVE it! The model is pretty dang adorable too!
Via Snappy Tots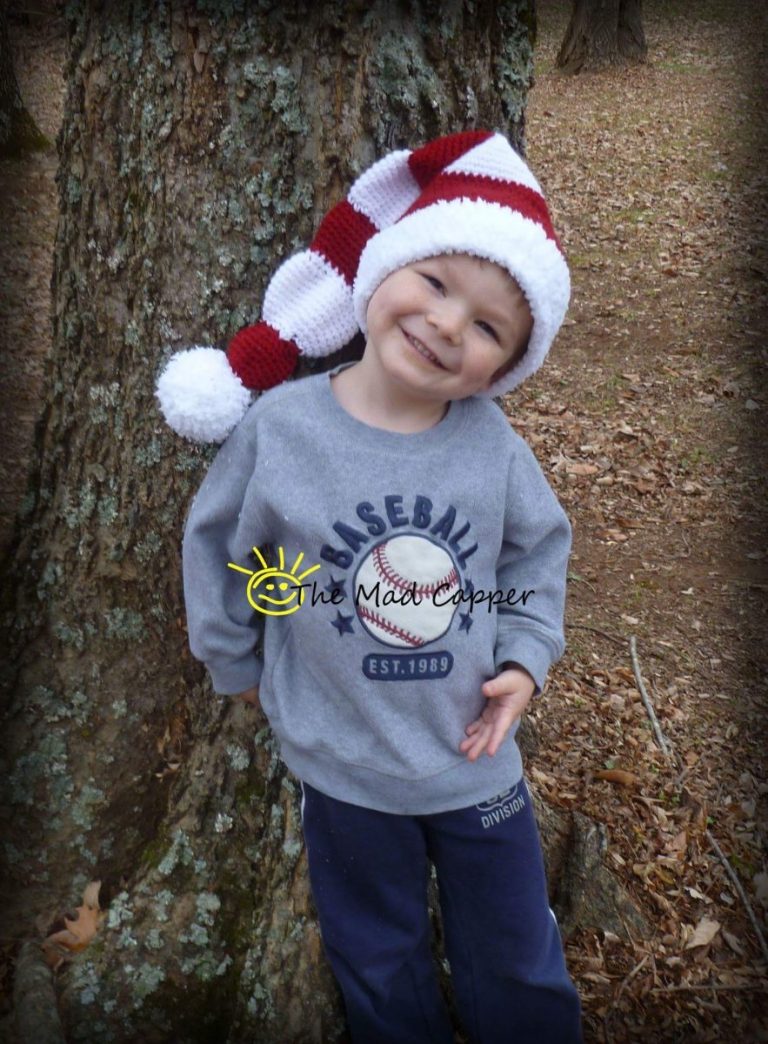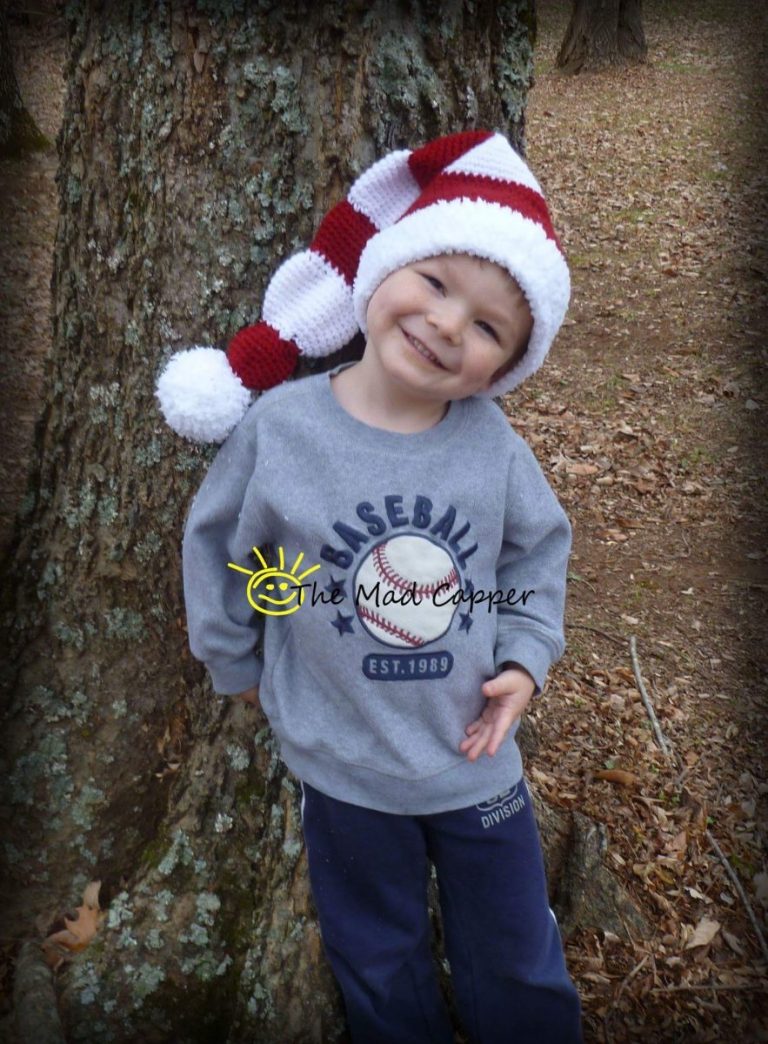 Santa's Helper Elf Hat
Whether you have an upcoming Christmas photo or are planning a trip to the North Pole, this festive elf hat is a must for each member of the family. Worked from the top down with very simple increases, the hat grows quickly and involves very little seaming. Tie a jingle bell to the pompom to add a little Christmas magic for the smallest elves.
Via Make & Do Crew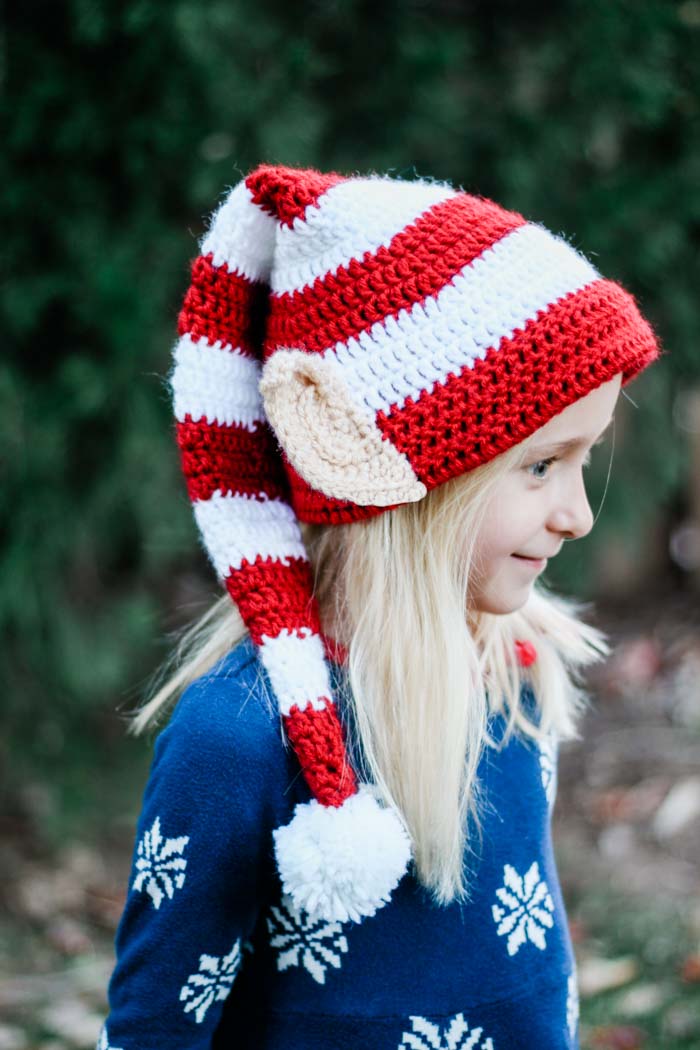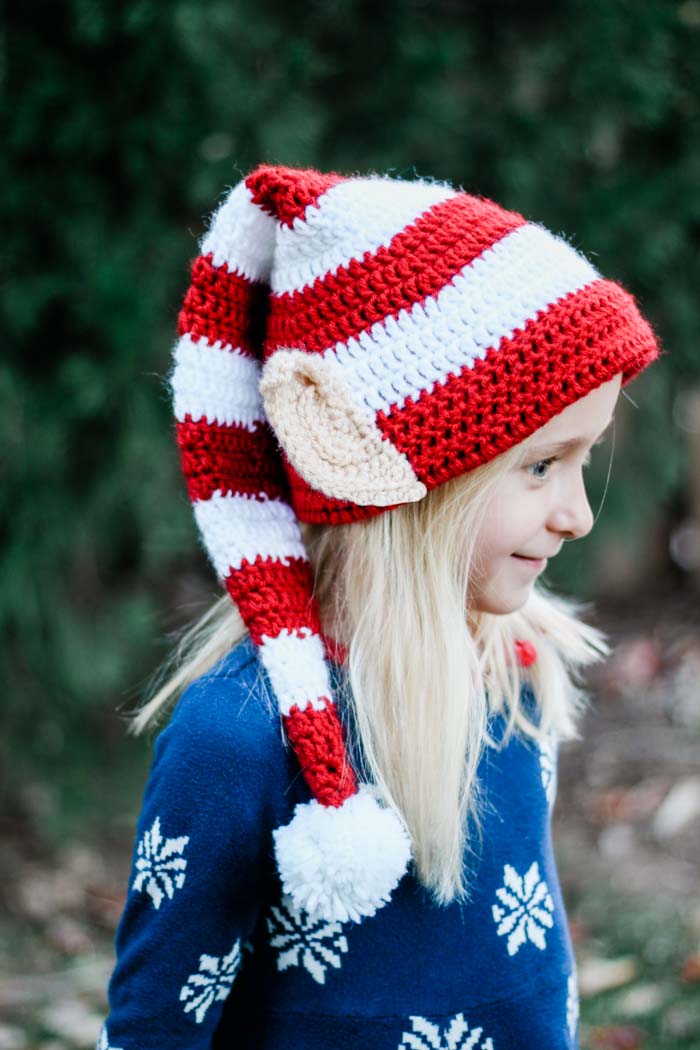 Crochet Santa Hat
This Santa hat is so super easy and quick to work up! This may look like a bobble stitch but it's actually just a Triple Crochet that pops out once you alternate it with a SC. Love the look!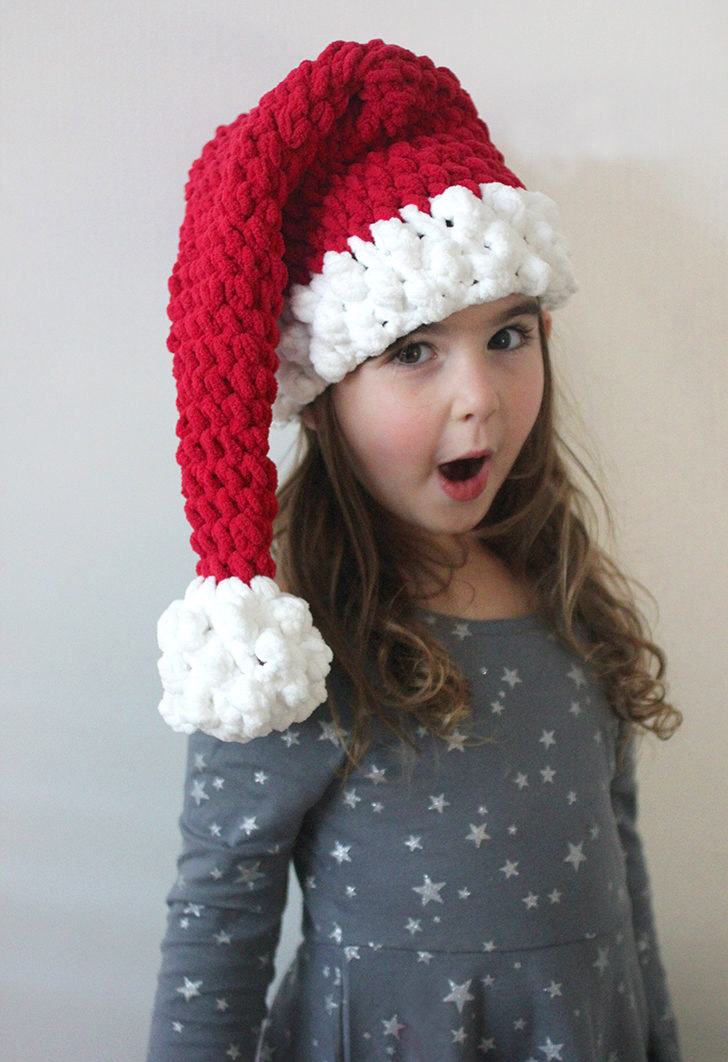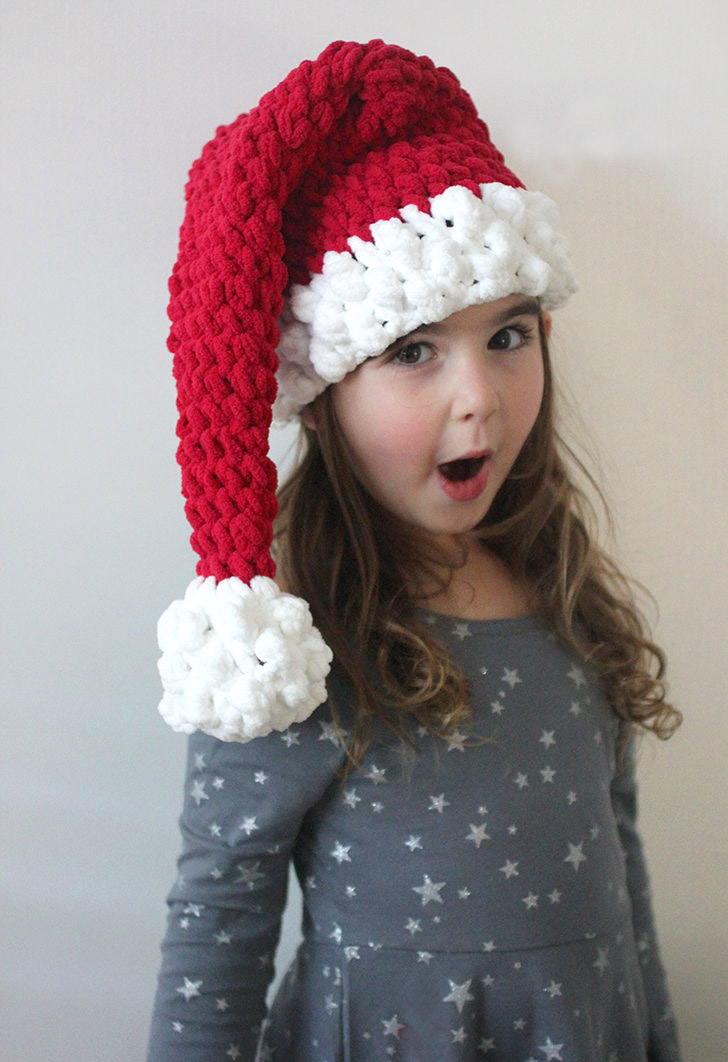 Crochet Christmas Beanie
This Crochet Christmas Beanie pattern is for kids, approximately 4-7 years old and works with "chunky" (weight 5 bulky) yarn.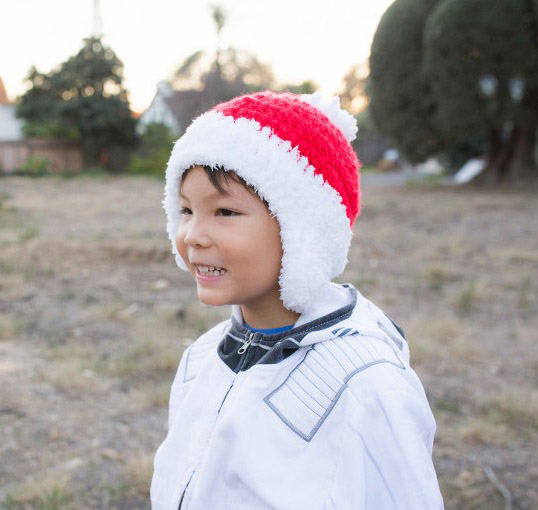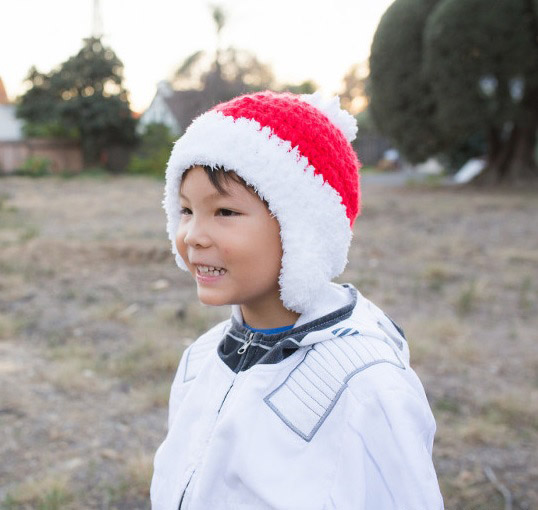 Plaid Crochet Woodland Animal Hats
These cute crochet woodland animal hats feature a cute plaid and gingham color scheme! They are worked from the bottom up and forming the ears is simply done by closing the top flat and cinching the ears a bit. The pattern includes sizing for the whole family.
Via Whistle & Ivy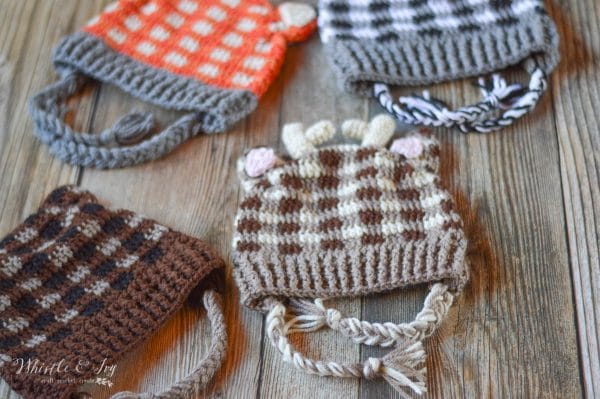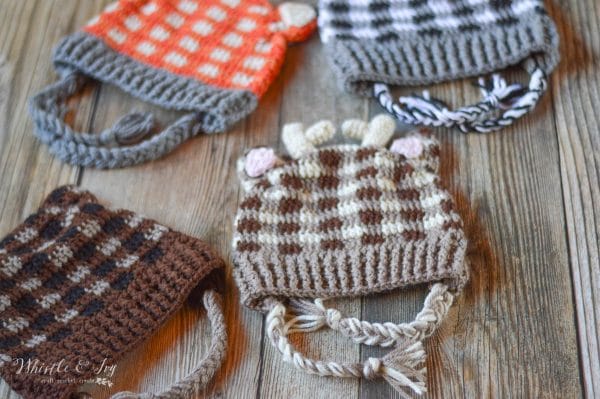 Crochet Aviator Hat
Every little (or big!) pilot needs a Crocheted Aviator Hat! Perfect for play or a cute accessory for chilly weather.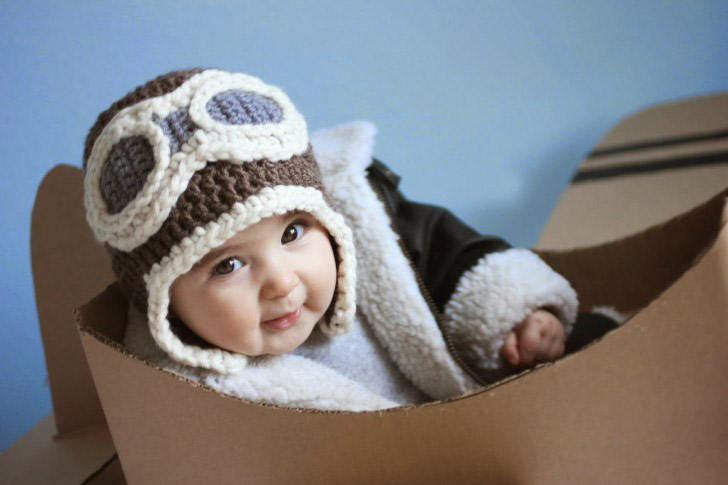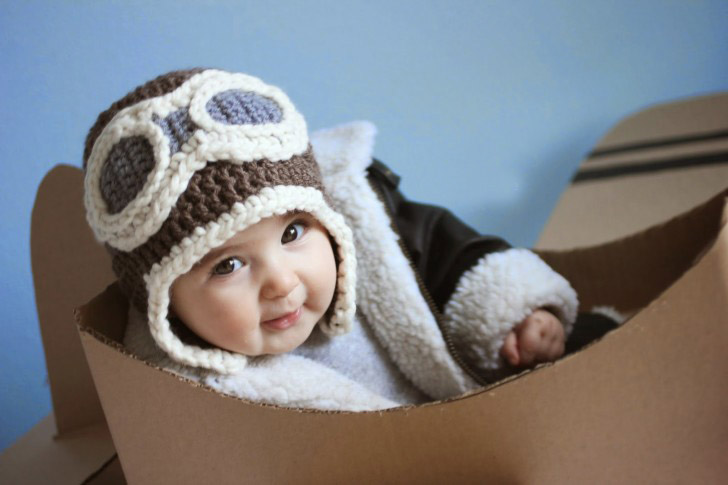 Woodland Spotted Deer Hat
This pattern is very easy to crochet. After adding some facial features to this light brown and cream striped hat you will see a cute looking spotted deer hat. This Crochet Woodland Spotted Deer Hat has a modern look with stripes and available in toddler size.
Via Crochet For You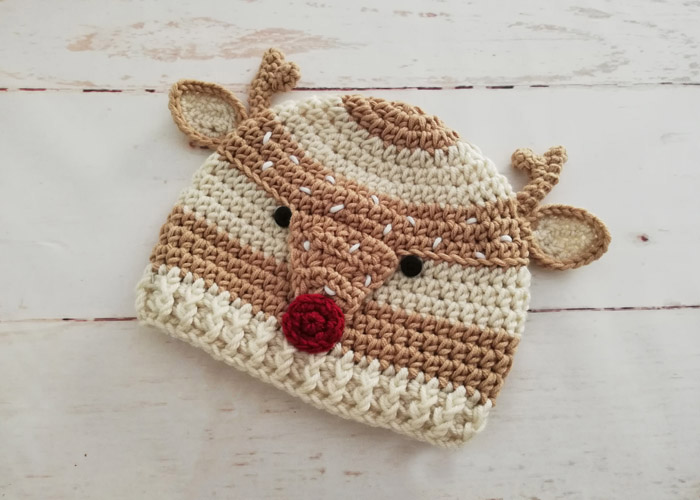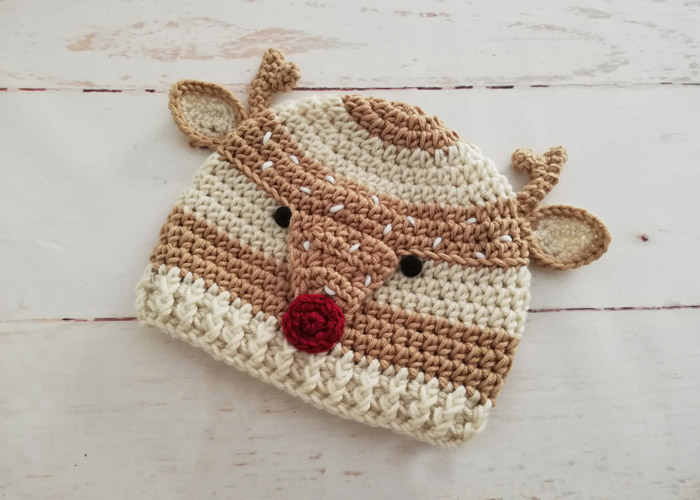 Skye Paw Patrol Crochet Hat
Have your little pup "Ready for Action!" with this cute Skye Paw Patrol crochet hat.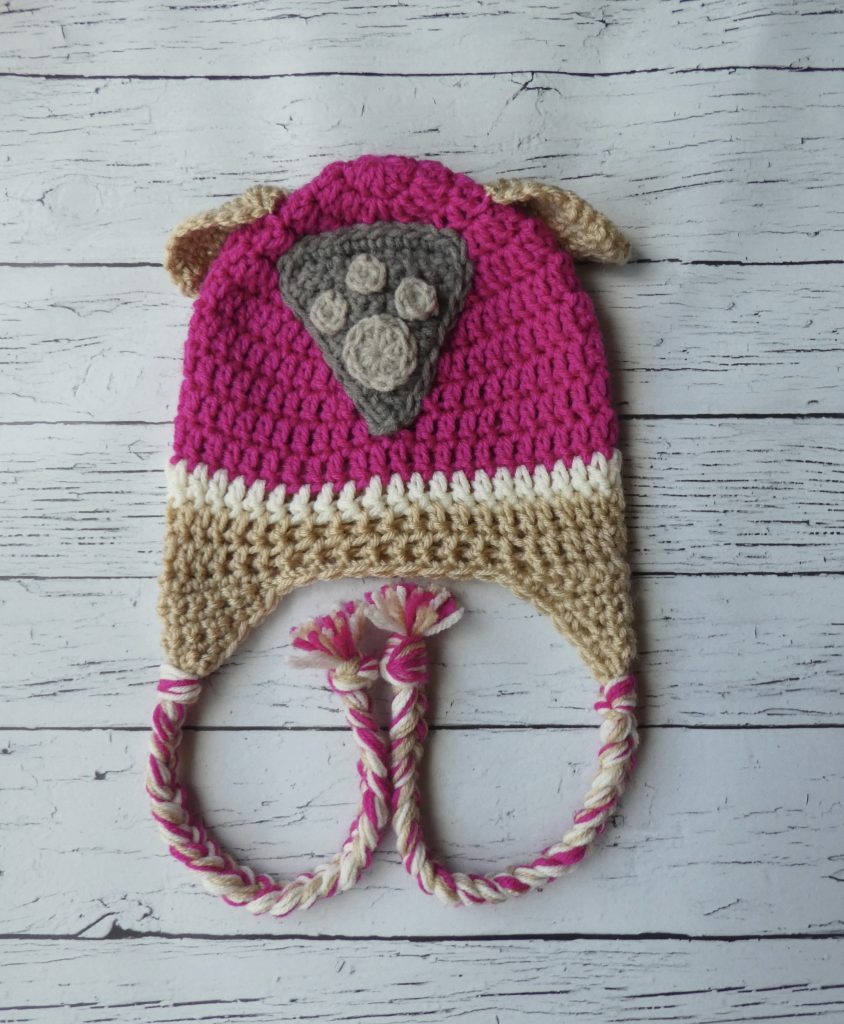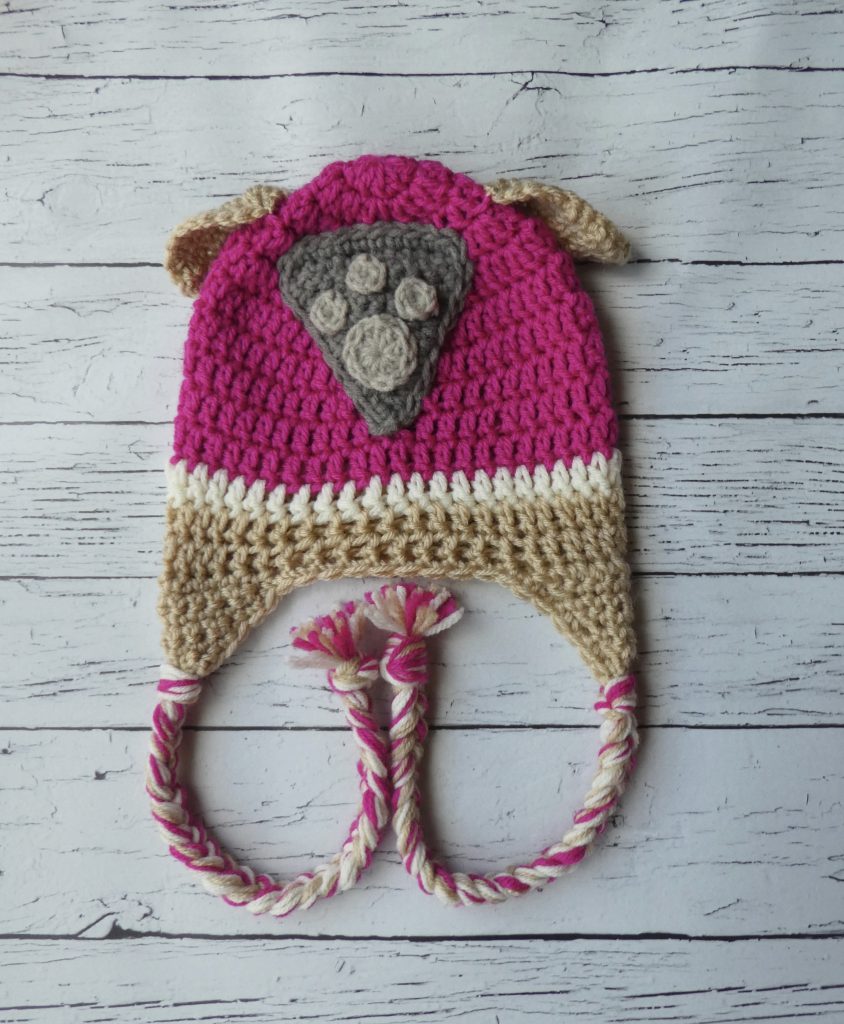 These patterns are so much fun, and I can't wait to get started on creating them for gifting. With patterns for everyone in the family, especially for kids, I know this holiday season is going to be a fun one.
I hope you enjoy creating these patterns for the children you love, and that they enjoy their hats all winter long! Happy crocheting and happy holidays!
Looking for more great crochet patterns: 40 Baby Boy Crochet Hat Patterns