26 Fun Crochet Toys for the Holidays
What's Christmas without fun and adventurous crochet projects? Fill this holiday season with crochet toy projects that will fill your home with more joy than ever before.
Below you'll find a fun selection of crochet toys for the holidays! Anything from the classic reindeer, to the fun and quirky snowicorn. Whether you're looking for something adorable to gift, or you just need new decorations for your home, there's something below for you!
Lux the Reindeer
The holidays are here and that means so is Christmas! Learn how to get started with amigurumi! Create your own cute little basic reindeer doll with this free crochet pattern! This basic toy and beginner friendly DIY project is perfect for any crocheter and works with any type of worsted weight yarn. This amigurumi is perfect for home decor as well and it can work up quickly. Working with simple stitches, single crochet, this pattern is worked in the round and sewn together. Great for gifts.
Via Knot Bad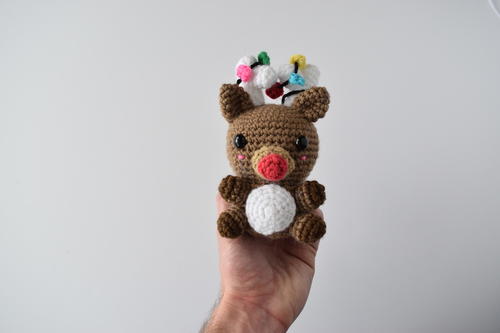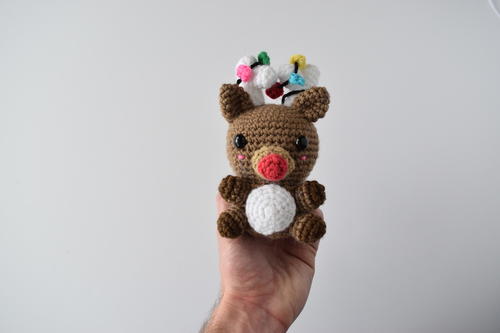 Stuffy The Christmas Penguin
Meet Stuffy The Christmas Penguin! He is an adorable little penguin that is all dressed up for Christmas and ready to play with your little one or sit on your holiday mantle. Tie a string to him and he can hang on your Christmas tree too!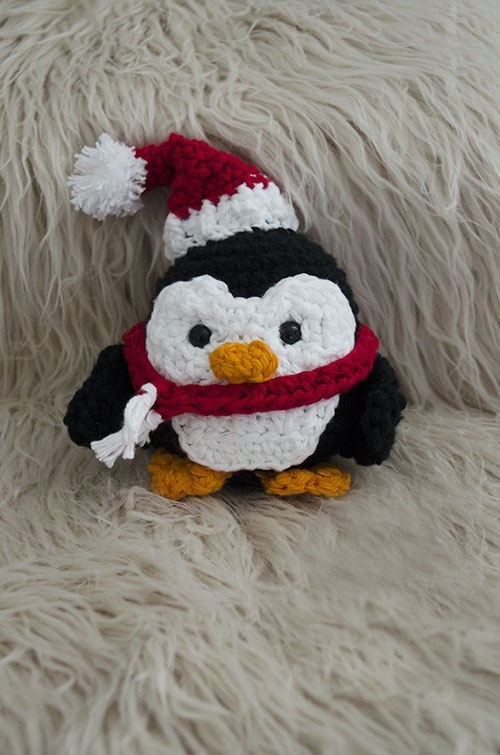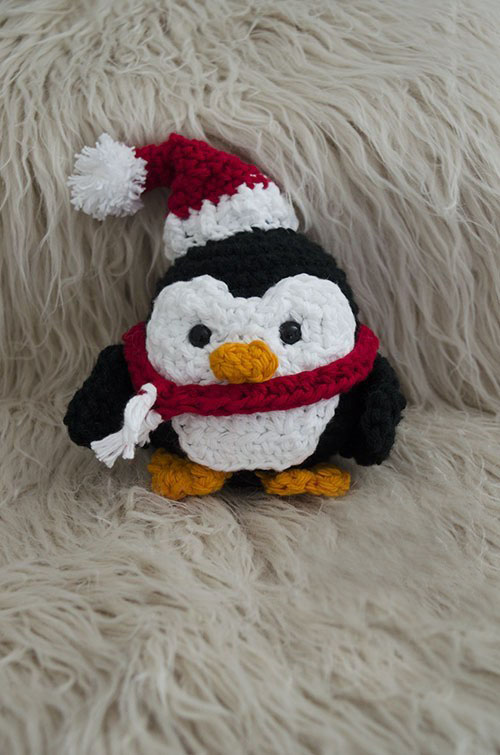 Holiday Narwhals
These mini narwhals stand 2 inches tall and are roughly 3.5 inches wide. These little ones are small enough that they can be used as Christmas Ornaments for the tree!
Via Knot Bad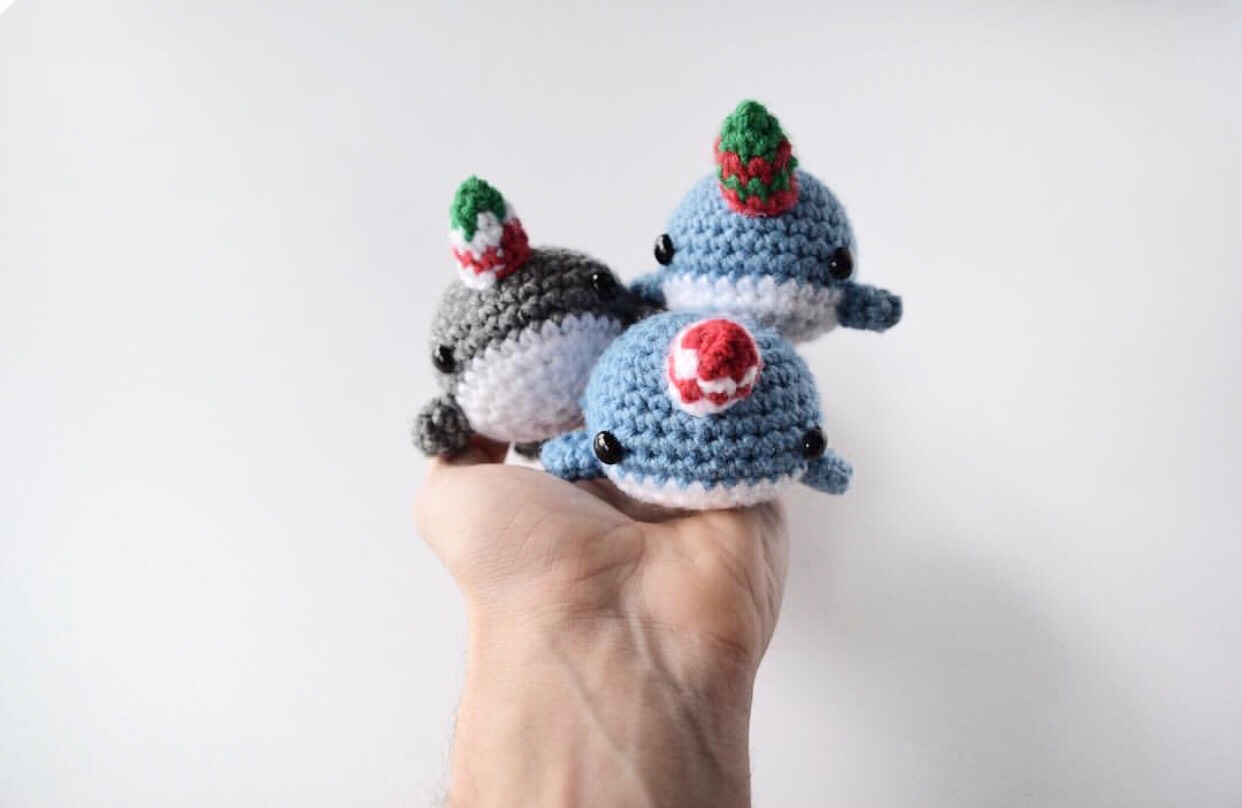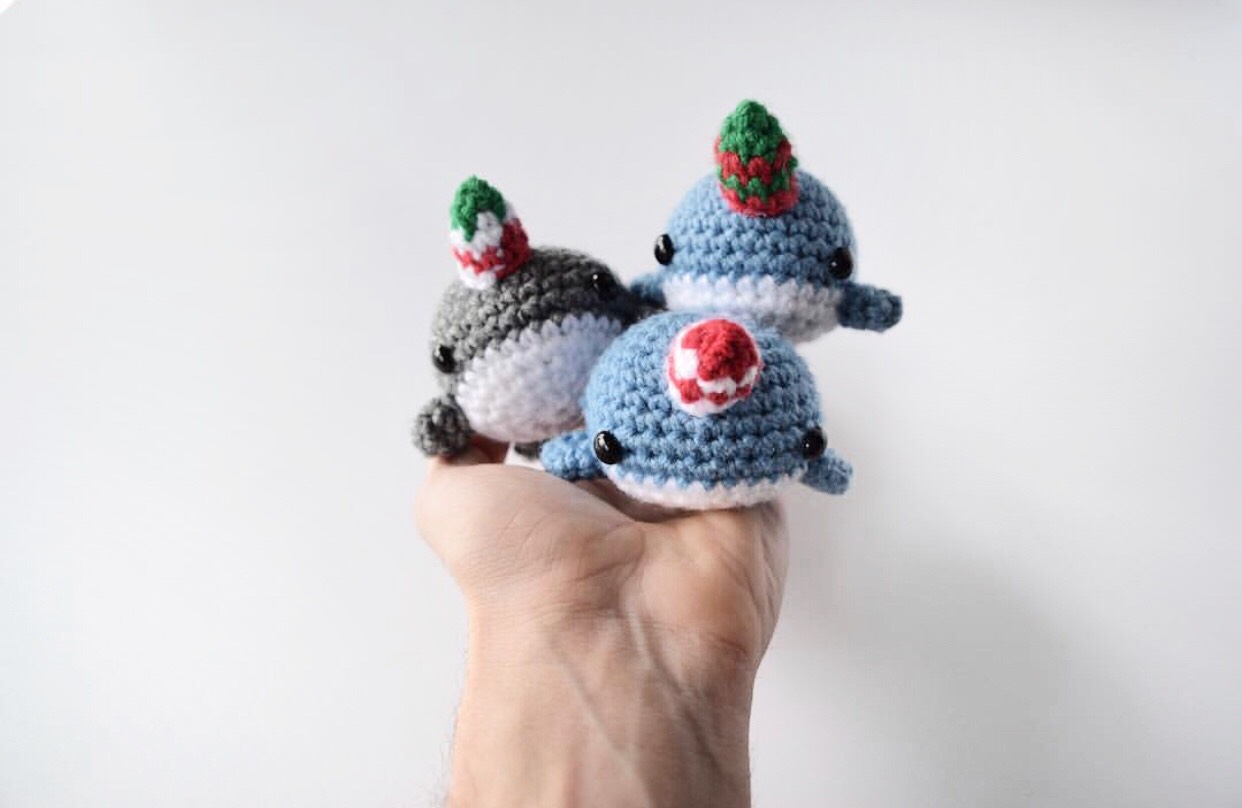 Candy Cottage Gingerbread House
If you're looking for a crochet toy pattern that's whimsical and cute while also being a bit of a challenge, then the Candy Cottage Gingerbread House is for you. This crochet pattern is advanced and incorporates a number of crochet stitches in the overall design, with the on-trend crochet crocodile stitch used for the rooftop. The icicles and candy sticks almost look good enough to eat on this beautiful crochet item! Consider making this toy as a special present for a little one in your life, or display it in your home during the winter months.
Via Pink Mambo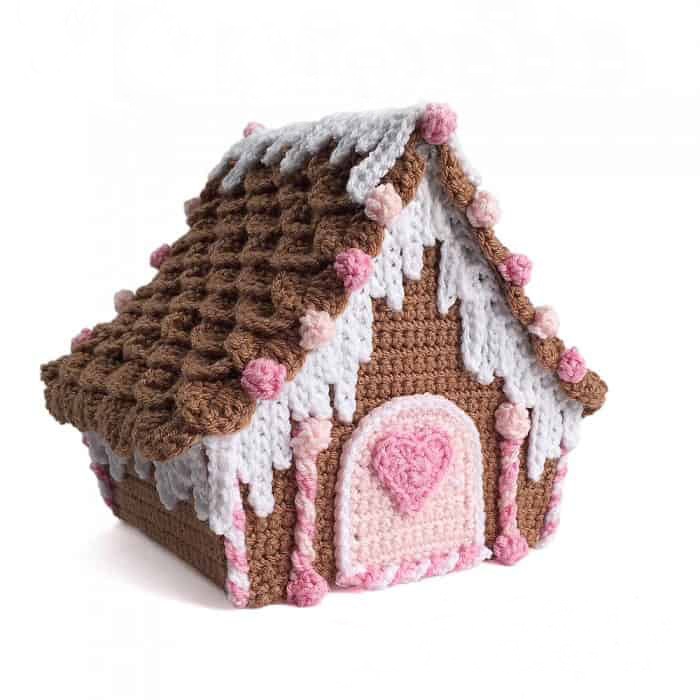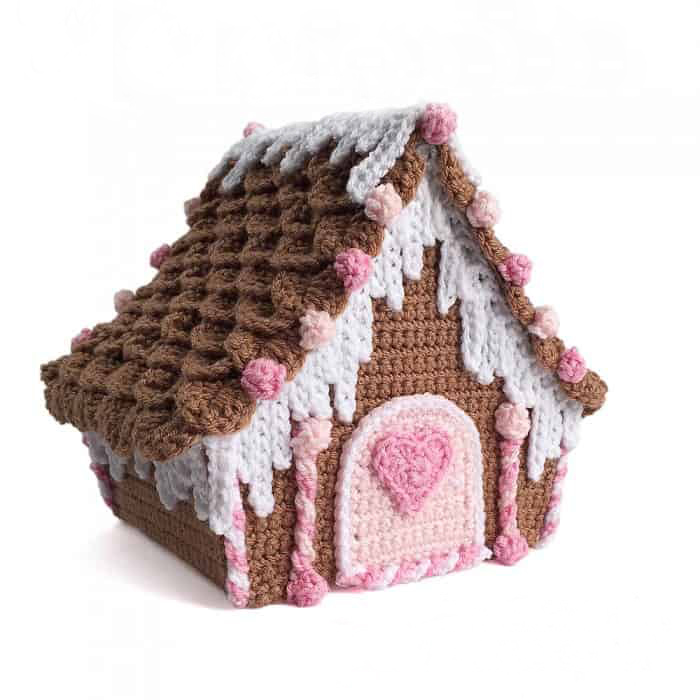 Huggable Crochet Christmas Tree
No matter how much you love Christmas trees, wrapping your arms around one usually earns you a faceful of pine needles. Now, there is an amigurumi crochet pattern that is just as eager for cuddling as you are—the Huggable Christmas Tree! He even has little arms welcoming an embrace, and the cheerful expression makes this crochet Christmas pattern an absolute delight. Decked out with a miniature string of lights, this Christmas tree pattern is not cutting any corners. Work one of these up to have as a Christmas toy for your little ones, or feature your handiwork on a shelf to show off your holiday spirit.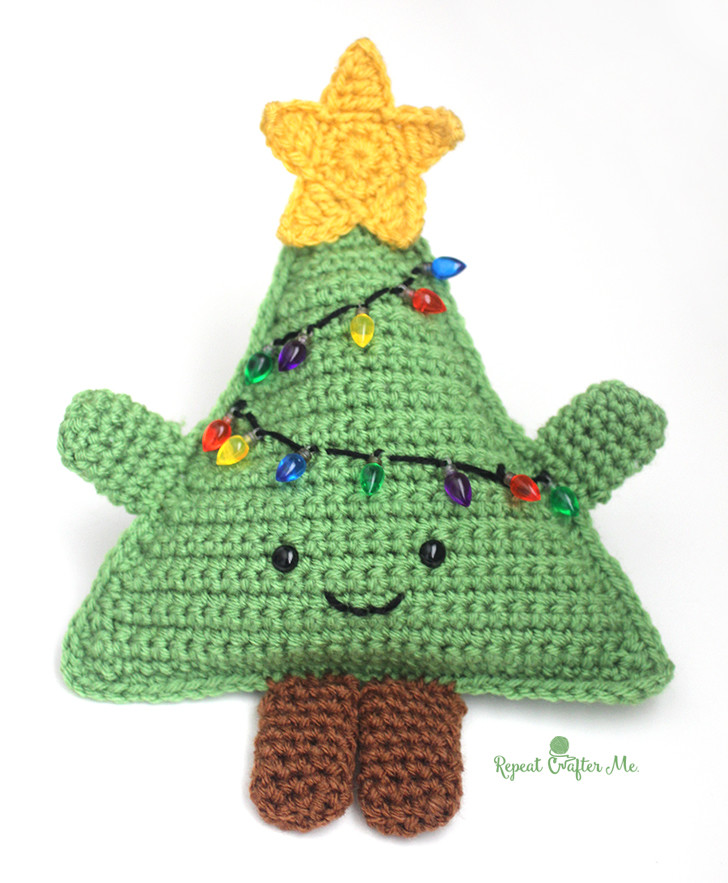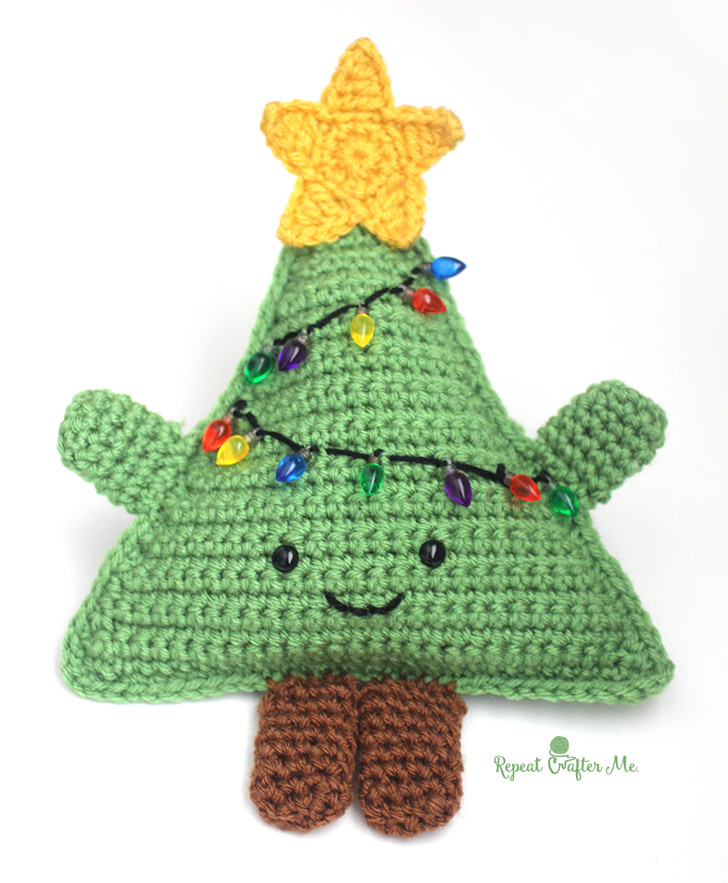 Casper the Snowman
This pattern was made with Jo-Anns "Big Twist" yarn, but any worsted weight yarn will work. He stands roughly 5.5 inches tall and can be assembled in any order you see fit.
Via Knot Bad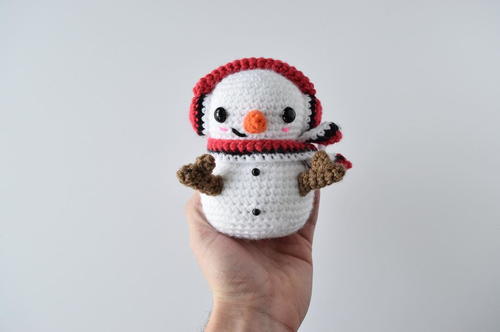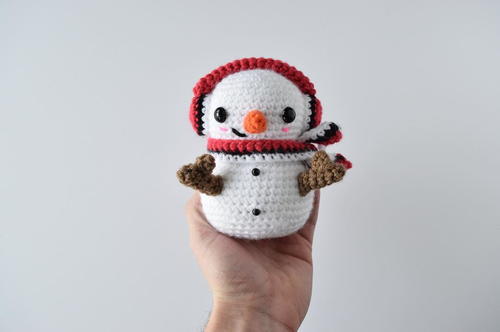 Posh Pete The Elf Doll
I like the Elf on shelf idea, but I found the Elf to be a little creepy. I wanted to make an elf, that was cute, sweet, fun and big enough to play with. This Doll is soft and lovable. If you start him now, he just might be ready for Christmas.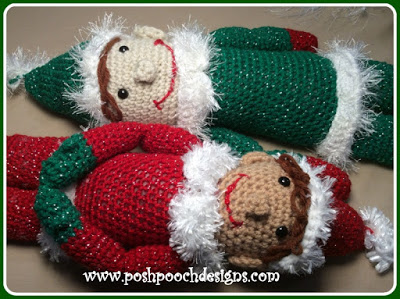 Mr. Fox Toy
If you're looking for a youthful, fun project to crochet for Christmas, check out this toy foxy. Mr. Fox Toy is so sweet and fun, and is the perfect counterpart to the adventurous Mrs. Fox Toy. Mr. Fox has a removable jacket and scarf for easy cleaning, or if you wanted to make him a couple other outfits, too. He's entirely stitched up with single crochets, so this is an easy project with a big payoff.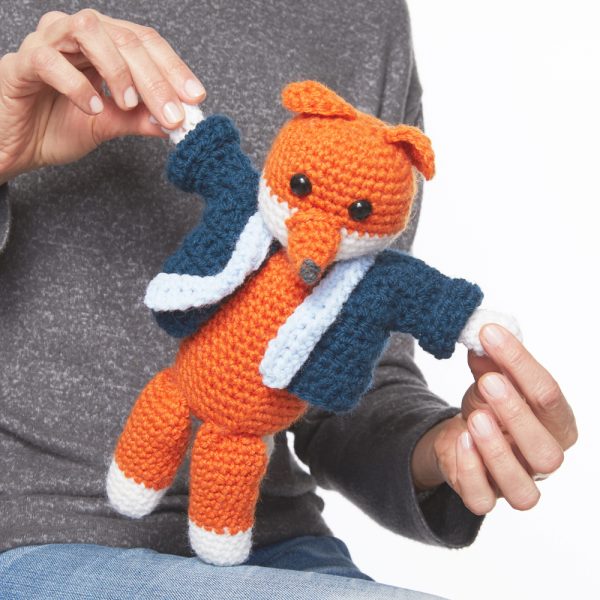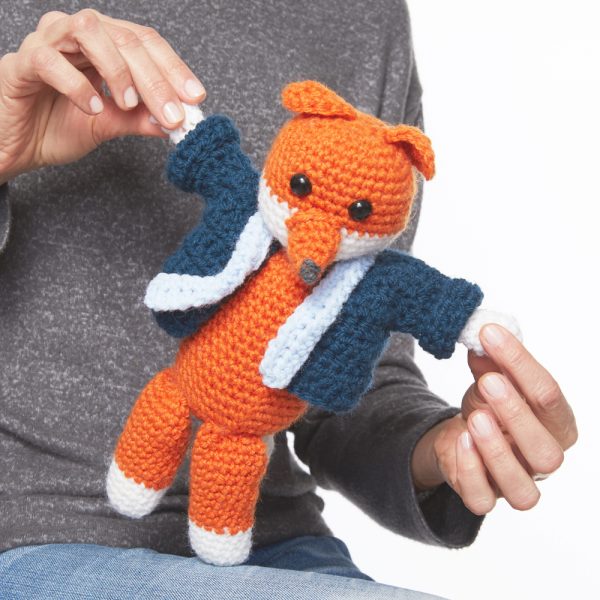 Serene Christmas Angel
The Serene Christmas Angel Amigurumi represents the divine messenger with grace and delicacy, from the tip of the halo to the ruffled hem of the skirt. With basic crochet stitches and an accessible design, this is an easy crochet pattern that you must work up for your homemade Christmas decorations.
Via Dendennis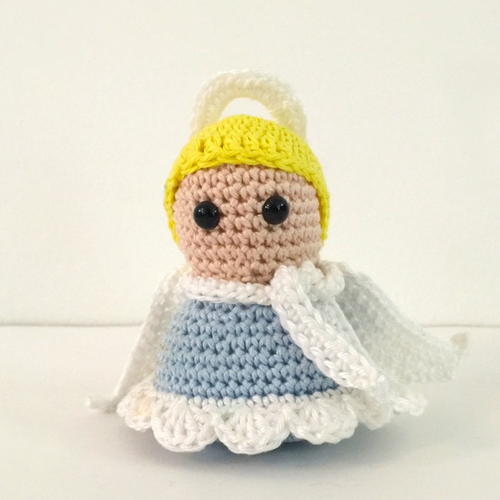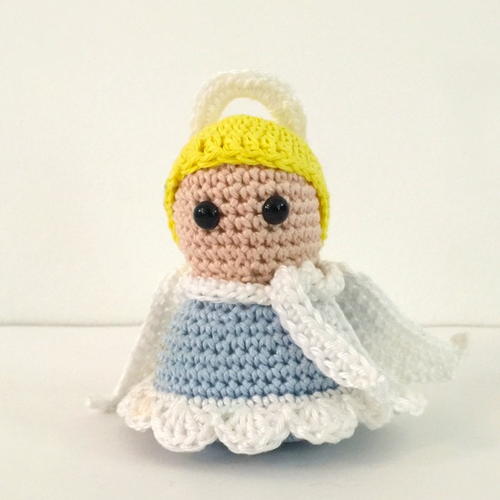 Angel Amigurumi
Meet Angelica, the angel amigurumi! With her pretty little boots, sparkly wings, and cheerful face, Angelica is the perfect project for your winter or holiday crocheting! This amigurumi is worked up in pieces and then sewn together at the end. Because her legs are sewn on separately, she can be placed in a sitting or standing position (if leaned against something). Angelica measures 12 inches tall and is great for cuddling, decorating, or gift giving! This is a free pattern by Loops and Love Crochet, including lots of detailed photos to help you along the way!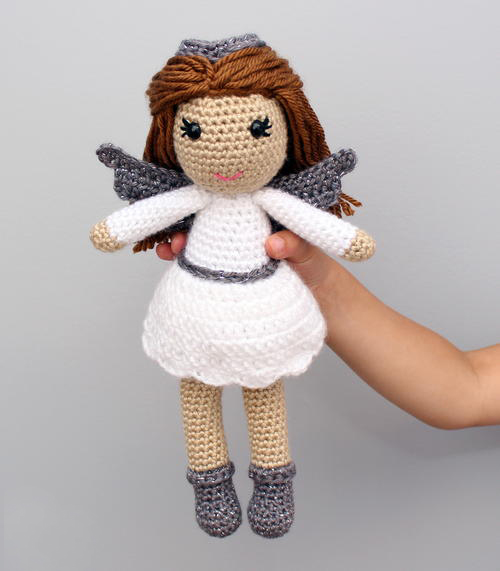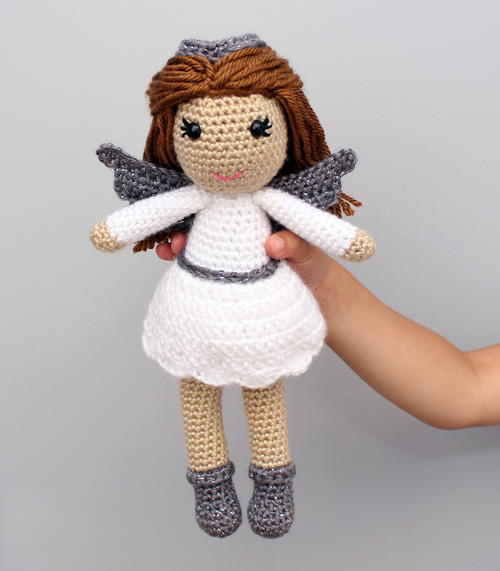 Friendly Reindeer
This reindeer pattern will look great on a shelf or even perched in the branches of your Christmas tree, ready for take off. With his iconic red nose, you know exactly how special this Christmas reindeer is, so he would be an ideal amigurumi doll for your little ones to play with around this time of year. Soft and cuddly, this reindeer will delight both you and your kids with his cheerful personality.
Via Dendennis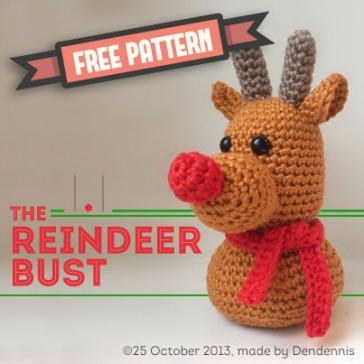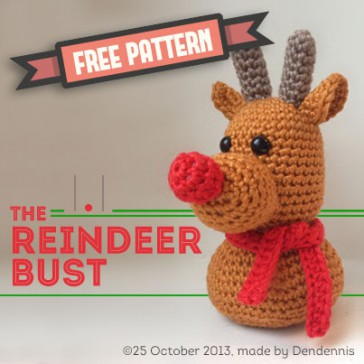 Crochet Santa Claus
This adorable little guy would look great in a Christmas scene on your mantel, or in a Christmas village in his own sleigh. A Crochet Santa Claus would also be a cute ornament, or a fun stocking stuffer from Santa, himself! What better way to leave a mark than to leave a miniature version of him behind to play with?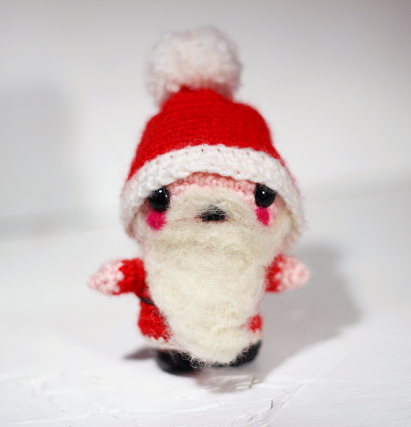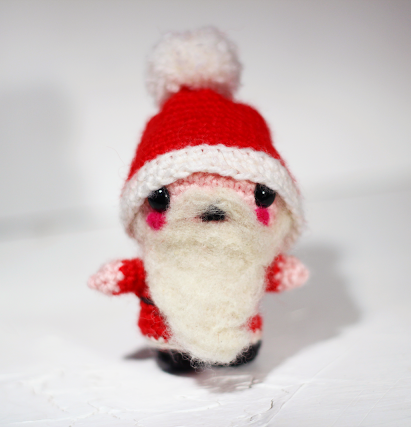 Crochet Mrs. Claus
If you're in need of a little tender loving care, an Amigurumi Crochet Mrs. Claus is the perfect solution. With her adorable wire glasses and a red bow in her hair, Mrs. Claus will bring a smile to your face every time you look at her. Her hair is cleverly felted to make it look more realistic, and with her partner Santa Claus she makes a perfectly tiny decoration.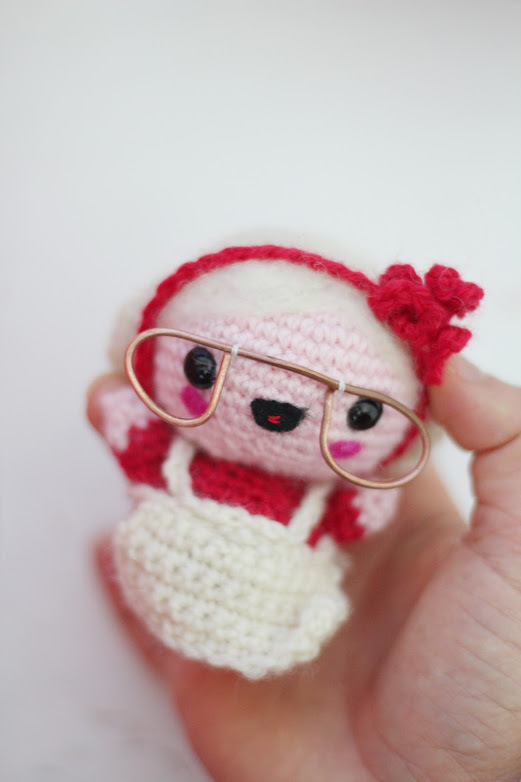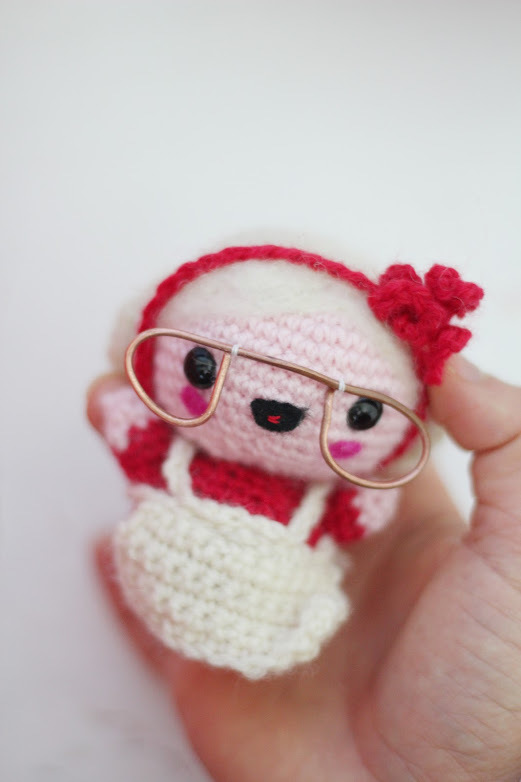 Snowicorn Amigurumi
These cute little guys are pretty quick to make and can either be given as festive toys or used to add some magic to your tree! The main body of the snowicorn is made top down in one piece, then you can go to town with fun colours for it's scarf, horn and mane to create your own magical buddy!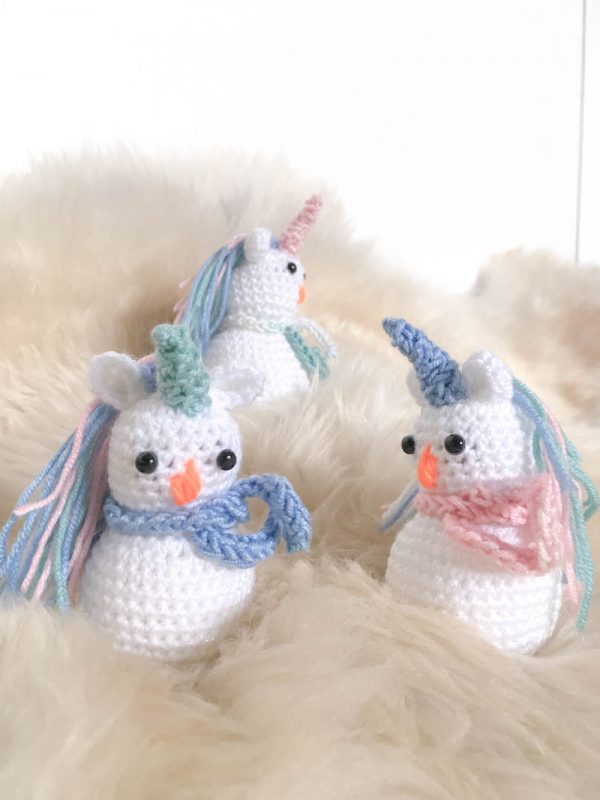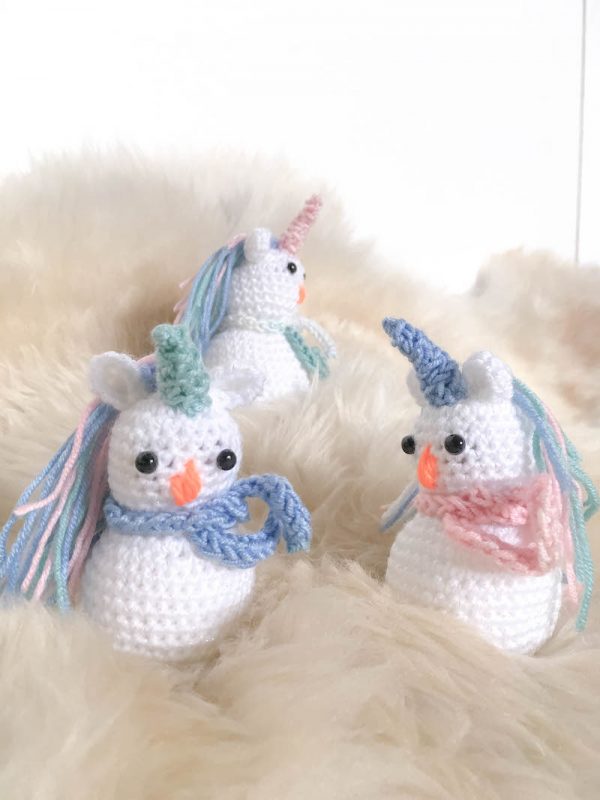 Claus the Yeti
Create your own cute little basic snow yeti doll with this free crochet pattern! This basic toy and beginner friendly DIY project is perfect for any crocheter and works with any type of worsted weight yarn.
Via Knot Bad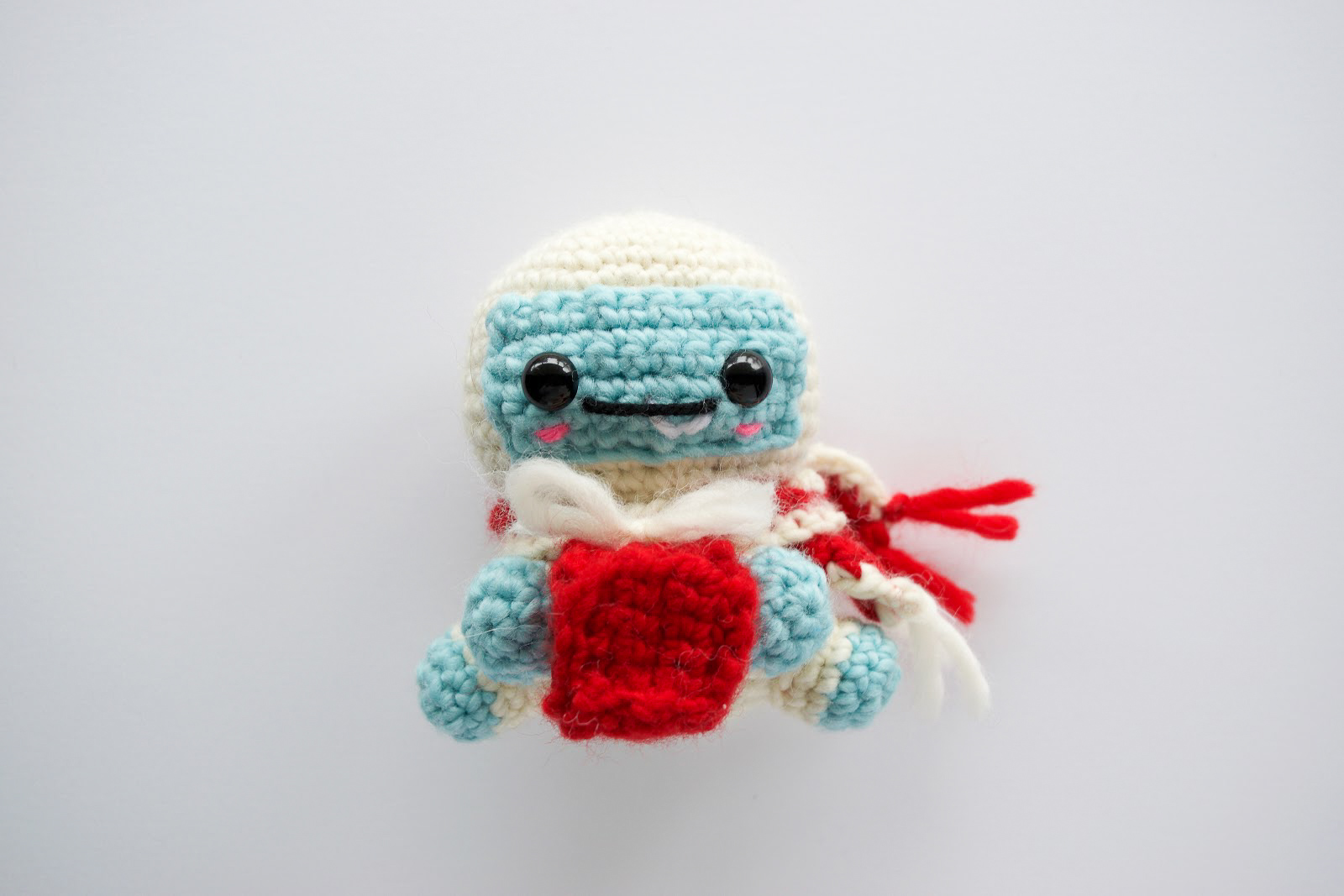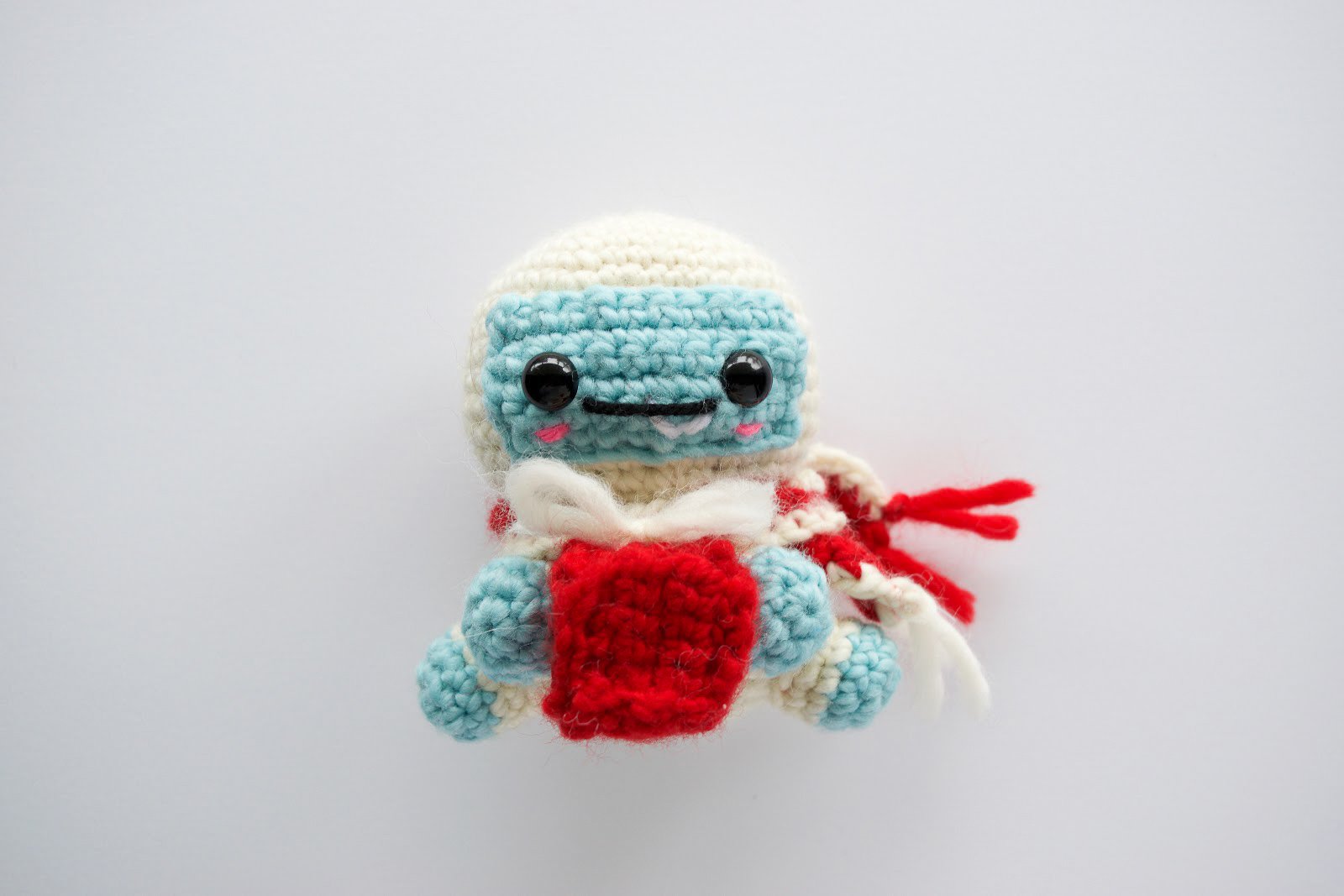 Chimney Santa Kawaii Cuddler
Santa's on his way down the chimney to deliver presents to all the good children! We had so much fun creating this adorable design!
Via 3amgracedesigns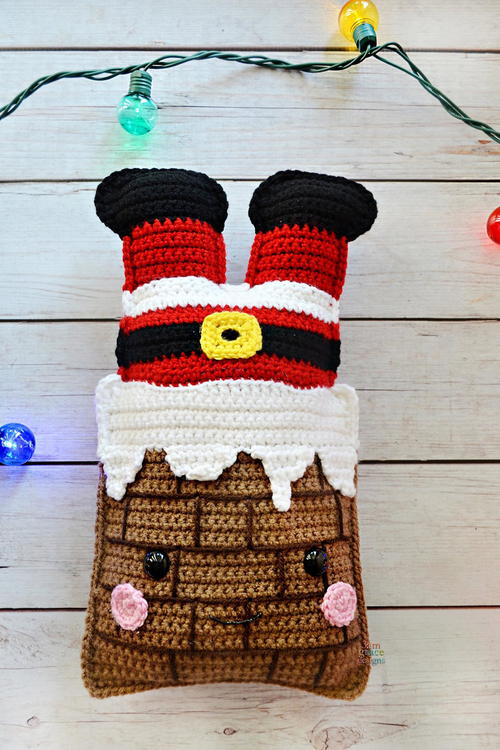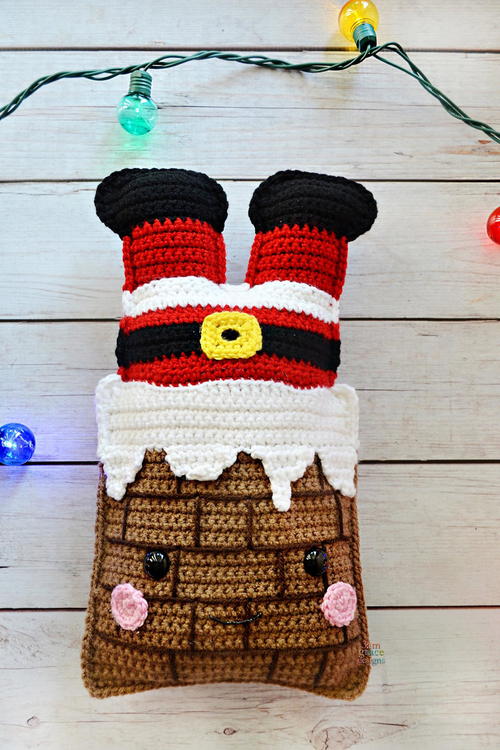 Christmas Pudding Bear
I haven't ever eaten Christmas pudding, and while I'm not altogether familiar with Christmas pudding, the treat looks unmistakably festive and delicious! I wanted to combine this seasonal treat with a cute bear. The bear took around an hour and a half from start to finish. It's a great project to start on a chilly evening!
Via Picot Pals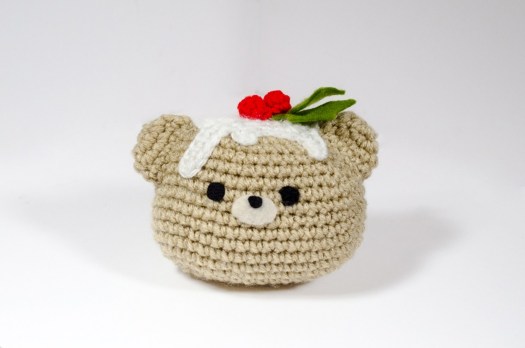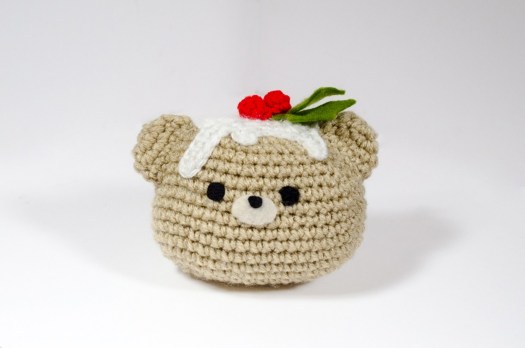 Christmas Reindeer
This little reindeer works up quickly and makes a cute gift for the holidays! I provided a photo tutorial for attaching the legs so that the pattern is more accessible to beginner amigurumi makers. In addition to yarn and stuffing, I used 6mm safety eyes, red felt scraps, pink & black thread, and a tiny jingle bell to create my reindeer. Alternatively, you could decorate your reindeer with whatever you happen to have on hand.
Via Picot Pals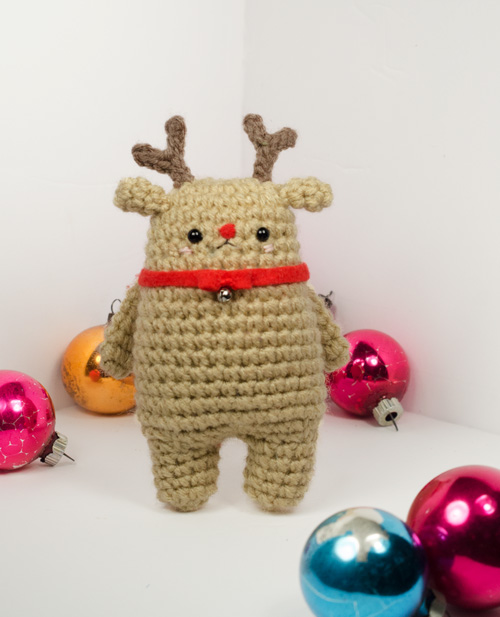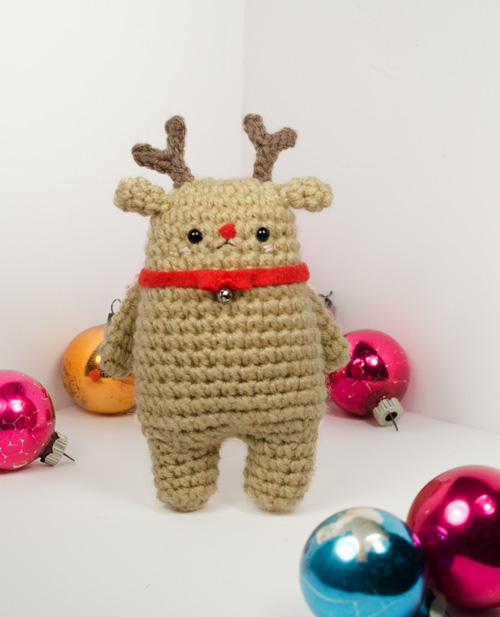 Itty Bitty Kitty
Some of you may remember my free Itty Bitty Kitty pattern. I thought that I would add a festive twist to this much loved pattern and give our dear little kitty a mini Christmas hat.
Via Thoresby Cottage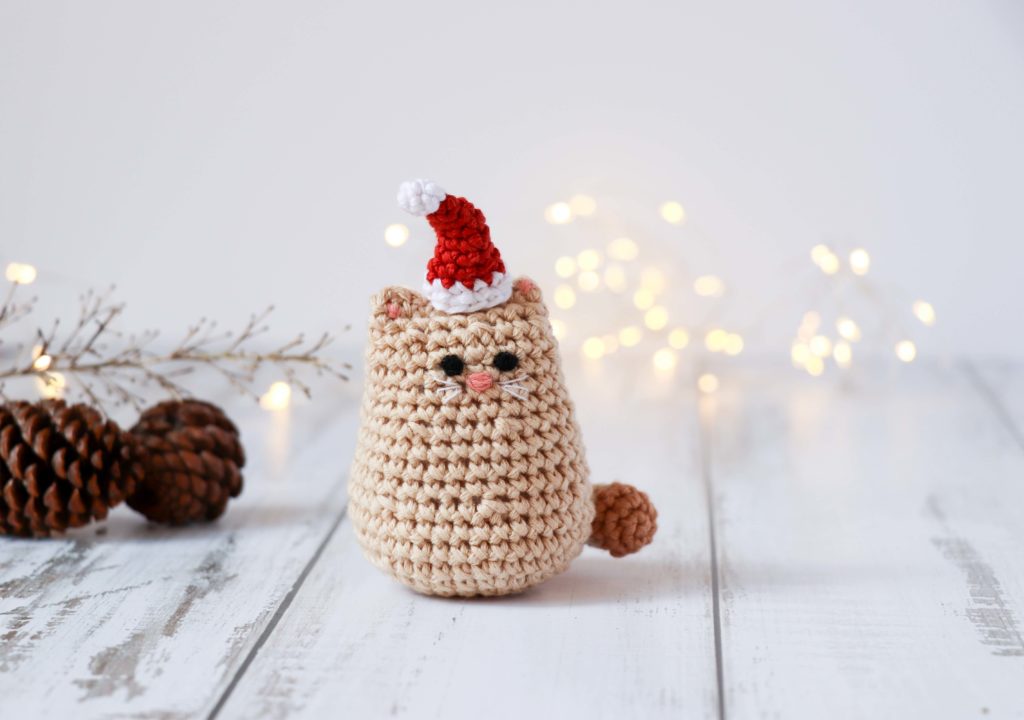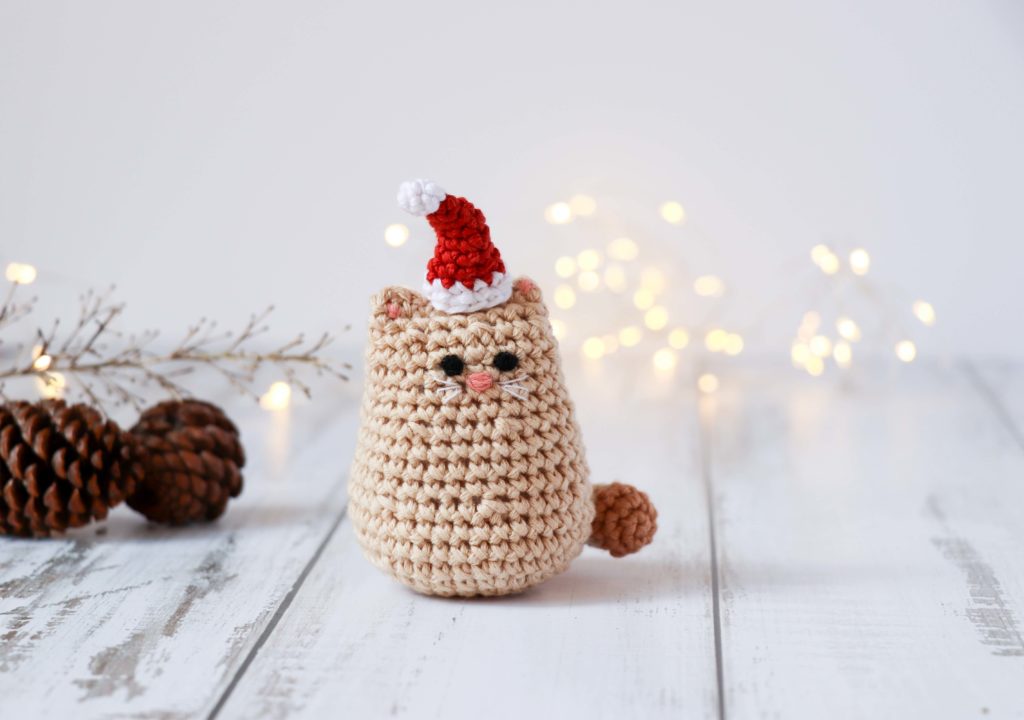 Christmas Elf
There's nothing cuter for Christmas than these elves, especially for decorating your home. They're a fast and fun project great for those who love new and crazy ideas.
Via Ilove-Crochet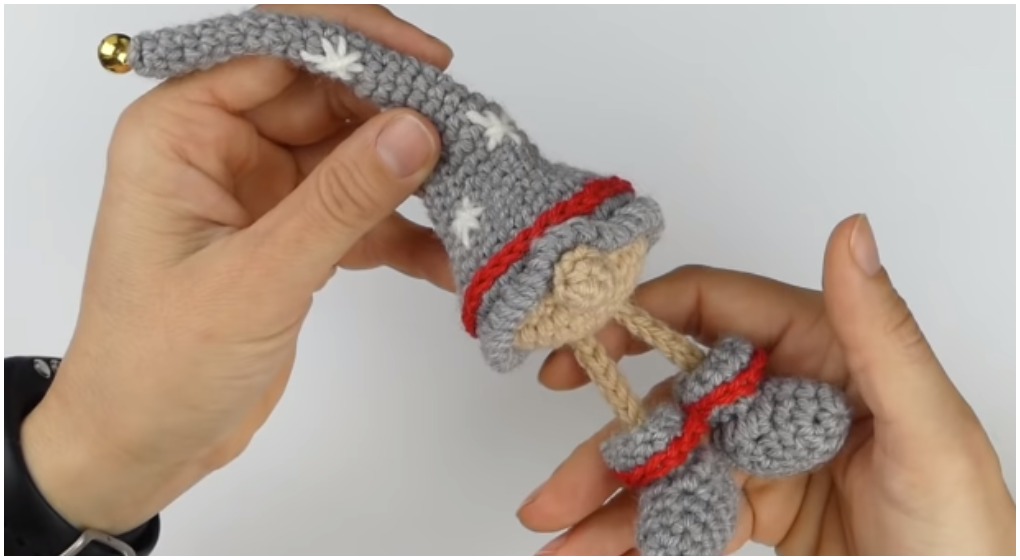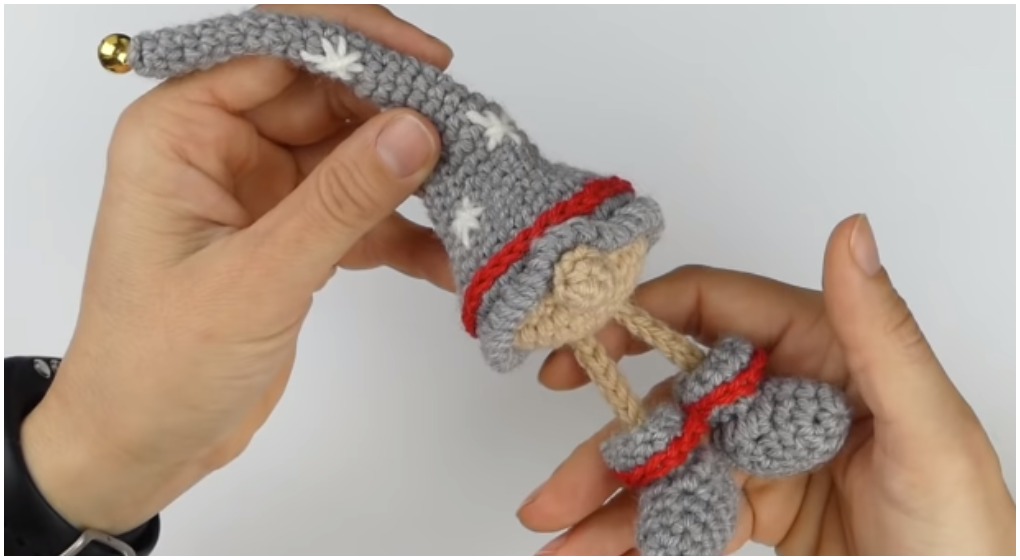 The Grinch Amigurumi
This toy was inspired by 2018 Dr. Seuss's The Grinch movie. A perfect gift for those who's not too excited about the holidays like the rest of us are.
Via Minasscraft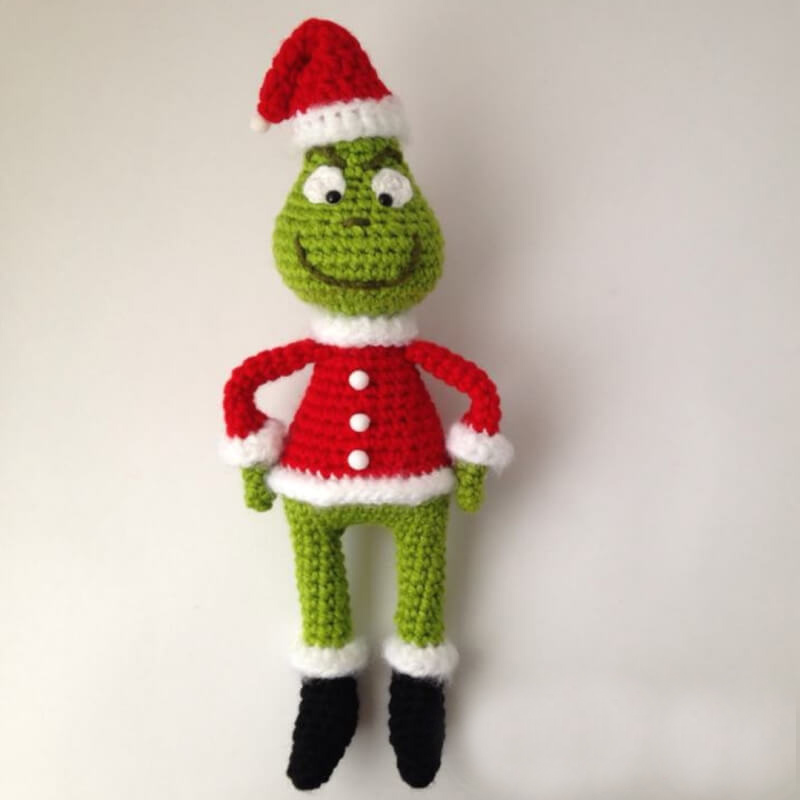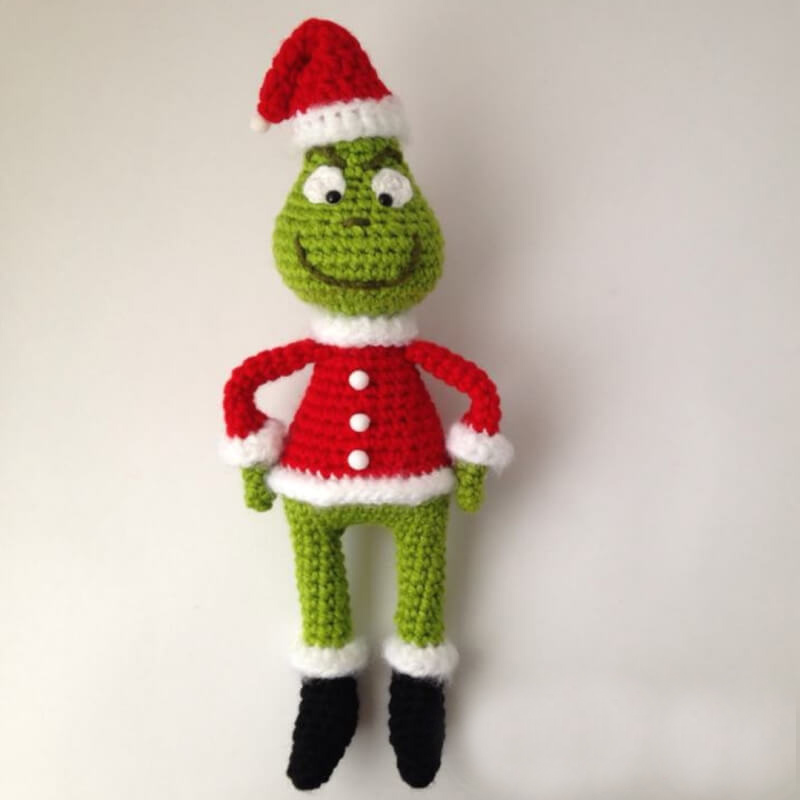 Gunhild The Gnome Girl
Gunhild the gnome girl is a fun little project to put you in a festive mood. You will need to know how to make a magic ring, how to single crochet (double crochet in British terms), and how to make invisible decreases.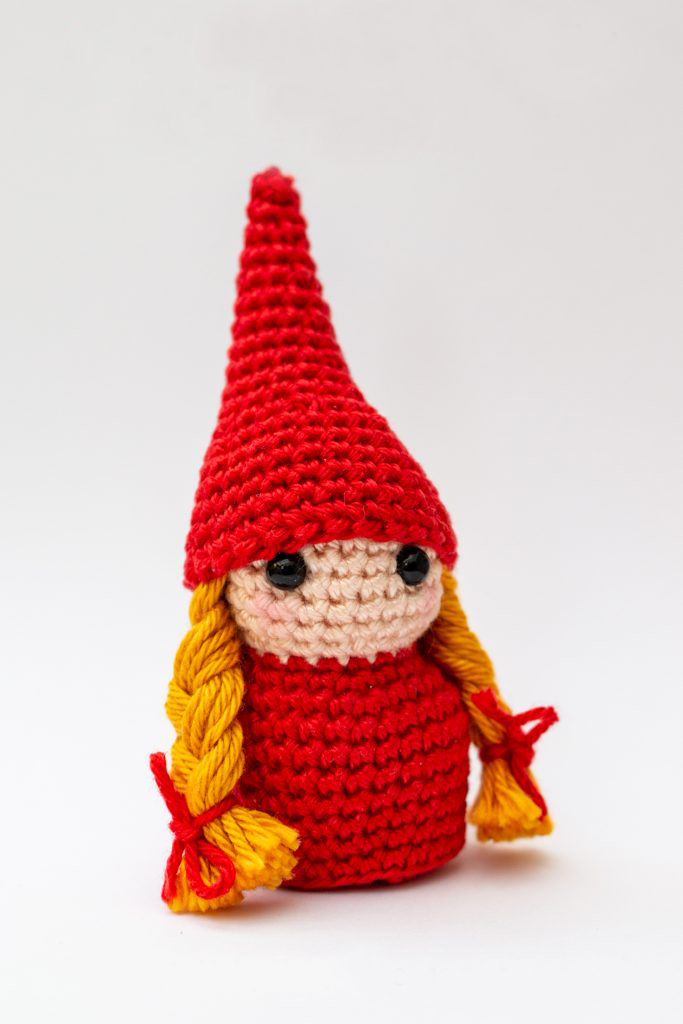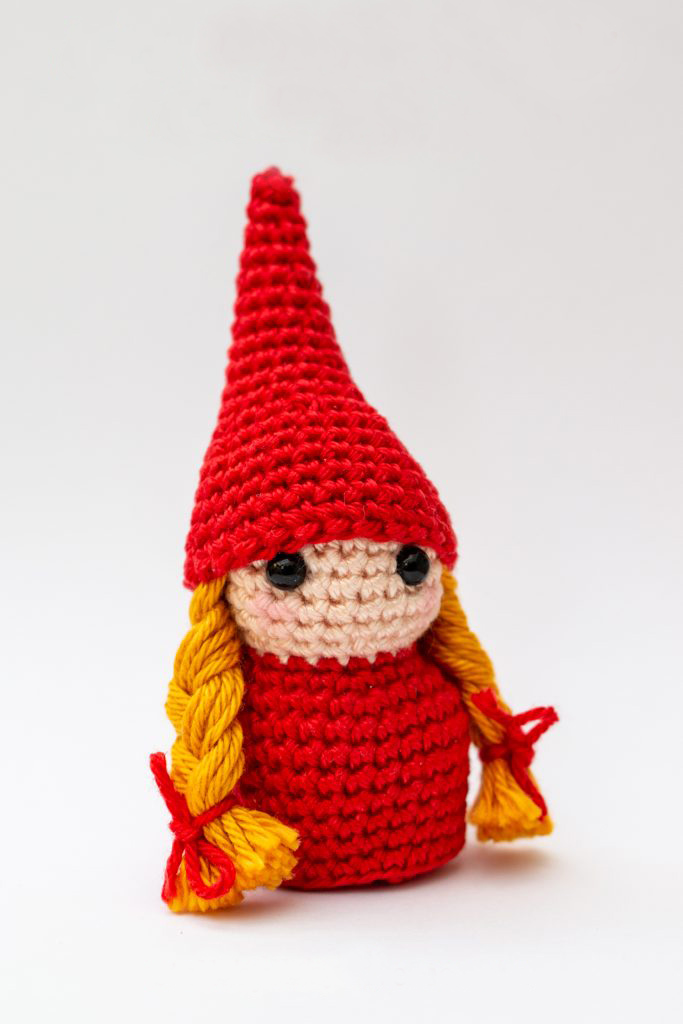 Crochet Moose
This crochet moose was a lot of fun to make! I had this image in my head that I worked really hard to replicate- the perfect crochet moose to sit on a little shelf at Christmas-time.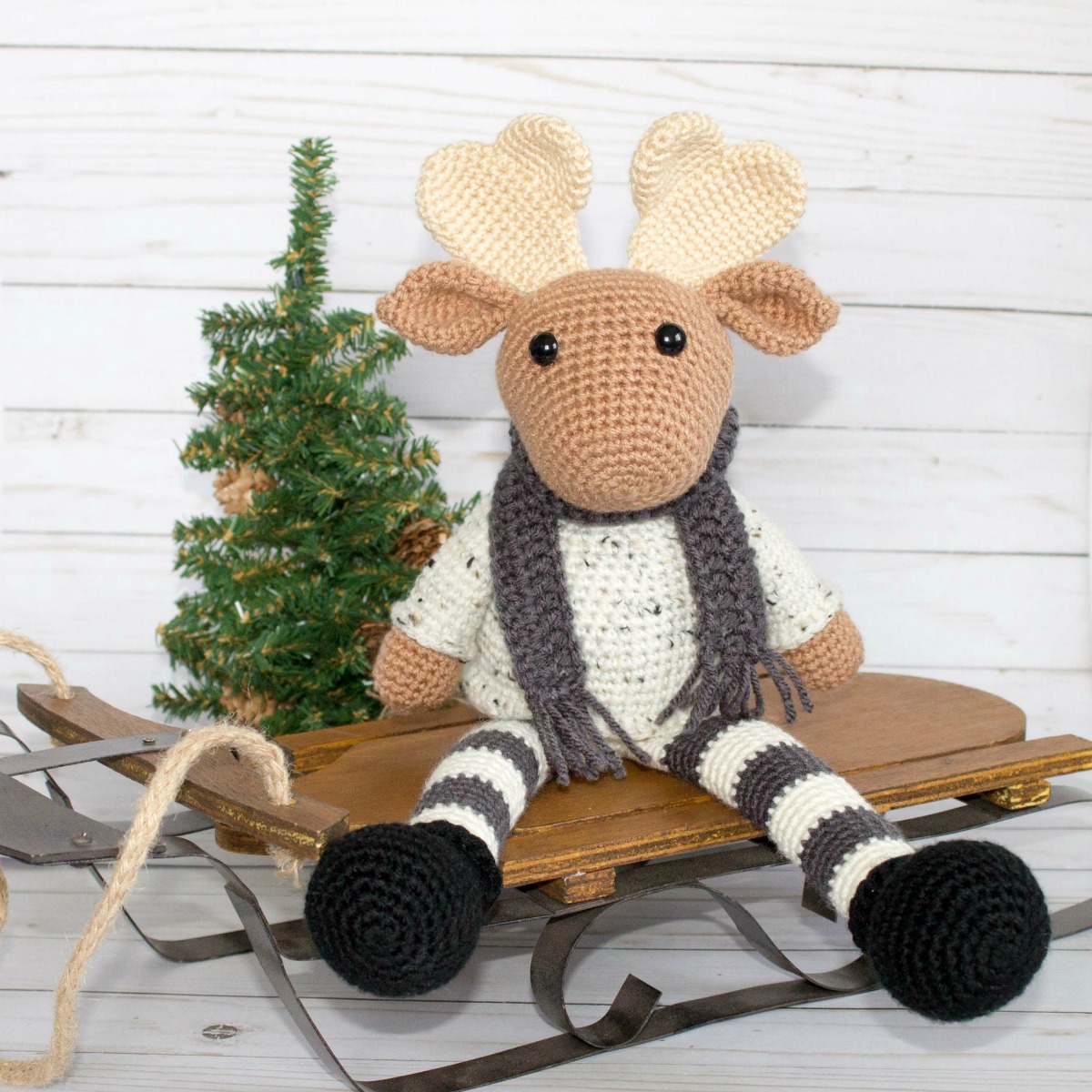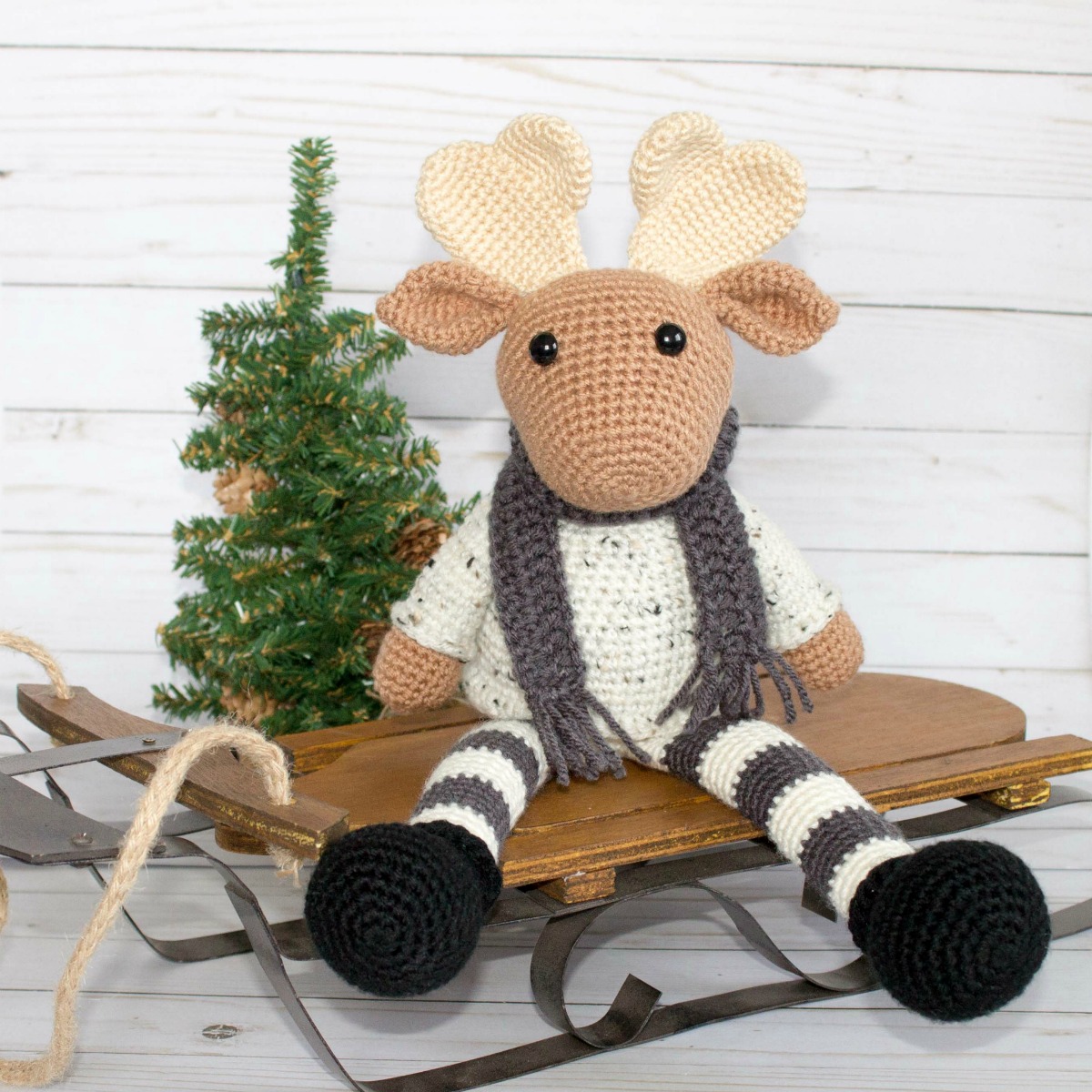 Elf Amigurumi
Meet Trixie and Twinkle, Santa's little helpers! These elves are bound to put a smile on your face and get you thinking about the holidays. Each elf amigurumi measures about 12 inches tall when legs are extended including the hat.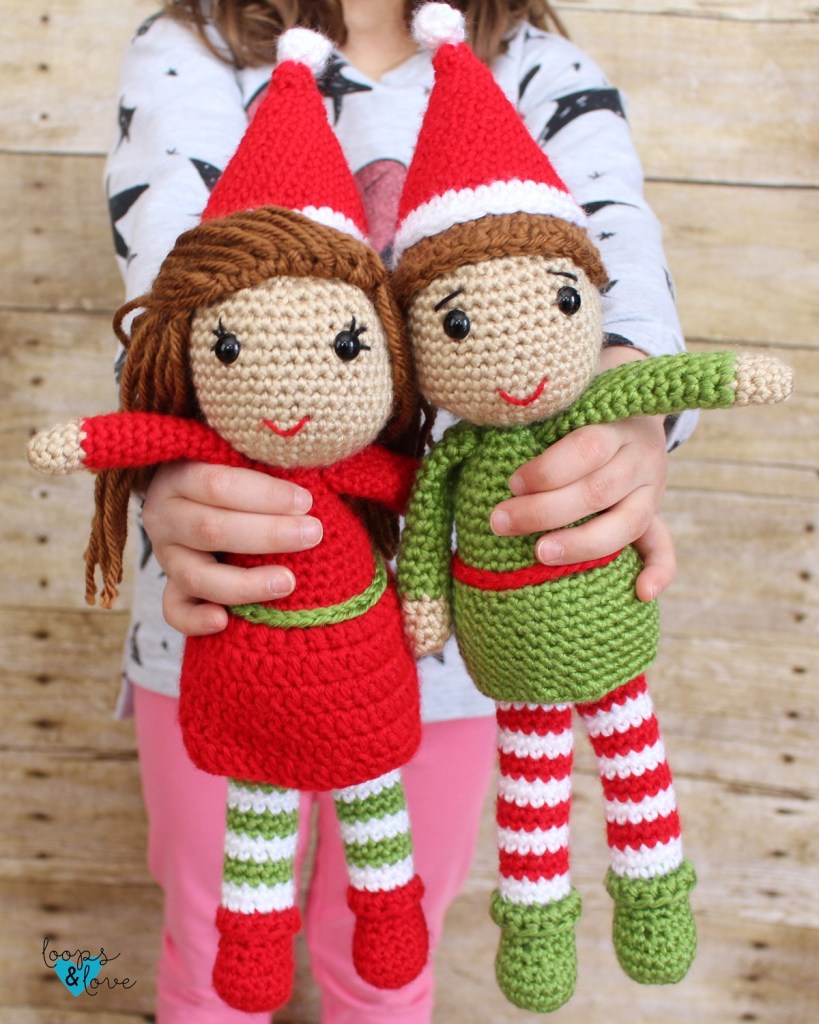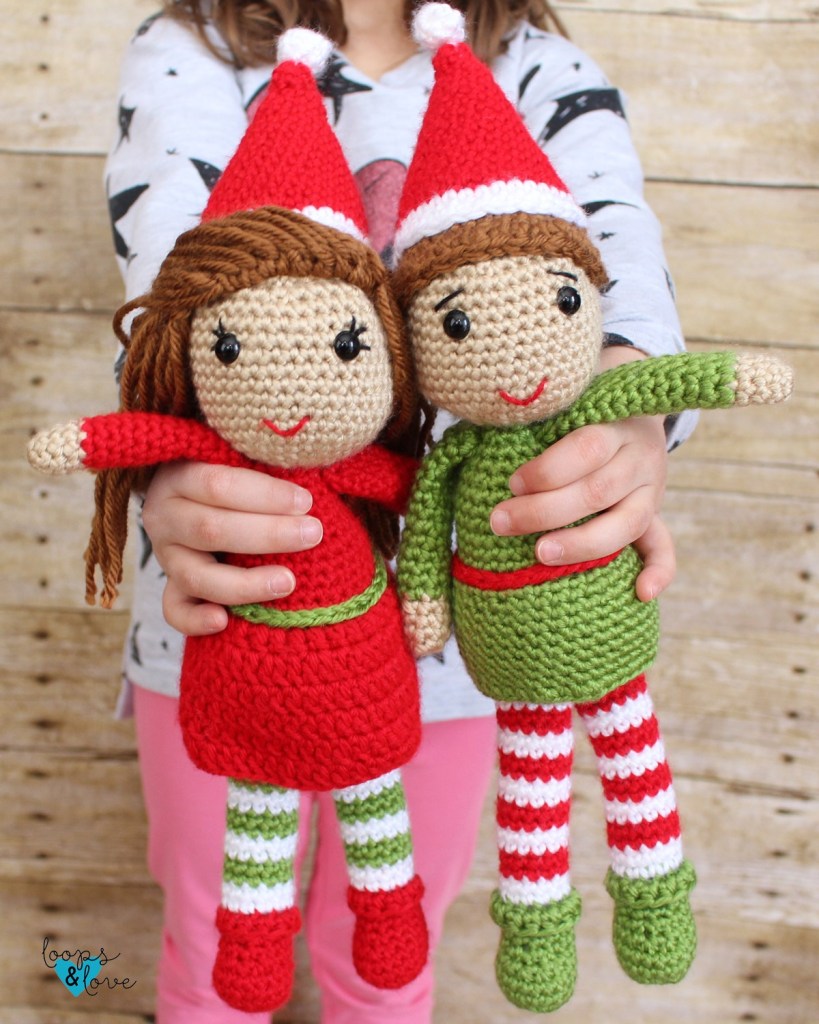 Scandinavian Santa Gnome
Without a full facial expression, there's always so much to interpret from these Scandinavian inspired gnomes. Are they sad, or mischievous, or somewhat languid and just enjoying a quiet life? I love their mystery and playfulness!
Via One Dog Woof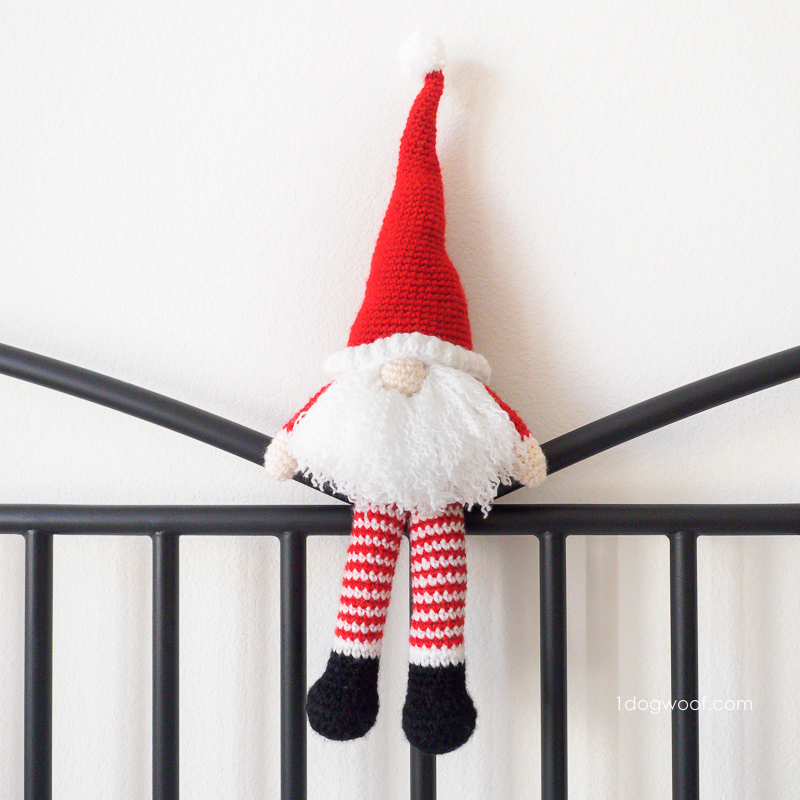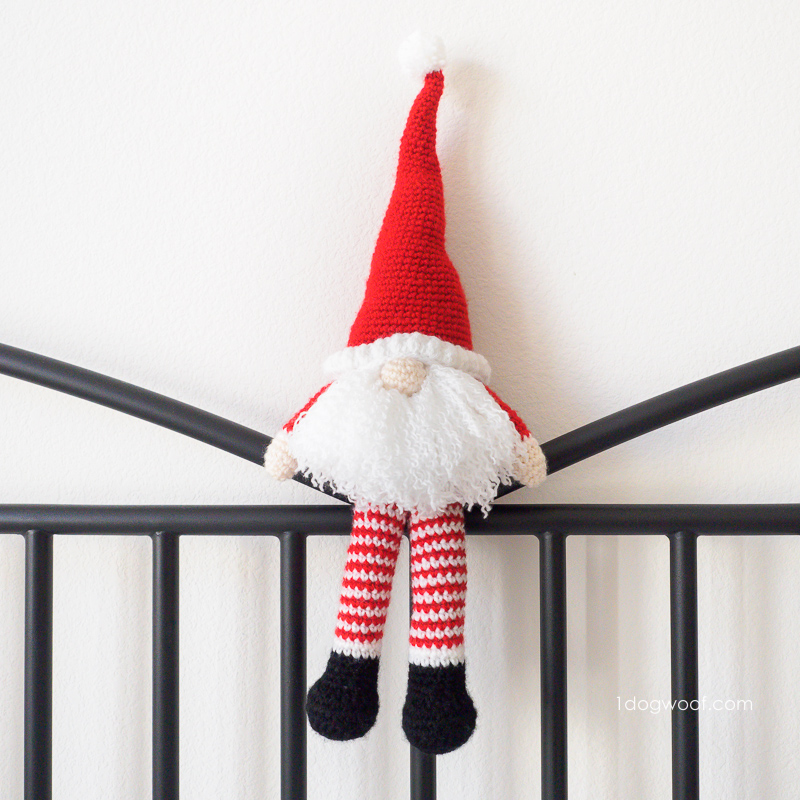 Snowman Friends
These snowmen started out as a custom order for a dear friend. However, I knew I had to share them after I created the pom-pom hats! The pom-pom hats are equal parts cuddly and sparkly, which makes for an oh-so-cute snowman!
Via Love Crafts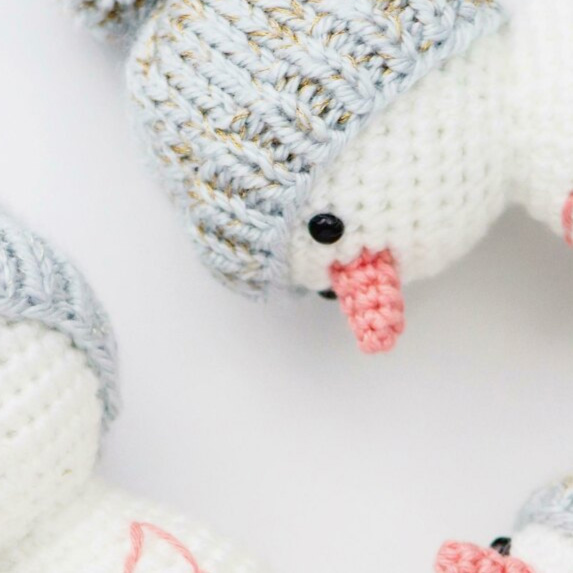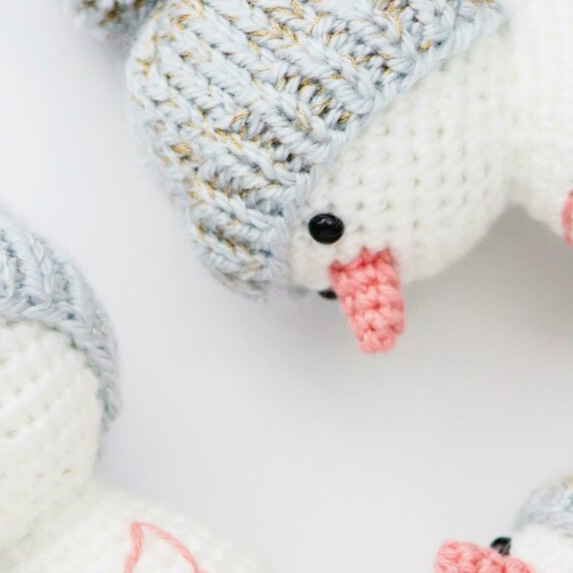 There's something so special about the holidays. The hot cocoa, sweaters, cold weather, and making memories with friends and family. Make this holiday season that much more special by working up some fun crochet toys.
These 26 crochet toy patterns for the holidays will bring extra cheer to your days, and joy to the hearts of all who see them. So, get started and have fun! Happy holidays to you and happy crocheting!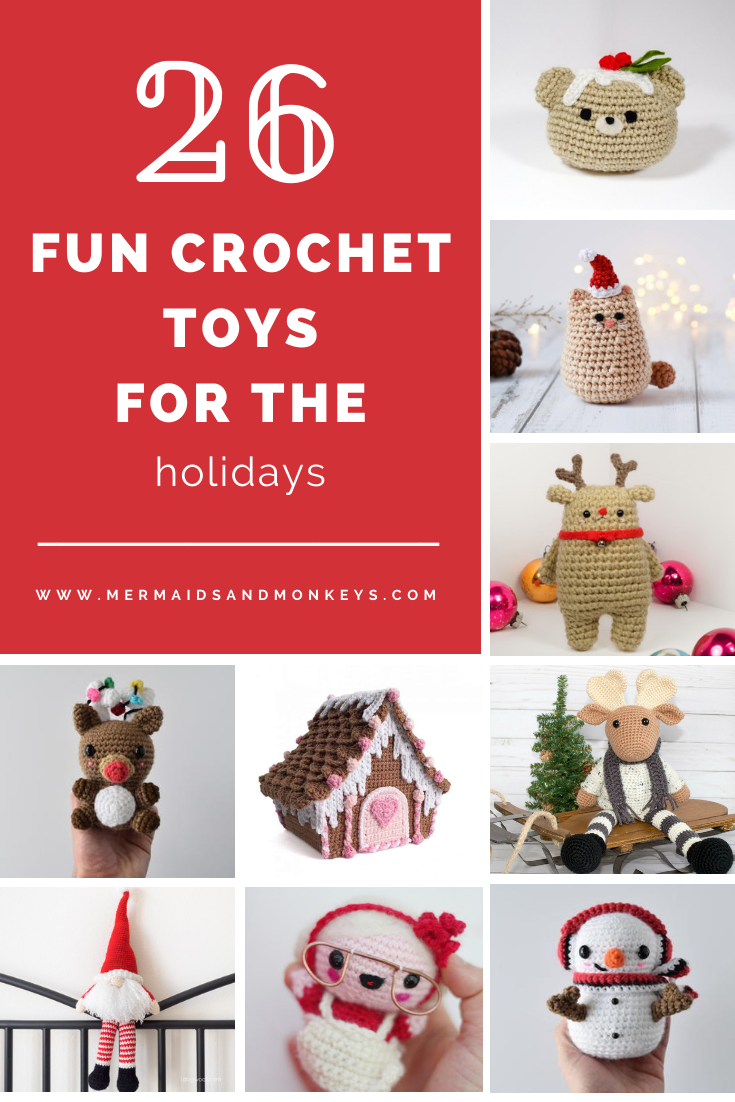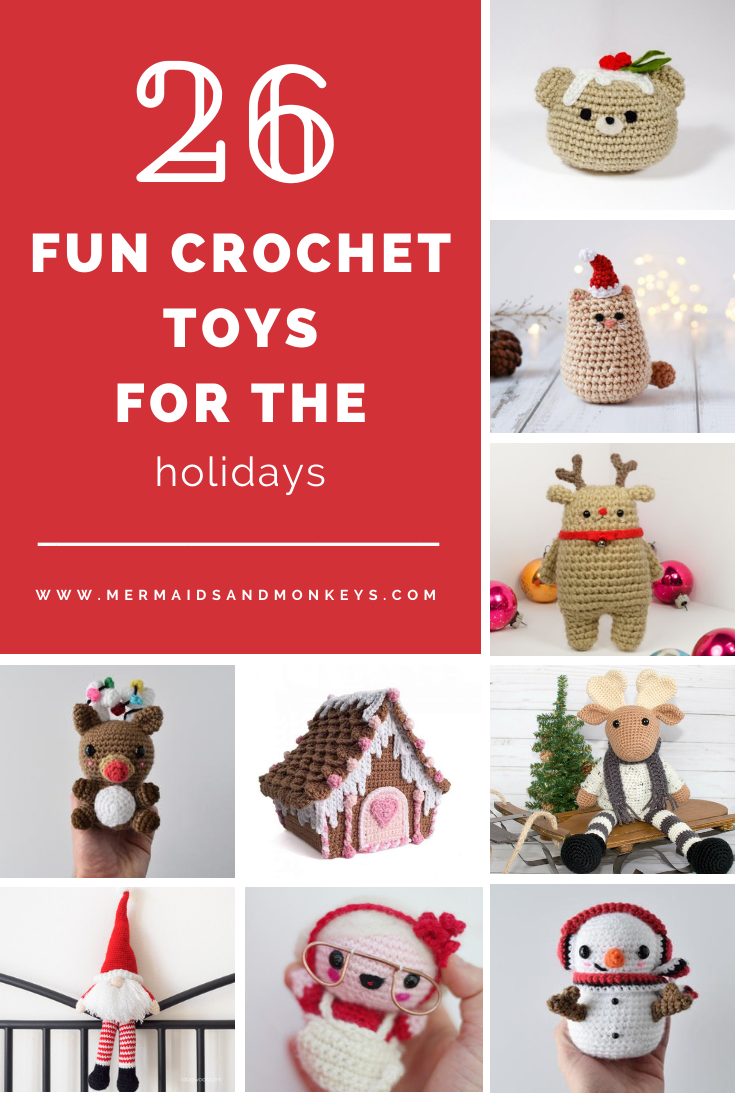 Looking for more great crochet blogs: 30+ Amigurumi Crochet Patterns: Cute and Easy Projects for Beginners, 50+ Cheery Christmas Stocking Crochet Patterns