If you're feeling motivated and are looking for the perfect project to start off this season, look no further than the Crochet Peter Pan Collar.  It's simple and fun, and the perfect way to get that creative energy flowing!
The Crochet Peter Pan Collar is a child's whimsical dream come true, fitting ages x-x. This collar makes a wonderful gift for your sweet niece who is coming to visit you for the holidays or those adorable grandkids who have blessed your life in more ways than you can count.
The collar has a scalloped edge, and a cute ribbon closure in the front. And because the collar is so customizable, it can be paired with numerous other goodies you make for the sweet children in your life!

The Crochet Peter Pan Collar is so adorable and easy to create that I've put together a pattern kit for it! The kit includes a digital PDF pattern and all the yarn the project calls for to complete it.  And you can feel good about this purchase because you're supporting small businesses who are passionate about crochet, just like you.
I've included the perfect yarn for this pattern too! It's a durable 100% wool Cascade Superwash Merino Yarn.  It's machine washable and and strong, so you know your projects will hold up over time.
After you use your kit, you'll be making these peter pan collars all year round. The collar will quickly become your child's favorite accessory!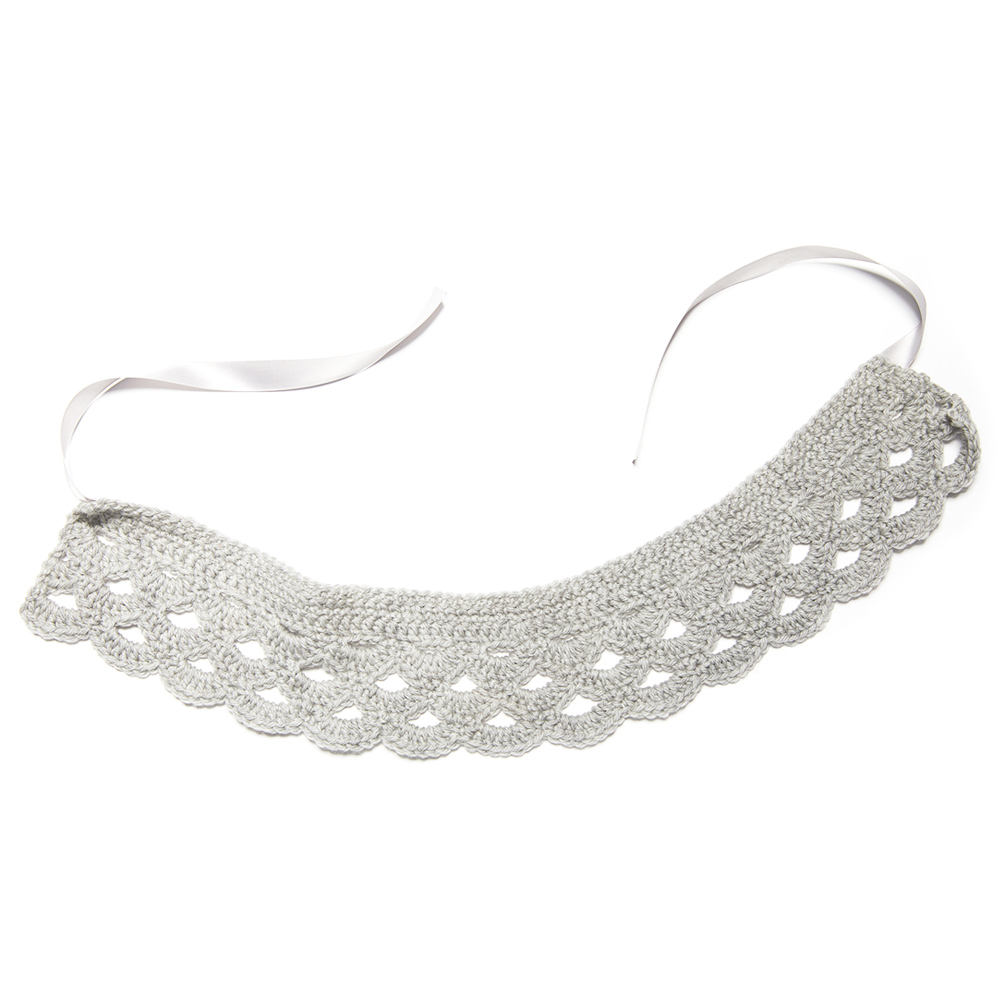 Peter Pan Collar Crochet Pattern
SKILL LEVEL: Advanced Beginner
MATERIALS:
Hook: 4.5mm
Yarn: 1 skein of Cascade 220 Superwash Merino in Silver Heather. Get this yarn and the digital pattern in the Peter Pan Collar Kit we put together here.  
Tools: Scissors, tapestry needle, color-coordinated ribbon (two 12" pieces), sewing needle, thread
ABBREVIATIONS:
st = stitch
ch = chain
sl = slip stitch
sc=single crochet
dc= double crochet
sk=skip
SPECIAL INFORMATION: 14 sc= 4"
FINISHED SIZE: 19" length at closure, 21" around the bottom, 3" width
PATTERN:
Ch 80, sc into the second ch from the hook, and each st across.
Rows 1-3: Ch 1, sc in the first st, and each st across
Row 4: Place a st marker in the 40th st before beginning row. Ch 3, make 2 dc in the first st. Make 1 dc in each st to marker. In marked st, make 3 dc. Make 1 dc in each st to the end of row, and 3 dc in the last st.
Row 4: Ch 1, make a sc in each of the first 3 st. *Ch 3, sk the next 3 st, make a sc in the next 3 st*
Row 6: Ch 1, make 7 dc in the ch 3 sp of previous row. *sc in the center of the 3 sc from previous row, then make 7 dc in the next ch 3 sp* end with a sc in the center of the 3 sc from previous row
Row 7: ch 4, sk 3 st *3sc in the top of the dc from the previous row, ch 4, sk 5 st* when you have 2 st left, sk 1 st, ch 1, and dc into the last st
Row 8: Ch 3, 3 dc in the 1st ch sp. *make one sc in the middle st of the 3 sc from previous row, then make 7 dc in the next ch sp* sc in the center st of the last set of 3 sc from previous row, and make 4 dc in the last ch sp.
Row 9: Repeat row 4
Row 10: Repeat row 2
Break off yarn, and weave in all ends. Cut the ribbon to a 12" length and seal ends by running a flame over the end very quickly. Sew in place, ensuring all ends of the thread are hidden.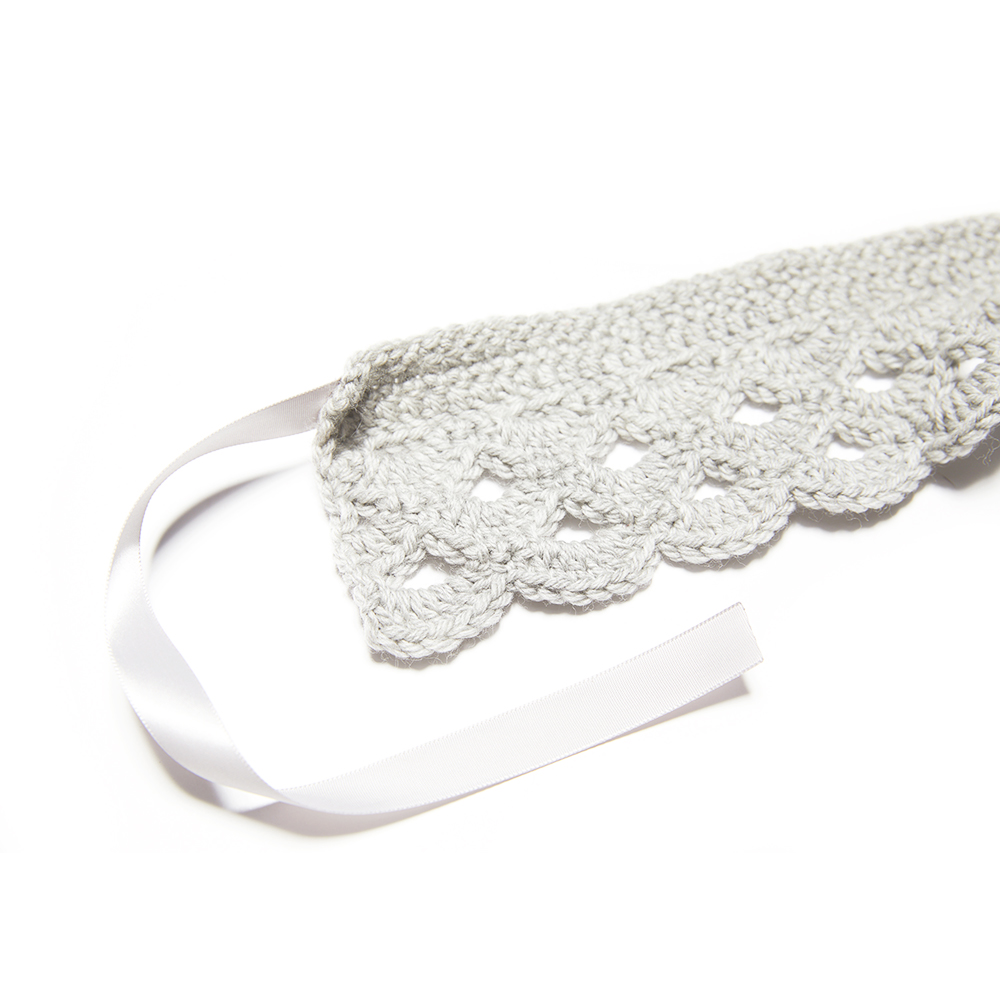 Get ahead of your gifts for the year, and make something truly special for the nieces and grandkids in your life. The Crochet Peter Pan Collar is everything a child could dream of in an accessory. It's soft and cozy, thanks to the merino yarn and it's easy to wash for the parents! The stitches are lacy and whimsical, and once you have the kit to guide you through it, you'll be able to make as many as you want. Pick up your kit and make one today. Those smiling faces will make you glad you did.