If you're looking for a cozy little gift for someone small, the Pom Pom Crochet Slippers are the cutest gift around.
These little slippers are squishy and soft, and sure to become your niece or nephew's favorite comfy shoes. Because the Pom Pom Slippers are made out of chunky 100% merino wool yarn, they add extra cushion to protect little feet. They're so cozy, your kids may never take them off!
Speaking of cozy? Check out my Crocheters Care Package. I'm giving away 100 care packages to new I Love Stitches members here. Plus you'll get lifetime access to 60+ Crochet classes, 100s of patterns and workshops and so much more.

These cute slippers are more durable than socks but just as cozy. They're an easy crochet pattern to make and take no time at all. After you've made one pair of crochet slippers, the whole family will be asking for some. You could even make some in holiday colors!
Don't forget to check out the matching Pom Pom Crochet Hat Pattern too.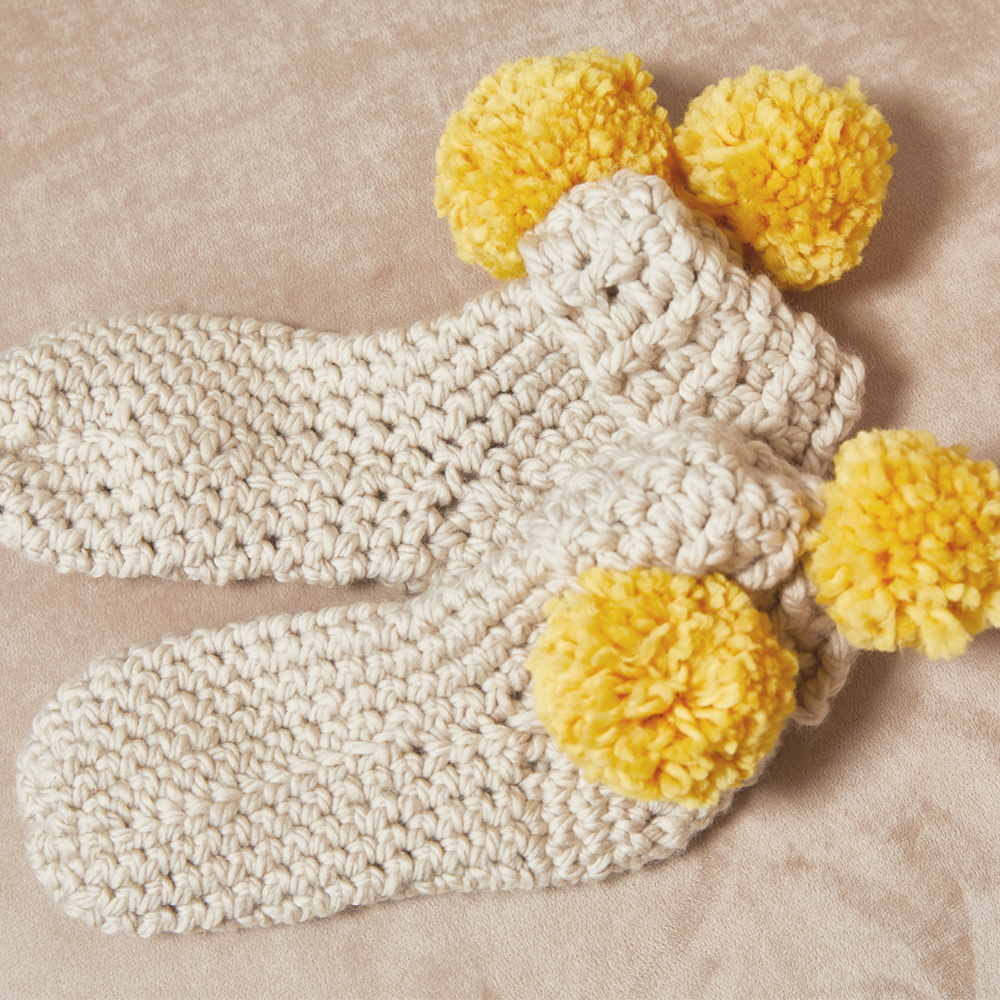 SKILL LEVEL: Beginner
MATERIALS:
Hook: 5.5 mm
Yarn: 1 skein of Cascade 128 Superwash in Feather Grey (approx. 150 yards), 1 skein of Cascade 128 Superwash in Daffodil (approx. 60 yards)
Tools: Scissors, tapestry needle, cardboard or pom pom maker
ABBREVIATIONS:
st = stitch
ch = chain
sl = slip stitch
sc= single crochet
dc= double crochet
fpdc= front post double crochet
bpdc= back post double crochet
*Looking for more great crochet stitch to try in other projects. Click here to see the Ultimate Crochet Stitch Library.
SPECIAL INFORMATION: 14 sc for 14 rows = 4"
FINISHED SIZE: 6.5" from heel to toe, 6" circumference, 4" height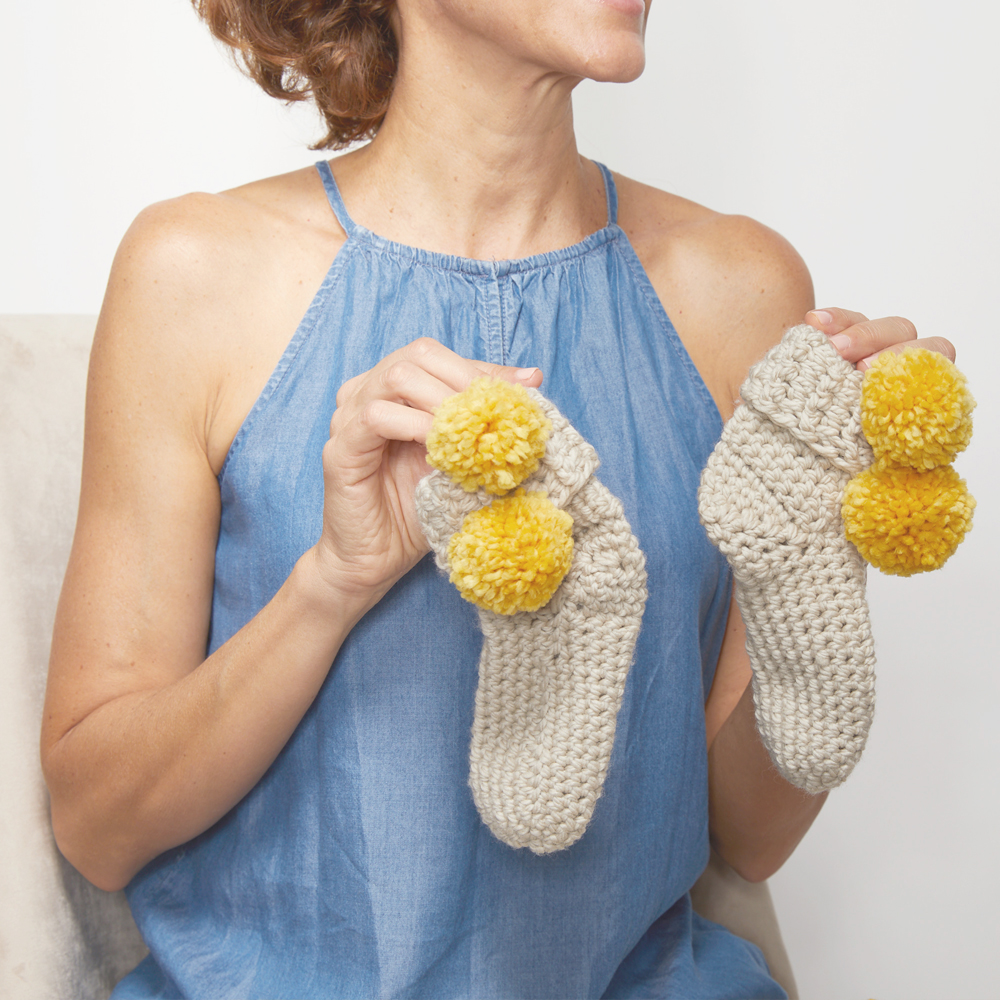 PATTERN:
Ch 5 (feather grey), 2 sc into the 2nd ch from the hook. Make a sc in the next 2 chs, and 4 sc in the end. Make a sc into the next 2 st on the bottom of the work, and 2 sc into the last ch. Sl st join round, ch 1. Mark st in the center of the work opposite the ch 1
Round 1: Sc into the first st, then make 3 sc into the next st. Sc around to 1 st before marker. Make 3 sc into that st, 1 sc into the marked st, then 3 sc in the next st. Sc around to 1 st before end of round, and make 3 sc into the last st.
Rounds 2-16: Sc into each st around
Round 17: Ch 15, sl st to join directly opposite where the ch begins.
Rounds 18-26: Ch 1, sc into the next st and each st around.
Rounds 27-30: Ch 2, *fpdc in next st, bpdc in next st* ending round with a fpdc and slst to join. Break yarn and weave in all ends.
Heel:
Attach yarn in center of heel. Sc to corner, sc3tog in each corner. Make 4 rounds with a sc3tog in each corner. Leave a long enough tail to whip st the heel shut.
Assembly and finishing:
Turn slippers right side out and fold cuff down to place pom poms.
Make 4 pom poms by winding daffodil yarn around 2 fingers approximately 120 times (or use pom pom maker). Slide yarn off fingers and tightly double knot another piece of yarn around the center. Leaving the long ends free, cut the ends of the yarn and fluff until the desired shape is achieved. Trim any uneven pieces, and use the long tails to attach to the cuff of the slipper by pulling the yarn tails through to the backside of the cuff, tying in 2 double knots, and pulling back through to be blended into the pom pom.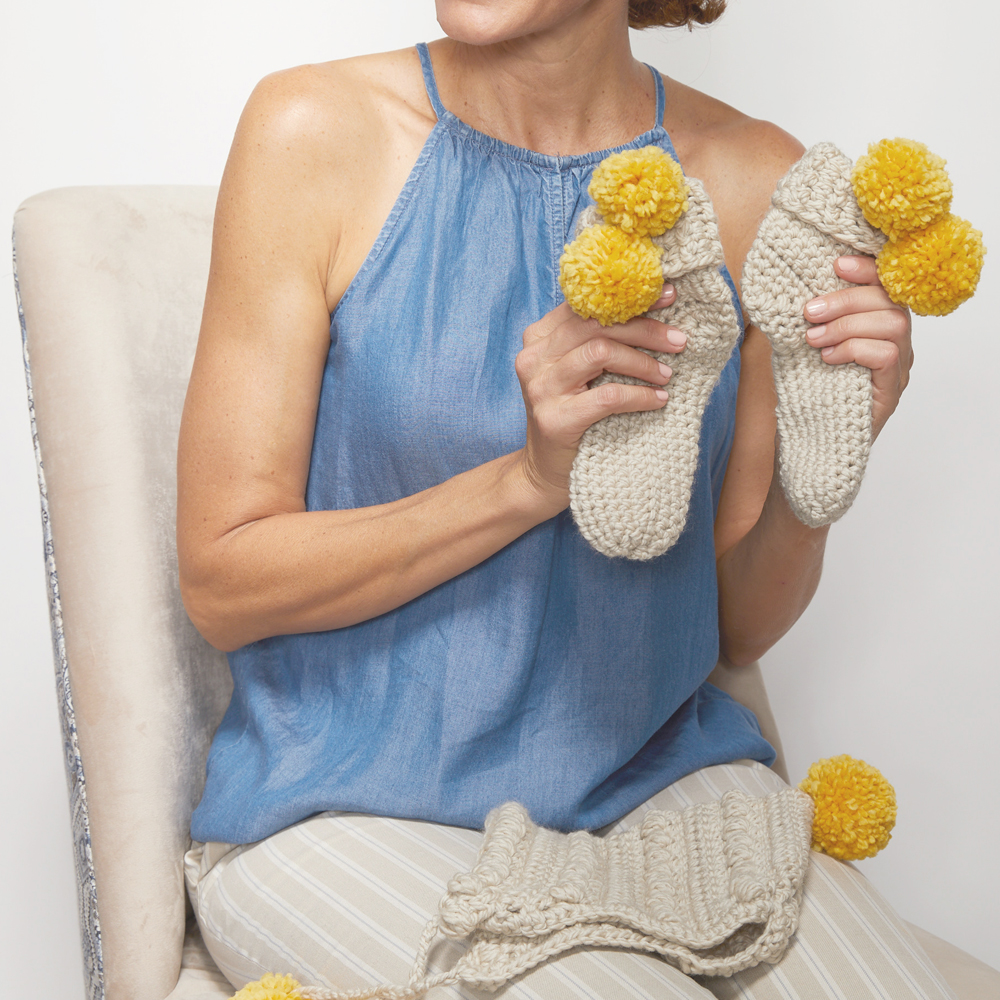 These are some of the easiest crochet slippers you'll ever make. And they're so soft too, thanks to the plushy yarn. Make as many as you can, and give them as gifts. Everyone will be so grateful they have someone as thoughtful and creative as you in the family. The Pom Pom Crochet Slippers will warm hearts and feet.