Introduction to Crochet Baby Blankets
Blankets are of paramount importance for babies. Not only do unique baby blanket crochet patterns provide warmth and comfort, but they also serve as a soft spot for the baby to lie down.
Handmade blankets are a special touch to welcome a new little one and can become a treasured keepsake. Unique baby blanket crochet patterns are always a good option for baby showers because everyone needs blankets and they don't have to be a particular size to fit a baby.
If you enjoy crocheting simple shapes like rectangles, you may want to check out our Crochet Anything with Rectangles class where you'll take the basic shape you already have down pat and turn it into useful, practical, and beautifully professional projects.
Commonly Asked Questions About Crochet Baby Blankets
What is the Best Yarn for Baby Blankets?
There are tons of different kinds of yarn you can use to crochet baby blankets. Just make sure that they are soft, easy on the skin, and washable!
If you have the option to ask the person you are making the blanket for if they have a fiber preference, that's always a good idea.
There are so many yarn types to choose from. Here are a few great options to find a great match for your baby blanket.
If you're interested in learning more about yarn and what the best yarns are for each type of pattern/project, check out my Crochet Fundamentals masterclass. I teach everything from yarn, tension, gauge, magic ring and more. You can register for free to watch the video classes from the comfort of your home here.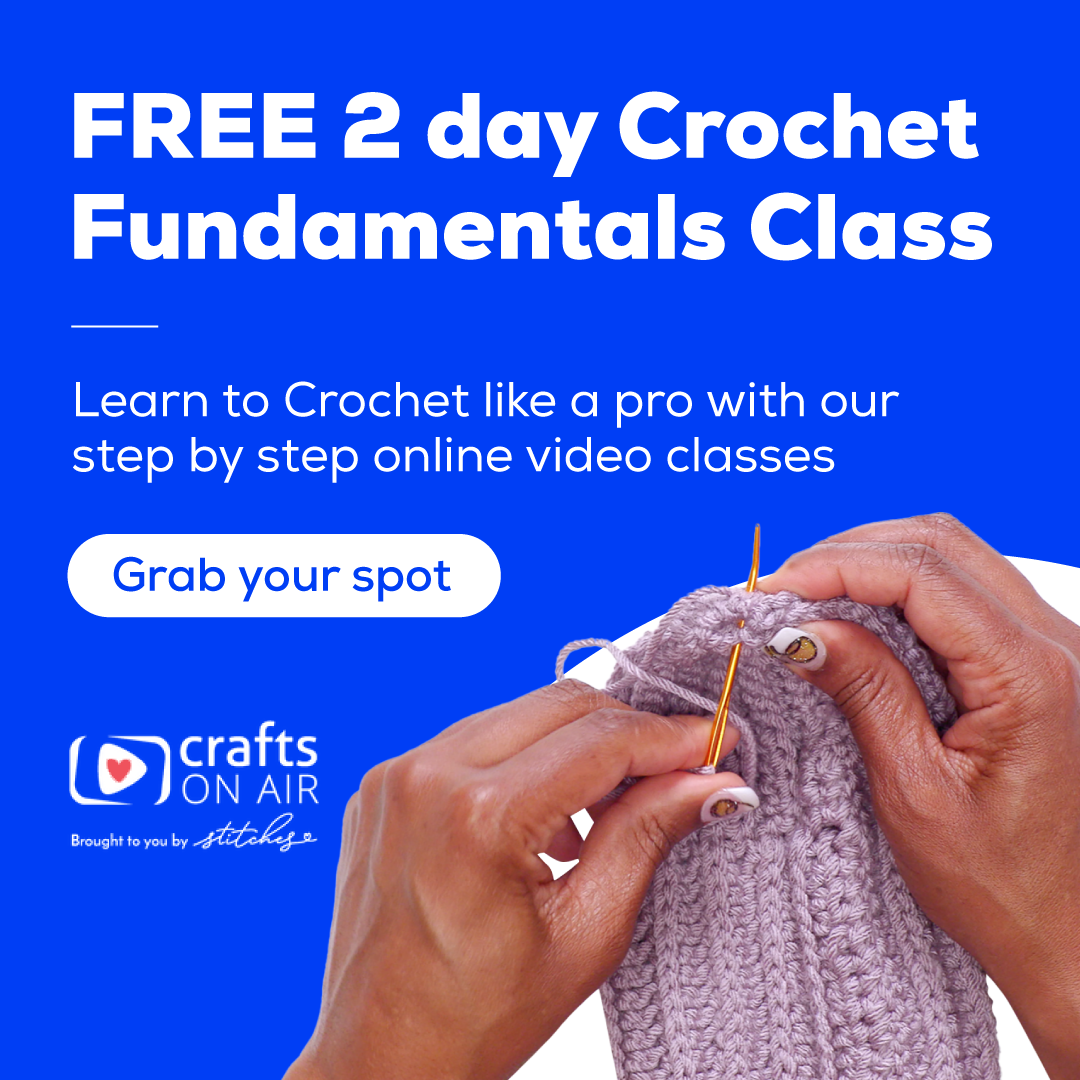 Acrylic Yarn
Acrylic yarns make a great choice for unique baby blanket crochet patterns since they are easy to wash and will still look great after laundry. Some acrylic yarns are softer than others so give it a touch test before you pick one.
Recommended acrylic yarns:
Cotton Yarn
Cotton yarns tend to be more lightweight and are a great choice for summer blankets. They make a breathable and lightweight fabric and are easy to clean.
Recommended cotton yarns:
Chenille Yarn/Velvet Yarn
Chenille yarns are extra soft and they make your blanket extra warm and cuddly. Most of the time, they come in chunky yarn weight so they also build up rather quickly.
Suggested chenille or velvet yarns:
Wool Yarn
Wool yarn gives an extra touch of luxury feel to your piece and it is also super soft and warm. Superwash wools can be gently laundered in washing machines, which is helpful for new parents.
Suggested wool yarns:
Tip: For beginners, we recommend you start with medium/worsted weight (4) yarn. Also, don't forget that thinner yarn works up slower than thicker, bulky-weight yarn.
What are the Different Types of Baby Blankets?
Lovey
Lovey blankets are among the most popular blankets for babies. They are typically square or circular and around 10-12 inches. Loveys are excellent and are very effective in calming babies when they require comfort, regardless of the cause.
Security
A security blanket has the same function as a lovey but is often a little larger. Babies and toddlers will often look for their security blanket when they are in most need of some comfort, such as in times of separation anxiety or when it's time to go back to sleep.
Preemie
This type of blanket is for premature babies (preemies). Neonatal Intensive Care Units (NICUs) near you may appreciate receiving these blankets if you're looking for a charity crochet project. As a preemie baby's skin is still so delicate, be sure to choose an extra soft yarn that will be gentle on the baby's skin.
Car Seat
As the name suggests, a car seat blanket is used to keep your baby cozy and snug while riding in the car.
Pushchair/Stroller
This blanket is best for keeping your baby warm and comfy while they are in their pushchair/buggy or stroller.
Receiving
The name of this type of blanket originates from the practice of wrapping a newborn baby before passing them to the mother who is "receiving" them. The size of this blanket is very versatile and can be used for a variety of things like a play mat, a nursing cover-up, and a blanket for a pushchair/stroller, to mention a few.
Are you someone who prefers downloadable PDF crochet patterns? If so, I've bundled up 23 of my favorite crochet blanket patterns here
Plus, I also include several step-by-step video classes for them. Check it out here.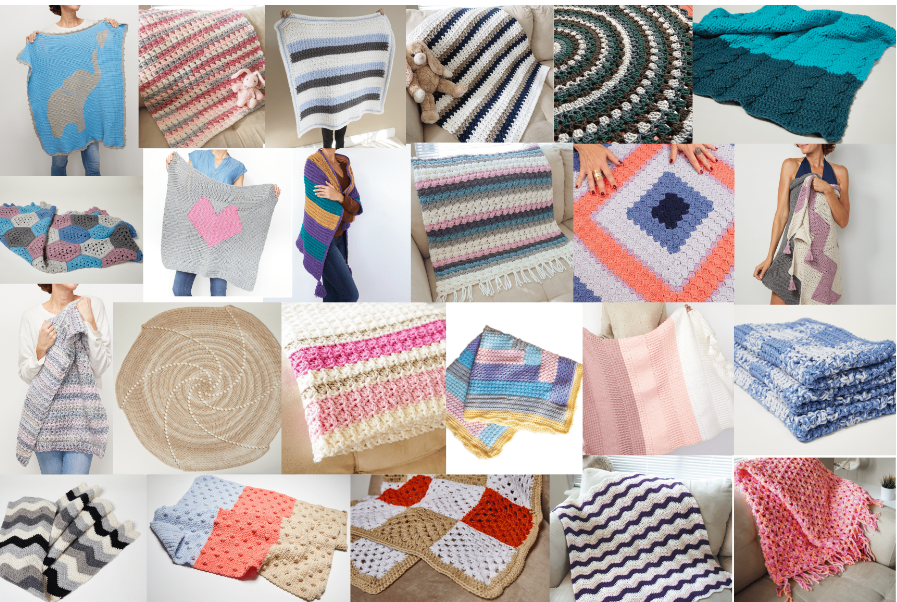 How Many Skeins of Yarn Do You Need to Crochet a Baby Blanket?
Most of the time, it's three or four skeins of yarn. The number of skeins you'll need for your baby blanket will mainly depend on the pattern you're using, the size of the blanket, and how much yarn is in each skein. Make sure to check your pattern or yarn label for more information.
How Long Does it Take to Crochet a Baby Blanket?
Everyone's crochet speed and how much time they have to devote to crochet is different, but in general, it will probably take a few days to a few weeks to crochet a baby blanket.
This would also depend on several factors such as your skill level, the yarn and hook you're using, and the size and complexity of the pattern/design of the blanket.
Some crochet stitches are easier to crochet than others which involve several steps to complete one stitch. This could also affect the time it'll take to complete the baby blanket as well.
Crochet Baby Blanket Sizes
Baby blankets come in many different sizes, depending on the age of the baby, or the purpose of the blanket. For example, lovey blankets that are mainly used for hugging and cuddling will be smaller than crib blankets, which are meant to fill the crib space.
Here are some commonly suggested blanket measurements to get you started, but you can always customize the size however you want. If you are still unsure, make sure to check the pattern you're using.
Best Stitches for Baby Blankets
You can crochet a baby blanket (or any blanket) with any kind of crochet stitches you like, depending on the look and design you're going for. This collection of patterns features all sorts of stitches.
If you're looking for even more stitch patterns to play with, my Ultimate Crochet Stitch Library videos offers 45 crochet stitches with video tutorials so you're sure to stitch them right the first time.

Below are a few of our favorite stitches for baby blankets if you want to design your own.
Single Crochet (sc)
Rows of single crochet will create dense fabric which is perfect for blankets. This will help minimize wide gaps or unintended holes in your piece.
Half Double Crochet (hdc)
Half double crochet stitches are easy to learn for beginners. This basic stitch is great at creating a tight and dense fabric which is perfect for baby blankets, though it's a little less dense than single crochet.
Moss Stitch
Also known as the granite stitch or linen stitch, moss stitch has a lot of texture but is really easy and fast to stitch.
V Stitch
This stitch is great for creating lighter fabric, making it great for summer or warm-weather blankets.
Notions and Tools Needed to Crochet a Baby Blanket
Baby Blanket Safety
Baby blankets and other crib-related items are some of the most popular baby shower gifts. And since you have had these blankets stored while waiting for the baby to come, you may be itching to finally put them into your baby's new crib.
But adding a blanket or any soft bedding can be a danger to the baby if done too soon. The best course of action is to wait until your child is mature enough to handle the blanket transition before adding a blanket or other soft bedding to the mix, whether for naps or bedtime.
For at least the first 12 months, the American Academy of Pediatrics advises keeping soft objects and loose bedding away from the sleeping area.
Nevertheless, handmade baby blankets can be used for decorating the baby's nursery in the meantime until they get a little older. During tummy time, blankets can also be laid flat on the floor.
You might also want to make sure that the blanket you make is either pretty solid in terms of stitches or has holes that are big enough that the baby's fingers and toes can't get stuck in them.
Free Crochet Baby Blanket Patterns
Are you ready to pick out a baby blanket pattern to try? We hope you love these unique baby blanket crochet patterns!
Easy Crochet Baby Blanket Patterns
Here's a collection of some easy unique baby blanket crochet patterns for you to try if you're just starting out. Most of these patterns use basic stitches and have simple repeating-row patterns.
Intermediate Crochet Baby Blanket Patterns
For the advanced beginner or the intermediate crocheter, we've rounded up some unique baby blanket crochet patterns for you to try out if you want to practice your crocheting skills. These patterns feature fun variations of the basic stitches to create intricate patterns and designs.
Bulky Crochet Baby Blanket Patterns
Need a bulky blanket that works up fast? These unique baby blanket crochet patterns use bulky and super bulky weight yarn, which means your stitches will build up quickly when compared to using light or worsted weight yarn.
Textured Baby Blanket Patterns
Textured blankets are great for providing babies with a sensory experience. Their little hands would have a ton of fun exploring and learning different types of textures with their first crib companion. Here are some of our favorite textured unique baby blanket crochet patterns that we think you would enjoy too.
Colorwork Baby Blanket Patterns
Crochet colorwork is when you combine two or more colors within the same row to create your desired design. There are endless possibilities of designs you can make with colorwork crochet. If you'd like to try practicing this technique, these unique baby blanket crochet patterns are good for practice.
Corner-to-Corner (C2C) Baby Blanket Patterns
Corner-to-corner crochet or "C2C" is a popular technique that is often used to make blankets, scarves, and other crochet patterns. The stitches are worked diagonally from one corner to the opposite corner. The technique is great for making pixel-art style designs. Here are some unique baby blanket crochet patterns that use the C2C technique.
Chevron Baby Blanket Patterns
Chevron crochet makes use of repeating V-shapes to create the classic zigzag chevron pattern that was popular in the 1970s but people still love it today. Check out some of these unique baby blanket crochet patterns that feature the chevron design.
Tunisian Crochet Baby Blanket Patterns
If you love the look of knitting but don't actually want to learn how to knit, then these unique baby blanket crochet patterns are right up your alley! These unique baby blanket crochet patterns use Tunisian crochet, which is a special crochet technique that creates a dense fabric similar to the finished look of knit patterns.
Are You a Beginner Crochet Who Would Like Some Extra Help to Learn How to Crochet?
If you're looking for some extra help in learning how to crochet, check out the Crochet Fundamentals workshop! It's a series of professionally filmed video tutorials that will walk you through all the fundamentals of crochet and help practice your crochet skills in mastering the techniques with confidence.
Learn from expert crochet instructors and connect with designers and crafters as well. And the best part… you can attend from anywhere in the world from the comfort of your home!
Obtain the confidence you need to start and complete your next crochet project without stress. Have a relaxing time crocheting while you master these different fundamentals of crochet.
Looking for more great crochet blanket pattern ideas? Check out these great posts: 15 Adorable Animal-Themed Crochet Baby Blanket, 30+ Crochet Ripple Afghan Patterns, 24 Unique Temperature Blanket Crochet Patterns